Hoppé shows a magisterial hand. He sets his camera perfectly to insert a cross-purpose in every scene: steel beams going that way, transmission lines going this, a roof over there. It is a photographic style that is both architectural and subtly transforming. The stockyards of Chicago reveal a crisscross artistry of light and shadow. The pictures of factories, cityscapes, and buildings chosen for inclusion in
Amerika
outnumber the studies of faces, but the latter are daring close-ups: faces of beggars, farmers, the poor, blacks, and American Indians [see "Yakima Indian, 1926" above].
In his lifetime, Hoppé was well-known for his photographs of beautiful women; one of his books was entitled Skyscrapers and Women. Hoppé himself was invited to judge "beauty shows" of the day. With this mix of the personal and the industrial, the editor suggests that Hoppé may have foreshadowed the documentary photographers of the Depression --- Ansel Adams, Paul Strand, Charles Sheeler, Edward Weston, Alvin Coburn, and Dorthea Lange.
In his portraits, Hoppé was a documentarian. Often, he used reflected light. The camera rests slightly below the subject. Heads fill the frame. No detail is left out: grime, warts, moles, scars, veins, skin blemishes. He used Hollywood techniques without the romanticism.
Go to the
complete
review
---
Children of the Depression
Kathleen Thompson,
Hilary MacAustin,
Editors
(Indiana University Press)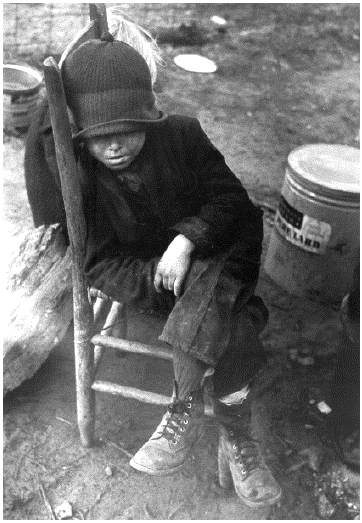 During the early years of the Depression in the United States, over 250,000 children were homeless, and, in some areas, 90% were malnourished.
In 1932, Clarence E. Pickett reported to Congress that --- depending on the school --- 20 - 90 percent of the children that the American Friends Service Committee had surveyed were underweight, suffering from rickets, pellagra, malnutrition, lethargy and sleeplessness.
In Chicago, 11,000 children in the public schools were being assisted by their teachers who paid for their food out of their own pockets. 3,000,000 children had to leave the educational system to take jobs, but there was no protection from exploitation because there were no child-labor laws.
Over 15,000 young people were working in saw-mills, another 15,000 mining coal, and 5,000 more in steel mills. Younger children were paid less than the older ones --- in some cases they received not much more than 50-cents a week. Wages were as low as two cents an hour.
Beginning in 1935, the New Deal wanted to record its works to alleviate poverty, malnutrition, unemployment, low wages, and the general misery that was part of the Depression. It also saw the project as a chance to give employment to starving photographers. Roy Stryker was hired by the Resettlement Administration and the Farm Security Administration to find and give work to likes of Walker Evans, Arthur Rothstein, Dorothea Lange, Ben Shahn.
Between 1935 and 1943, the RA and the FSA made more than 200,000 photographs of American life --- an astonishing record of the good and the bad of the U. S. The photographs were generally superb and the photographers given immense latitude in what they were to record.
The photographs chosen to appear in Children of the Depression number well over a hundred. They are presented with respect and grace, and not a few are genuine heart-breakers. They are interspersed with quotes from oral histories of those who lived through the Depression, along with letters in government files, addressed to those in Washington, D. C. One, dated 20 January 1938, was sent to Eleanor Roosevelt:
I am writing this letter in hopes that you will answer in my favor. My father H. C. has been in bed from a stroke for almost a year. We have no money and my brother works but makes $3.00 a week and there are eight in our family. My step-mother is very good to me and I try to help her. She takes in washings and I have to walk for six or eight blocks and then carry the washings home. I have to go of a morning before school and it has been very cold here. If you would send me a bicycle to ride when I go after washings for her I shall appreciate it. I am in eighth grade at school and work very hard to make passing grades. The Principal of the school bought two of my sisters and me a pair of slippers so we would not have to stay at home. If you would do this for me I shall be able to help my step-mother more. If you send me one I would like a girls bicycle. I am about 4 feet 3 inches tall so if you send me one you can judge as to what size.
Loving and appreciating,
A. L. C.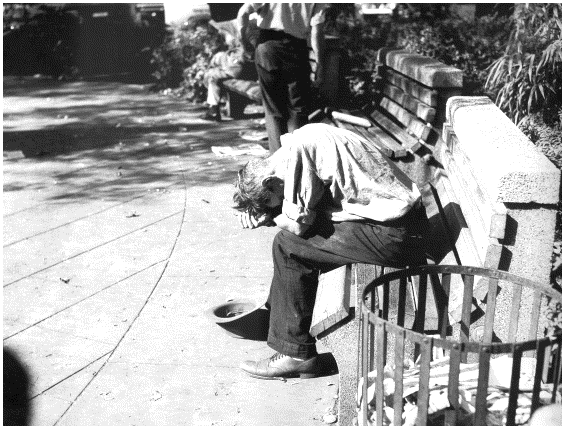 <

---

Moko Maori Tattoo
Hans Neleman,
Photographer
(Edition Stemmle)
In
The Piano,
that delicious, dramatic movie that presented us with another startling view of 19th-
century colonialism, the Maori of New Zealand are always in the background: carrying the piano, the luggage, working --- but it is a bizarre (and uncommented on) background. Their faces are graved with lines, designs, figures --- permanent line drawings on the skin that emphasize or contrast the shape of eyes or nose or mouth, and contrast sharply with the mostly pale-white ghostly faces of the colonialists.
Ta moko
is the traditional facial decoration of those of Aotearoa, New Zealand. The authors of
Moko --- Maori Tattoo
tell us that it is not only tattoo,
It is also a name used for lizards throughout Polynesia, and it carries all the mythical associations attached to such creatures . . .
It was inevitable that the Christians who invaded the island three hundred years ago should attempt to ban the process, since it was an homage to the Maori divines.
---
The Art of Rockefeller Center
Christine Roussel
(Norton)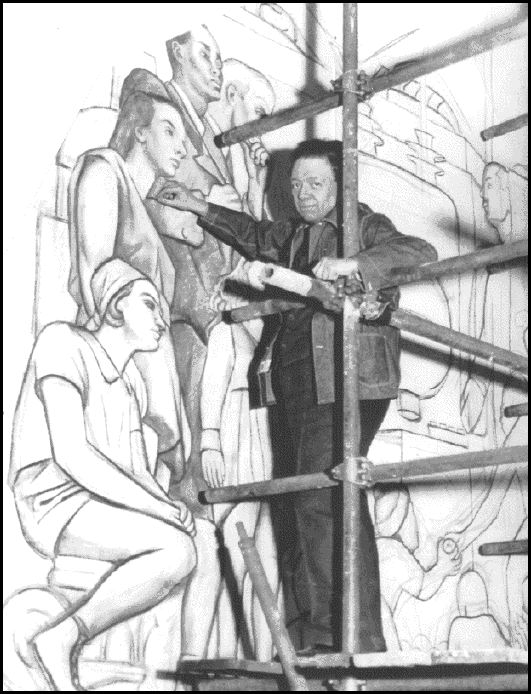 There was something of a to-do with a fresco by Diego Rivera. Rivera was offered a wall and $21,000 for "Man at the Crossroads" who "looks uncertainly but hopefully towards the future." He was hired on in 1933 by Abby Rockefeller, despite the fact that just a few months before he had raised the ire of the respectable families of Detroit when he stuck the Holy Family in the middle of a panel named "Vaccination," though god knows what the mother and father of the divine --- complete with horse and cow --- would be doing in the city clinic getting our Holy Babe inoculated against small pox and diphtheria.
Rivera was given a large wall in the Grand Lobby at 30 Rockefeller Plaza --- sixty-three feet wide, seventeen feet long --- and promptly sketched in faces around a large centrifuge under what appears to be the engine (with propeller) of a DC3. What was not acceptable was the visage of Nikolai Vladimir Lenin off there to the right holding hands with several auto workers, though presumably the hand-hold was a sign of mere solidarity, not affection.
Three weeks into the project Rivera was given his walking papers, his fresco was papered over and within a year it was painted over (being named "The Wailing Wall" by the architects who were entreated to come up with something a little less sprightly.) Rivera got his revenge by hurrying back to Mexico City and painting a fresco at the El Prado with Trotsky, Marx, and Rockefeller in an awkward dance.
---
Past Tents
The Way We Camped
Susan Snyder
(Heyday/
Bancroft Library)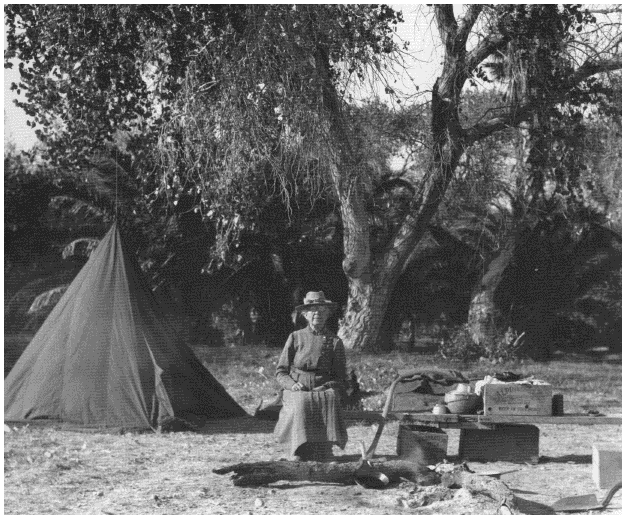 Susan Snyder takes us back to these halcyon times. She opines that camping was slow to catch on in America because in the 19th Century, camping was all there was. When you wanted to get from West Virginia to Missouri, and from there to Oklahoma, and from there to the Nevada Territory and California, you camped your way across the country.
Sleeping under the stars and cooking over an open fire had been matters of necessity and expediency in trackless wastes that concealed wild beasts and nightmare sounds. Wilderness had been the formless enemy to be conquered and crossed at all costs.
"Now," she writes, "the trailblazers became pleasure trekkers, and trails that had been the routes of arduous travail become the paths of holiday jaunts."
Ms. Snyder has collected here over a hundred photographs to delight the soul: people dressed to the nines, posed formally outside their white-and-blue striped tents; three young fellows on high-front-wheel bicycles of the times, their packs carefully hung from the steering bar; a booted ruffian in a pork-pie hat standing before a wood-plank lodge marked WELLS FLAT; a "Silver Dawn" Sauerkraut can cut at both ends to serve as smokestack.
---
Penguins of the World
Wayne Lynch
(Firefly)
Wayne Lynch is a penguinophile. He doesn't, I assume, carry one about in his backpack; rather, he goes to visit them in Antarctica, the Falklands, Macquarie Island, New Zealand, Cape Horn. He seems to know everything there is to know about penguins: that they have been clocked moving through the water at nine miles-per-hour; that the smallest --- the Fairy Penguin -- weighs less than three pounds and lives along the coast of New Zealand and southern Australia; that there are almost ten million Macaroni penguins but the one that I slept with as a child was most likely modeled on the Adalie.
The biggest threat to penguins is a bird called the skua, although up to a few decades ago, humans murdered them to light their oil lamps and to enjoy in a stew. In 1902, while studying them, the geologist Otto Nordenskjold reported eating "cold penguin and sardines; salted penguin; macaroni and salted penguin; breast of penguin and dried vegetables; salted penguin and beans; and pastry with leftover penguin."
---
Seduced by Modernity
The Photography of Margaret Watkins
Mary O'Connor, Katherine Tweedie, Editors
(McGill-Queens University Press)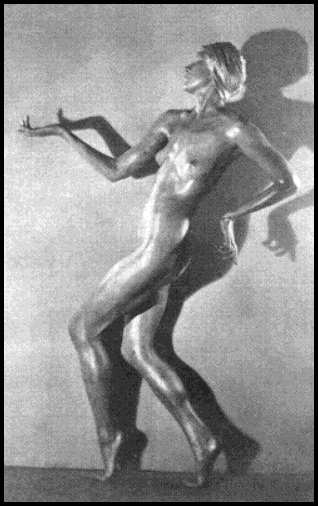 When Watkins died, she left behind a carefully sealed box, with instructions that it was to be opened only after her death. It was filled with photographs, many of which are reproduced here.
Photos of dirty dishes (part of the collection) do not come off as the most interesting. Rather, there are the straight-on photographs of men (dressed) or the women (more often not so). The former, presumably friends and clients from New York, are warm, inviting. The shots of the women are somewhat more chilly. The nudes are carefully framed, discrete, with a tell-tale drape to hide the obvious.
One of most interesting is shown as the cover of a book, The Art of the Body: Rhythmic Exercises for Health and Beauty. The book was published by Harcourt Brace in 1931.
It carried over forty illustrations of the author, Marguerite Agnielm. The editors tell us that it is "an odd mixture of moralistic monitoring, efficiency management, cosmetic advice, and spiritual guide." There is a well-oiled lady on the cover. We aren't told if it was composed by Watkins or not. Whatever it may be, it's a doozy: an excellent example of Early Depression Neo-Classic Quasi-Erotology.
---
---