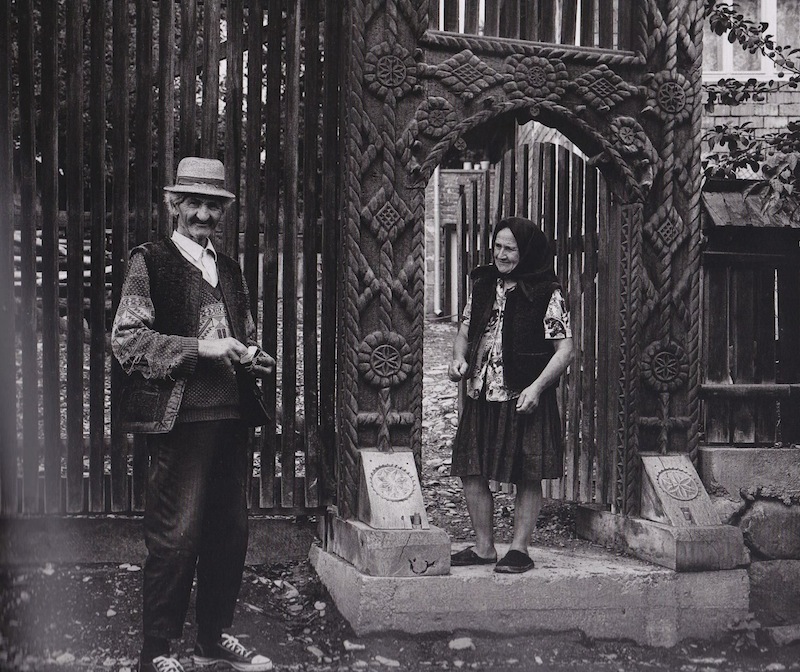 This is a hefty book, a book of love and reminiscence. These folk, however, are in no way over-romanticized, nor are their ways painted as lovely, gentle, all wise, all good. There are harsh winters, along with dirt and blood and sweat. The authors are not here to prettify it, they are certainly not ethnologists nor cultural sociologists. They are a couple with a camera and a fine sense of form and grace and a love of the past. Somehow they brought into being a great volume --- forty-four color photographs, ninety-four black-and white pictures --- spread out full page. There's no wasted commentary, only a fine tribute to peoples who are immersed in a change that no one seems to want.
The volume is divided into a dozen or so chapters (Spring, Winter, Autumn, Home, Clothes, Food, The Ceremonies of Life, Marriage, Old Age, Death) and the photographs are displayed just as they should be: simple, direct, unflinching, the people in their funny hats that look like tiny upside-down baskets, the women in their kerchiefs, the local band --- violin, accordian, beat-up drum slung around the shoulder --- people in the open air market with their bloody just-killed lambs, old folk out in the fields building enormous haystacks, hauling 70-kilo bags of corn, working the icy whirlpool of the river to wash their heavy clothes and blankets, three women standing in their white thick woolen bootlets.
The whole of Color of Hay has a rich, sensitive form. The 150 photographs appear at the end reproduced in miniature with appropriate explanations. This picture of "Petru from Gold, 2000" is one of an old man, his hat tilted down, clean white shirt, steady look, no nonsense, workboots there in the background,
People seem to grow old quickly here, yet at the same time, they grow old with grace. Many times a man of eighty will appear as only sixty.

We asked them how they look so good.

"The air is clean," they say. "And our land is blessed."
Woods McLaughlin is no slouch in the writing department. In the chapter on animals he notes,
If one imagines the barnyard as a hierarchy of privilege to live according to one's animal impulses, the clear winner is the household cat. Through millennia of living with humans, cats have made the fewest compromises. We provide them a barn yard of mice, protection from predators, and regular bonus meals --- in return for which they lead their lives as they would anyway: sleeping eighty percent of the time and playing with their food.

Roosters and hens occupy the next step down the list. They get the cat's protection from predators, but with the disadvantage of occasionally becoming soup.