The Theory and Practice of Radio Station KRAB
A Film Documentary About KRAB, Seattle - 1964
Problems listening, or comments? Please let us know. E-mail archive@krabarchive.com
---
In early summer 2019, Benjamin Dawson, Jack Straw Memorial Foundation Board member and Engineering Director, donated a collection of newspaper clippings in a three ring binder to the KRAB Archive. Among the clippings were a number from Emmett Watson's Seattle Post Intelligencer column "This, Our City". And one of those clippings, from an April 1964 issue, contained the following paragraph:
KRAB-FM, the subscription station, is the subject of a CBUT-TV documentary on the Vancouver, B.C., station's "7 o'clock Show." A television crew came down from Canada, spent two days shooting scenes of the station, Seattle backgrounds and the houseboat where station manager Lorenzo Milam puts together many of the station's programs. Show is scheduled for showing the end of April. "Real nice guys," says Milam, magnanimously. "We got along fine, and they had fun tearing the station apart. Strictly KRAB-types."
We promptly wrote to CBUT, asking if the film still existed and if we might have a copy. In short order, we received it, and ever since have been plotting how best to share it with people who might find it of interest. Our inclination was to hold some kind of reunion event to bring former listeners, staff and volunteers together to watch the film and celebrate KRAB. We even fantasized that local mainstream media might be motivated by the film to actually write something about KRAB and the Archive. Well, time went on and the event didn't seem to be getting any closer.
Now (Mar 31, 2020), in the midst of a pandemic sweeping the world, my fantasies of a special event seem more unrealizable than ever, and the possible consequences of covid-19 have created a sense of urgency to share a view of KRAB, and Seattle, in more optimistic times. So I am releasing the video in the Archive today. NOTE: You can watch it full screen.
The characters


Judy Brow


James Brow


Lorenzo W Milam


Unknown Volunteer in training


Jeremy Lansman


Nancy Keith and James Brow


Jeremy Lansman in control room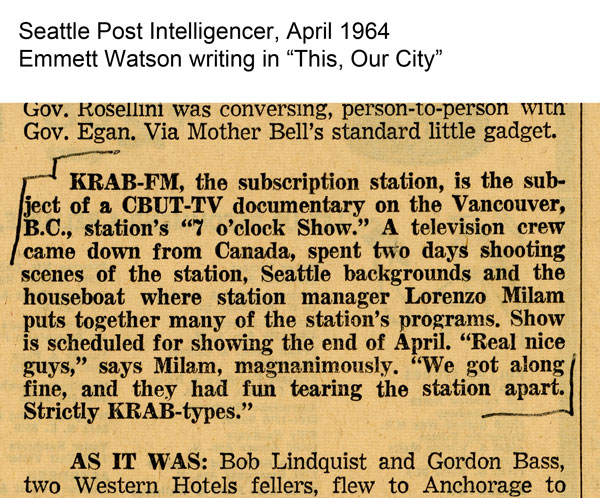 ---
If you possess any souvenirs (program guides, tapes, or photos) or have a story about your experience with KRAB you are willing to share, please email archive@krabarchive.com