Imagine this. You are out in the world --- on the street, at a bar, on the bus, in the bank --- and you start barking, kicking against the seat, making funny faces, and blurting out words that no nice, polite person
ever
says in public. And it is totally uncontrollable.
Handler lived with this strange condition for years before he found out it wasn't all in his head. Or rather, it was in his head (too much dopamine). It's called "Tourette's Syndrome." It's genteel civilization's worst nightmare. "Coprolalia, or involuntary cursing, including racial expressions, occurs in about 15% of people with Tourette's," he tells us. One of his friends was in a line, in a bank, and,
an attractive black man was standing in front of her wearing a purple sweater. Over and over she kept repeating to herself, purple nigger, purple nigger, until she actually said it out loud. She felt no racial prejudice toward this man but simply couldn't get out of her mind the one word she knew was most inappropriate to say...
Before he was diagnosed, Handler went from doctor to doctor, and finally, in despair, left his family and home, went to live in New Orleans. "The carnival atmosphere in New Orleans made anything seem possible," he says. It was there that he was able --- as much as possible --- to relax, begin the long process of accepting his strange way of moving and talking.
He went on to become a photographer, ultimately filming other brothers- and sisters-in-pain, including an MD, Orrin Palmer [see Fig. 1 below --- Palmer in the midst of a Tourette-induced face; note the reaction of the woman across the way.]
Handler ran across Jean-Claude Labbé, another Touretter, a French photographer who had spent some time in Viet-Nam. During an awards ceremony at Rockefeller Center, Jean-Claude and Handler sat together.
As the room became quiet and Howard began to speak, the loud noises Jean-Claude and I made became increasingly noticeable. What was worst was that the more Jean Claude was Touretting, the more I made noises and twitched. This "copy-cat" Touretting is typical when groups of people with Tourette get together. We tend to set each other off on a relay of symptoms. The public relations man from Nikon said to Robert, "Your friends are making too much noise. They must be drunk or something, If they do not stop, we are going to have them removed..."
He goes on: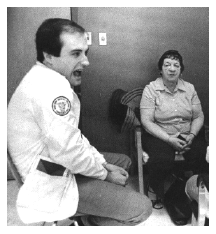 The next day I dropped Jean-Claude off at Kennedy Airport for his return flight. We had lunch at a cafe while waiting for him to board the plane. Amid kicking and barking, the waitress said, "Are you two all right?"

"We are high on crack!" Jean-Claude quickly responded.

"No," I said, "We both have a neurological disorder."

"I believe him," the waitress said, pointing to me."