Mosquitoes, Malaria, and the Panama Canal
"They did not seriously entertain the notion that mosquitoes
could be the cause of yellow fever or malaria. To spend time and money
chasing after mosquitoes in Panama would be to
squander time and money in a most irresponsible fashion."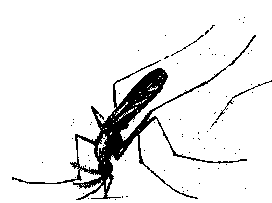 A Brief History of Mexico --- II
"The French landed at Very Cruz and marched on the capitol
with wagons filled with baguettes and petits-fours. The defenders of Mexico
expropriated the wagons, ate themselves silly, and were overrun.."
---
POETRY
A Cricket in the Telephone (at Sunset)
"Stars that talk, talk of peppermint pie,
Oedipal pleasures, the daily average of
Standard and Poors, and the complete
Memoirs of Jacques Casanova."
A Supermarket in California
"I saw you, Walt Whitman, childless, lonely old grubber,
poking among the meats in the refrigerator and eyeing the grocery boys."
Loos
"You don't know the moons on the Somme:
They pluck off buds like gods,
Burst creatures come to rest,
Nights are filled with the charge of sepulchres."
Did You See She Had Flowers Up Her Nose?
"They had planned to leave but one grey lily
Eating at her breast,
An oak growing out of her sodden soul.
That is what the gardeners had planned."
---
NEW LISTINGS
Books that have been sent to us within the last fortnight or so.
T H E F A C T S
Submitting Books
The best way to get books to RALPH for review.
Submitting Reviews
Suggestions for would-be reviewers --- and payment schedule.
History
RALPH didn't spring full-blown from the brows of the gods:
We've been around (in different guises) for over twenty-five years.
The Fessenden Fund
Other activities of RALPH's godparents, including
Mho & Mho Works
Ralph R. Doister, Editor-In-Chief
Post Office Box 16719
San Diego CA 92176
poo@cts.com
---
THE OFFICIAL RALPH
PARADOX-OF-THE-MONTH

---

Go to the Previous RALPH &nbsp&nbsp Go to the Current RALPH &nbsp&nbsp Go to the Upcoming RALPH