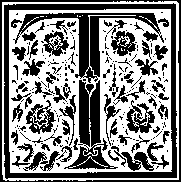 he failure to see God is not a problem
God has a problem with. Sure he could see us
If he had a hankering to do so, but that's
not the point. The point is his concern
for us and for biscuits. For the loaf
of bread that turns in the night sky over Stockholm.
Not there, over there. And I yelled them
what I had told them before. The affair is no one's business.
The peeing man seemed not to notice either.
We came up the strand with carbuncles
and chessmen fetched from the wreck. Finally the surplus buzz
did notice, and it was fatal to our project. We just gave up then and there, some of us dying, others walking
wearily but contentedly away. God had had his little joke,
but who was to say it wasn't ours? Nobody, apparently,
which could be why the subject was never raised
in discussion groups in old houses along the harbor,
some of them practically falling into it.
Yet still they chatter a little ruefully: "I know
your grace's preference." There are times
when I even think I can read his mind,
coated with seed-pearls and diamonds.
There they are, for the taking. Take them away.
Deposit them in whatever suburban bank you choose.
Hurry, before he changes his mind --- again.
But all they did was lean on their shovels, dreaming
of spring planting, and the marvellous harvests to come.