John H. Dryfhout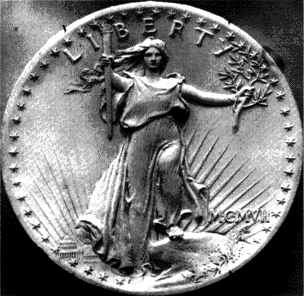 Saint-Gaudens won the hearts of us old numismatists by designing one of the most elegant of coins ever to be issued by the U.S. Mint --- a twenty-dollar gold piece that circulated after 1907. He also designed a ten-dollar gold piece, and an absolutely exquisite one-cent piece.
Those noodle-heads who are in charge of our present mint designs --- with their grotesque Anthony dollars and the even more vulgar, preposterous, nickles, dimes, and quarters --- (not to mention the vulgar paper money, all ruined in the name of security) might take a gander at what was circulated, even what remained unissued, from the hands of Saint-Gaudens. Thus they might, if they would open their tiny eyes, get some sense of design, order, and --- most of all --- scale.
What is it with this country, and why has its official art and architecture now has come to be so fatuous, especially when we compare it with the Dark Ages a hundred years ago when the country was supposed to be so uncouth?
On looking through this fine book, one is struck by the fact that Saint-Gaudens --- what a name, eh? --- was probably the only national artist that was at his best in coinage and other relief (the mantelpieces for the Cornelius Vanderbilt House are a kick) --- and at his worst in most all other pursuits: sculpture, memorials, busts, marble and sketches.