Who are we --- any of us --- to predict the workings of what they call karma? This is the story of a man who as commander of the naval forces in Vietnam ordered the spraying of 11,000,000 gallons of Agent Orange on that sad land. His son was serving as a boat commander near the Ca Mau Peninsula. Starting in 1983, Zumwalt Junior developed a series of cancers which both he and his father believe to be a direct result of his exposure to Agent Orange.
As we delve into the characters of the two of them as presented (partially presented, really) in this book, we are given a picture of two ramrods. No matter what the agony --- and it is agony, viz;" I coughed up blood of just about every color from cherry red to black. At times, my skin itched so badly that I scratched myself until I bled." Pain is the only constant --- we have a picture of them, and their wives, and sons, and daughters, and brothers, and sisters with Impeccably Stiff Upper Lips.
"I found myself dwelling on dark thoughts more and more," says Zumwalt Jr. "I really had to work on myself mentally to avoid sadness and depression..." Dealing with sadness and depression, no matter what the Positive Thinking folk tell us, is not a matter of "working on the self" in militant aloneness. It runs deeper than that. If it is not resolved, it returns. And returns. And returns.
Elmo and I know each other so well that I never thought he would hold me responsible, nor did he think I would feel guilty. He made his decision to go to Vietnam, and I made decisions on how to conduct the war based on the best information I had at the time...
says Zumwalt Senior. Everything is so logical, so ramrod straight: no divergence of thought permitted. Be stoic in thought and deed; never waver. And as surely as we are sitting here, shaking our heads over a dual tragedy of people who were born and raised to "soldier," something is missing. Perhaps it is the human capacity to mourn, and mourn deeply, over not just one, but thousands, hundreds of thousands of people who died, who took sick and died, or, worse --- those who took sick and lived.
And not just the rich and famous sons of Admirals, who, after all, are well taken care of by the Veteran's Administration ($100,000,000,000 a year); but some million-and-a-half Vietnamese, who got doused in Agent Orange too, and who are, as of this moment, in equal pain, in some shack of a hospital, in Viet-Nam --- no VA for them.

"No guilt," says Zumwalt, Senior: "I did what I thought best." No guilt. None. How very very strange it all is, and so many suffered for it. Zumwalt's pain, yes --- and the pain of families of so many others, 10,000 miles away.
---
How to
Beat Burnout
Help for Men and Women
Frank Minirth, et al.
(Moody)

One of the most significant causes of depression is guilt. Those in "burnout" often feel responsible for acts and experiences totally out of their control. A good therapist will strive, through supportive attitude and gentle probing, to weed through the roots of guilt, to help the patient out of it, to assure him or her that guilt is a no-win situation. Imagine, then, you at the end of your rope, you've just bared your soul, and your shrink pauses, and looks at you, and then he says:
Acknowledge to God that you are a sinner...and that you yourself cannot bridge the gap that your sins have caused between you and God. Realize that Christ's death was the punishment you deserve for your sins...
Yikes! This Minirth is a psychiatrist in Texas. You go in for a consultation and --- as if you didn't have enough problems --- he lays that whopper on you. And then if you chance to say, "I have always felt that I should do what I want to do," he'll say (as he does here) that such desires are "reinforced by Satan."

It's no wonder that the case studies he cites are all of "good Christians" who go under. Not satisfied with this, he is willing to indulge in a little free-booting of the Bible. Responding to the question "Is the sexual part of...life healthy?" he cites the "Song of Solomon" as "the essence of marital romance." God's breath! Not only does "The Song of Solomon" never mention marriage, it is a frank and delicious explication of interracial passion (let old Minirth lay that on his North Texas schizophrenics).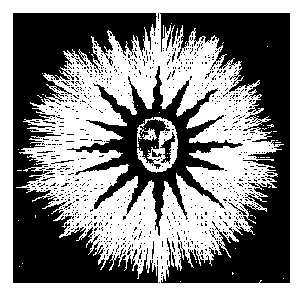 Evidently the publicist for Moody Books wanted desperately to keep all this lunacy under wraps: the poop sheet mailed with How to Beat Burnout doesn't breathe a word of "the punishment you deserve for your sins," or Satan hiding over there under the covers, waiting to pop out and force us all into all sorts of unnatural acts.

--- Lolita Lark