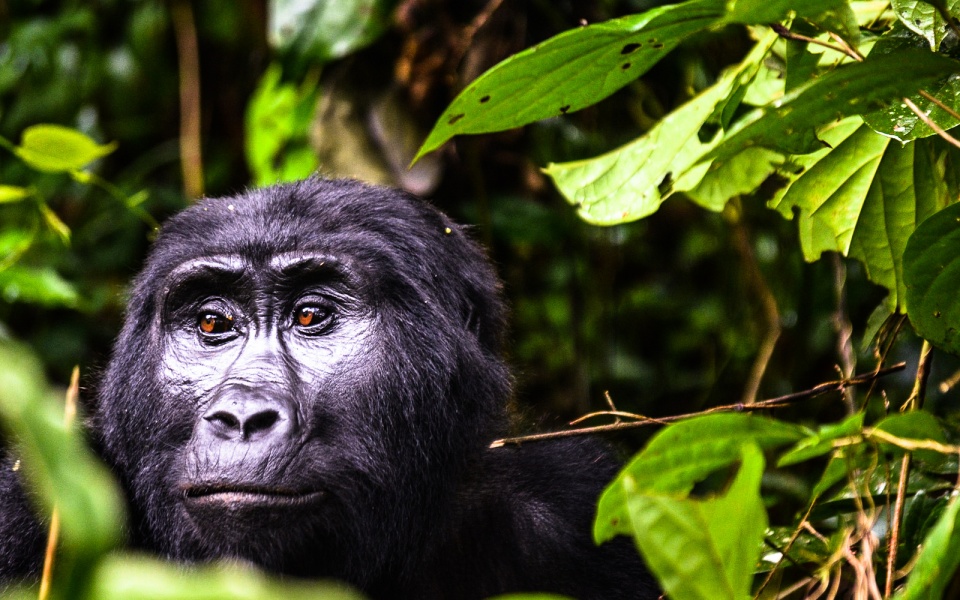 He is Omusinga Charles Wesley Mumbere Irema-Ngoma of Rwenzururu, the king of the Rwenzori Kingdom. He was reinstated to the throne just last October after an absence of many years, during which he worked as a nurses' aide in the United States. On the spur of the moment, a small group of college students he was scheduled to meet with asked if we'd like to accompany them. My friend said she thought we would and came and got me. And that's the true story of how my wish was granted and we stumbled into an audience with his highness, the Omusinga of Rwenzururu.
We arrived at the palace in the hills behind this town to find several Ugandan army guards at the gate, AK-47s slung over their shoulders. An officer walked over and greeted us, then we were frisked, asked to turn off our cellphones and to turn on our cameras. The officer inspected the cameras and handed them back to us and said we could use them only "on request." He motioned for us to follow him. We walked past a royal guard who was holding a spear. Both his white shirt and his gray cap were embroidered with the phrase "Royal Guard."
The throne room was in a large, low, cylindrical building with a gently sloping, conical roof. The entire structure was made of logs and reeds. It was cool and dark inside; a timid breeze moved through the open hexagonal windows. Unadorned fluorescent tubes attached to the walls in three or four places provided the only artificial light. The dirt floor had been swept clean. There were a few thick ribbons -- yellow and blue -- tied on supporting eaves, some palm fronds lashed to pillars, but the room was largely free of decoration. There were several rows of wooden benches. We sat down. At the front was a raised platform with a desk-size table and a large cushioned chair. The table covering was oddly incongruous. It appeared to be a sheet for a child's bed. Its border featured brightly colored cartoon figures of animals and a wooden ship with a barn on its deck: Noah's Ark.
We waited for 30 or 40 butt-anesthetizing minutes, then a small procession entered led by the king. Two ministers, several officers and three ladies of the court followed him. In his right hand he was carrying a short fly-whisk with a black and white diamond design on the handle. He was dressed in gray slacks and a short-sleeve white shirt. His glasses had thin gold rims. He looked to be in his mid-50s. He took his place at the table on the platform. The army officer who'd inspected our cameras sat behind the king in a white plastic chair.
We prayed and sang the anthem of the Rwenzori kingdom and the Uganda national anthem. We then introduced ourselves individually, after which the president of the student association read a long document. The king listened intently, making notes and nodding. After the reading was complete, the king addressed each issue that had been raised. The minister of education said he'd been a founder of the student association more than 20 years ago. We sang again. We prayed again. The king rose and exited, followed by his ministers, several officers and the three ladies of the court, one of whom carried his empty water glass in a small black suitcase.