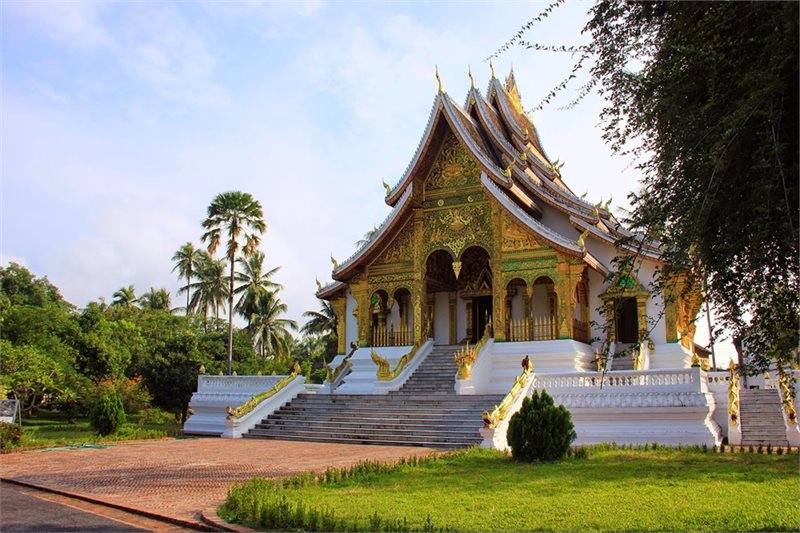 That night in My Tho the motorbikes are massing, their white and red firefly-like running lights swarming through the dust haze, past the cafes and the groups of people gathered around televisions. I stop in a café and order roast shrimp, rice and tea. After bringing the food, the young waitress sits down with me. She watches me for awhile, and then pitches in, helping to take the shrimp out of their shells and ladling sauce onto my rice.
"No," she whispers shyly. She hasn't heard of San Francisco, or of California. "I want to go with you to Can Tho," she says. "I need to learn more English." It's not a come-on, she's little more than a schoolgirl, a country girl. I sit and talk with her, tell her about my family, where I live, where I'm going.
"Why are you traveling alone?" she wonders.
"This is my job," I answer. "I travel to write about it." She smiles and then laughs as if she's just caught me in a big lie. "Really," I say sincerely. She laughs again.
I walk back to the Song Tien hotel and up to my turquoise room with its turquoise lace curtains, black vinyl furniture, and a single original oil painting of a mother nursing a baby next to an open window. It's a terrible painting but I like it. Late into the night I'm by turns lulled to sleep and awakened by the endless mechanical lullaby of My Tho, the putt-putt of the motorbikes in combination with the sputter of boat engines.
One night in Can Tho I hire a woman to take me out on the river for an hour just after sunset. She asks for 5,000 dong. I give her a 10,000 dong note (equivalent to about $1). She looks it over carefully, shows it to a friend, smiles and pulls the boat against the dock. I step in.
Most of the boats on the river are handled by women. If they're well off, their boat has a motor, but usually they row, standing up, staring at the horizon, pushing with their whole body. Each cycle of the oars takes one forceful, graceful, slow motion. It starts at the feet and like a wave flows up the legs, across the trunk, grips the shoulders, then breaks over the forearms, causing the hands to tighten as the oars push through the silty water. Sometimes she will stop and shake an oar that has collected a hyacinth. As she rows, we do our best to have a conversation. I speak almost no Vietnamese, she speaks little English.
"Aren't you the one that took me rowing last night?" I ask.
"No," she answers. "That was my sister."
"Where are you coming from now?" she asks me.
"San Francisco, California," I reply. She looks perplexed. "USA," I add.
"Ahhh," she says. "Number one!" And then points at a small something flying just above the surface of the water.
"Bat?"
"No, sparrow," she answers.
Which, if it is, makes it one of just three wild birds I see in the Mekong Delta. The reasons for this are both natural and unnatural. The unnatural ones have been exhaustively reported on elsewhere. The natural ones, I'm told, may include the popularity of small birds as food, a habit shared with the French.
The Delta was once part of the Khmer kingdom and is still home to a large Cambodian population. Near Soc Trang we stop at a Khmer temple outside of town. The head student monk, a young man named Lam Tu Linh, dressed in a saffron robe, invites us in for tea. We sit, sometimes talking, sometimes not. He tells us of the annual canoe race the temple sponsors and takes us out to see the temple's old, elaborately painted Kampuchean war canoe, one of the boats used in the annual competition. "This one is more than 200 years old," Lam Tu Linh says. "The winner of the race gets a television or farm equipment."
As we walk around the temple grounds, Lam Tu Linh points out hundreds of large fruit bats hanging upside down in the surrounding trees.
"Who are they?" I ask him.
The young monk giggles. "Those are the bats who live here too. But they go away from here to eat. They don't eat the fruit from our trees, they leave it for the monks."
On our last day in Chau Doc, near the Cambodian border, we go out on the river in the afternoon. Chau Doc is home to a thriving fish farm industry. What appear to be your standard Vietnamese floating ranch houses are supported not only by water but by thousands of fish living beneath them in submerged cages the size of basements. Chau Doc's fish farmers feed their finned herds through large trapdoors in the floors of the houseboats.
We stop at one owned and operated by a lovely woman and her seven young children. It's feeding time. The children sit on the floor at the edge of two 3-by-3-foot portals, dangling their feet in the fish-filled water. All around them are large balls of fish food made of rice hulls and other vegetable matter. For two hours every day they break off pieces of the wet brown stuff and toss it to the fish. They also fall in the water, push in their siblings, splash one another, throw clumps of the muck at each other, and generally fool around as much as possible. However, they get the job done. The entire operation, the woman tells us, including two houses and a third devoted to manufacturing the fish meal, is worth about $200,000, a monolithic fortune in Vietnam.
Rowing back to Chau Doc the boatman takes us along the opposite riverbank lined with thatched-roof houses on stilts. The sun is descending into the pink Delta haze, men are bathing in the Mekong, women prepare food on the high porches. Everyone waves, they think it's very funny when I take a snapshot. Children and parents make binoculars with their hands and yell to me, "Take my picture!" "How long have you been here?" "What's your name?" "Hello, hello, goodbye."
I'm sitting cross-legged on the bow. A few feet behind me Tam lies on her stomach, resting her head on the side of the boat. The breeze makes her black hair a veil. She's dragging a water hyacinth in the river, softly singing a bluesy Vietnamese ballad. The light turns everything orange. I suppose I could ask about the song, make notes of her remarks in my pocket-size Mead Memo Book, and end this thing with a couple of lyrical lines - - - us drifting across the Mekong into the apricot Indochine dusk. Or I could ask her what we're going to do next, where to from here? How can we make the most effective use of our remaining waking hours? But that would require moving, speaking, linear thinking. And sometimes we just like to sit for awhile.