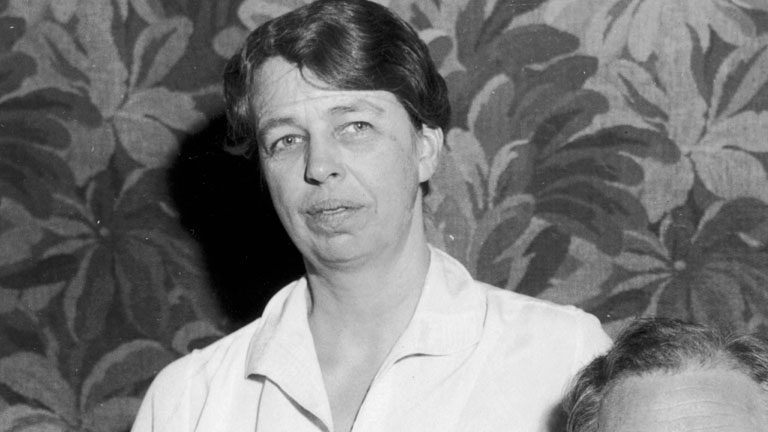 You might want to skip though much of this - - - the chapter on Pym reminds us a bit of a PhD thesis - - - but the chapter about Eleanor Roosevelt is a show stopper. And it has little to do with food at the White House during her aegis. Rather, it is about the concept of "Home Economics."
By the time most of us heardabout it back in the 1940s it had changed radically our country's concept of women and their role in the home. Before, it was the German three k's: Kinder, Küche, Kirche. But the idea of "Home Economics" came out of Cornell University's College of Agriculture, and was the work of Martha Van Rensselaer and Flora Rose. It is simply and nicely put by Shapiro: "Under the rubric of home economics, all women would study the science involved in cooking, cleaning and child care; and those who wished to study further could earn an academic degree representing their intellectual fitness for the job of wife and mother." It
focused on the good that a woman could do for her family and her nation, once she had been trained in hygiene, child psycholory, nutrition, and economics.
Eleanor Roosvelt "had lost her husband to another woman [Lucy Mercer - - - his long time mistress]; she had turned over her children to nurses and governesses to raise, and knew they were happier with their grandmother than they were with her. There was nothing to be proud of in her private record as a woman."
Home economics couldn't transform her marriage or make her a different sort of mother, but it could package the traditional responsibilities of womanhood in a way that allowed her to achieve mastery. It removed domesticity from the realm of the emotions and placed it among the sciences, to make it an activity for the brain rather than the heart - - - this was an ideal which she could support with all her heart. Being a wife and mother according to home economics wasn't a job managed by love; it was a job managed by serious rational work; and if women learned to do it properly, the whole nation would benefit. Eleanor needed a way out of the corner her husband and family had left her in. At Cornell she found, for the first time in her life, a definition of femininity that made room for a woman like her.
The coda to this is delicious; or should we better say, is lovely in its very earnestness. It has to do with how Eleanor constructed the homemaking side of the White House from day one, and, as such, focuses on one Henrietta Nesbitt. The was the tart, insufferable lady named housekeeper by Eleanor in 1934. Nesbitt's running the presidential kitchen for over ten years is as funny and biting a tale as one could ask. You might buy this book just to be led through how Nesbitt murdered the foodstuffs coming out of the kitchen, baked and parboiled drudge served to employees, visitors, presidents, Shahs, generals, admirals, political associates, friends of the family and senior statesmen from around the world.
Nesbitt was defined as "the most reviled cook in presidential history," and I'm convinced you will be as charmed as I about the grim gustatory gorp fed to the famous and the powerful. In Nesbitt, Eleanor found someone who would sabotage every attempt to do liven up the dreadful menu that was served day in day out. Her favorite way to present the dishes was apparently on toast. "There were curried eggs, on toast, mushrooms and oysters on toast, broiled kidneys on toast, braised kidneys on toast, lamb kidneys on toast, chipped beef on toast, and a dish called 'Shrimp Wiggle,' consisting of shrimp and canned peas heated in white sauce, on toast."
How the men reacted to "Jellies Bouillon Salad" is not recorded. Other salads that appeared on the White House table, and these must have made quite an impression on foreign visitors unfamiliar with the tradition, included "Stuffed Prune Salad," "Asheville Salad" (canned tomato soup in a gelatin ring mold), and "Pear Salad," a hot weather speciality featuring canned pears covered in cream cheese, mayonnaise, chives, and candied ginger. Mrs. Nesbitt said she sometime colored the mayonnaise green.
And the president himself? How did he react to this grim sustenance served even at official dinners. "For instance, after several days in a row of salt fish for breakfast and a similarly unrelieved stretch of liver and beans for lunch - - - Eleanor treated [his complaints] blithely."
She blamed it on "the pressures of the office." She wrote later, when he said "The vegetables are water, and I'm sick of liver and beans . . . these were figures of speech."
Shapiro has another take on it too. She said it was Eleanor's way of getting back at a man who insisted on referring to her best and dear friends as "she-males." This was a man who had promised so long ago to give up his mistress Lucy Mercer, but Lucy was one of the only women with him on the last day of his life at Warm Springs.
On that 12 April 1945,
just before the funeral in the East Room of the White House, she said she wanted a few minutes with her husband and asked to have the casket opened. She took off her wedding ring and left it with him.