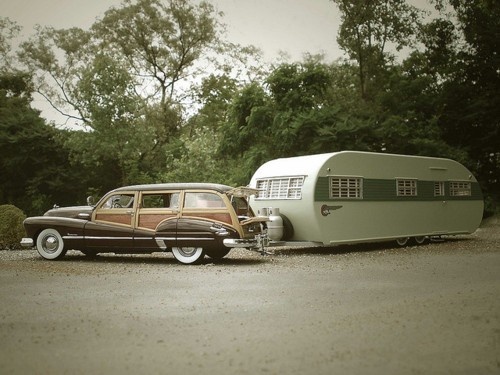 The miracle bathroom with the carefully spaced tub with shower, tiny perfect sink, the toilet itself resting safely above the holding tank with its little trap door to keep our leavings out-of-the-way please, until we could get to the "facilities" to pump out all our past wastes, move clean and odor-free into a new world.
Most of all the bedroom. A haven with windows on three sides, backs folded down to make our snug and safe world complete, all's right with the cozy world we have made intimate ours alone, in our clean days and clear nights.
It was a snug cottage on wheels, our first Airstream. One thing that Ocken does not emphasize is the adventure. Most of hers are pictured here safely parked away from the gangbusters on the highways. But my memories are rich of those first hair-raising days of driving my own fat Dodge truck with this big lunky living-and-cooking 8x32 bomb-shell lolling behind me. Towing? That bastard was towing me.
My first outings were an adventure in not being sure what I was doing or who I thought I was. I'm puttering along on the safer side of the freeway, and sometimes when I put on the brakes nothing much seems to happen until I coax these two joined-at-the-hips beasts to a lazy stop. I make it somehow home to park the twins. Now it's time to back in the drive.
A large car pushing a larger trailer backwards defies all the senses. Make a slight right turn in reverse, and the slight turn causes the tail of the trailer to veer off to the left . . . sheering off half of my prize rose plant. Go slightly forward and decide it's better to park down the next-door alley at the side of the house. In which I demolish only a tiny piece of my fence, and the lovely laburnum I had been tending for a dozen years.
Try it once, just for adventure. Driving forward? You can sometimes forget that that big lunk following close up on your backside. Stop in the gas station, try to back up to one of the pumps, and you well may take that pump home with you. You may be able to squeeze your trailer backwards down a narrow alley without taking something precious, something you don't own, like a neighbor's car, or his parking garage, or him. Believe me: it resides there somewhere in the class of Universal Paradox, not unlike Schrödinger's cat . . . er . . . dog.
--- Carlos Amantea