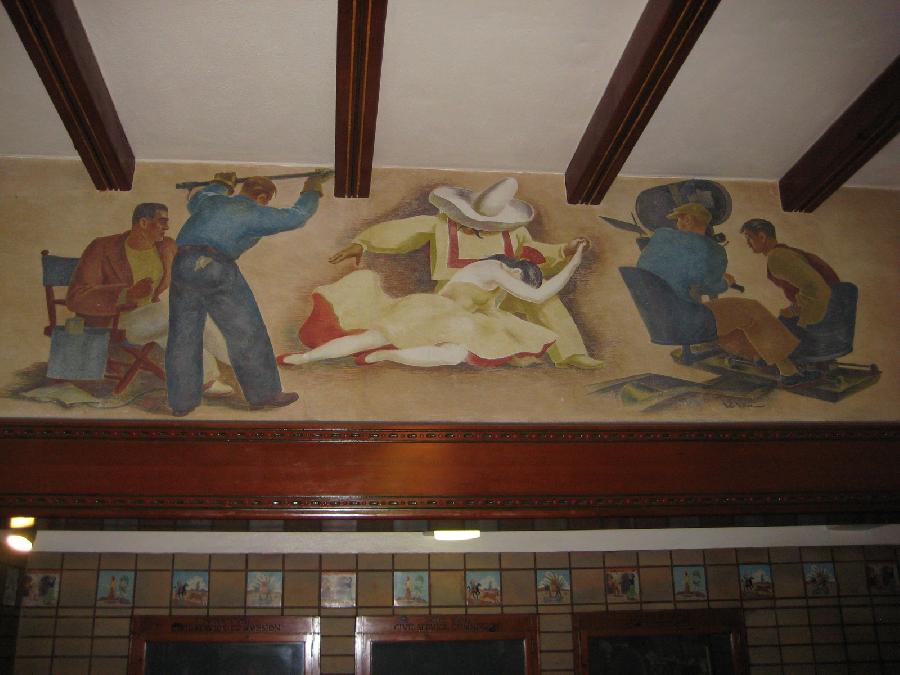 Chapter Nine features "The WPA and the Art of the Mural." It includes many of the gorgeous wall decorations offered here with a touch of the same reverence as in the earlier
Wall-to-Wall America:
Post Office Murals in the Great Depression.
And, as we pointed out above, the forty displays shown here in large 6x9 format are of people doing stuff. Taming horses, cutting wood, playing guitars, building buildings, delivering packages, groceries and mail, discovering gold, fighting Indians, getting robbed(!) and, by gum, in one across a far wall at the Library of Congress, going on pilgrimages - - - a tribute, of all things, to Geoffrey Chaucer's Canterbury Tales.
There is even a surprisingly contemporary and very colorful panel by Emil Bisttram. It's from 1937, and it's titled "Contemporary Justice and Woman." Women are not just shown having babies or washing clothes or cooking - - - although these do appear in smaller plates at the bottom, but, along the sides - - - doing sculpture, graduating from college, working in a laboratory, dancing, playing golf and tennis. The center-piece shows a daunting woman with sword which has obviously just struck chains from the wrists of the enslaved.
The indigenous peoples of America are not merely shown dancing around with tomahawks.
Native Americans were popular subjects for the Department of the Interior building, home to the Bureau of Indian Affairs offices. Apache, Pottawattamie, Kiowa, and Cherokee tribes, among others, can be seen in the grand murals in the employees' cafeteria, "which has delighted the workers since its instalation.
"In this vast and naturally lit space where both front and rear walls are arched, following the curve of the ceiling vault, the American Indians' story is told with color and an immediacy of spirit."
As always, Maresca addresses himself to form and function, how murals were set almost organically, some to resonate with the building that houses them, others to enliven the long hallways walls that often mark governmental workspaces.
It is the detail that marks this volume. There's a leisurely grace to these buildings that was often subtly rendered in high art in the most hum-drum surroundings. Walls were not only laced with a surprising variety of murals, marble walls were engraved with mock-columns to break up enclosed spaces. Lighting set in the ceilings was often decorative, and floors often had a terrazo design. Staircases joined in the decorative patterns. Courtrooms would be decorated with wooden paneling that included intricate veneers. The Custom House in Key West sports some unlikely brass torchères which, given the climate, turn rustically green under the Florida seacoast weathering. A simple parkway stanchion is carved with conjoining decorative horizontal and vertical lines. The ceiling lamps in the Federal Building in Hartford show an almost gleeful ornamental clasps around the buffed glass.

The same building shows a just-this-moment-landed brass eagle on the roof, one that could easily be taken for a floating gargoyle. And the lobby of the U. S Courthouse in Philadelphia sports a ferociously beautiful blue marble patterned dome and six lush black marble columns with intricately carved copper patterns at the top.

The surprise in this volume is that we get to see the federal government acting as a benign, almost loving part in people's lives. During its life, the WPA hired over 11,000,000 of the out-of-work, and gave them meaningful jobs in constructing some ravishingly splendid buildings, buildings not meant to lord over those who lived or worked in them, but that were subtly elegant, each being a work of art, offering a sublime working environment for those who worked there, or came for the services offered there.

I'm thinking how different this from what we have now in Washington. With well over eleven million unemployed (ignoring those who have just given up job-seeking), why is there not a new Works Project Administration now giving jobs to those throughout the country who are in such desperate straits? A gentle and inspired system to rebuild our cities, give work to those who so desperately need it, offer hope to all.

--- Lolita Lark