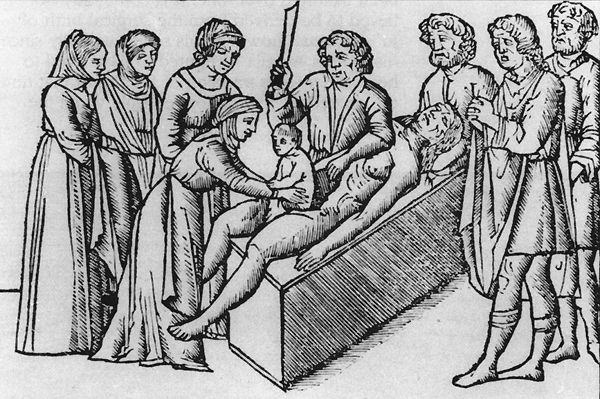 In 1843, at age twenty-four, Morton married Elizabeth Whitman, the niece of a former congressman. Elizabeth's prominent and patrician parents objected to Morton's profession. At the time, a dentist was regarded as little better than a barber. The Whitmans agreed to allow their daughter to marry Morton only after he promised to study the far more respectable profession of medicine.
In the autumn of 1844, Morton dutifully enrolled in Harvard Medical School, where he attended the chemistry lectures of Dr. Charles T. Jackson. Jackson was well acquainted with the pharmacological properties of ether, including its anesthetic qualities, but even though he was a bright working physician he apparently never gave serious consideration to the possibility that ether could be applied during surgery. Morton learned about ether during one of Jackson's lectures and, intrigued by its unparalleled ability to put people to sleep, he experimented with the drug on his pet dog, writing:
In the spring of 1846, I tried an experiment upon a water spaniel, inserting his head in a jar having sulphuric ether at the bottom. . . . After breathing the vapor for some time, the dog completely wilted down in my hands. I then removed the jar. In about three minutes he aroused, yelled loudly, and sprung some ten feet, into a pond of water.
Morton also tested ether on a hen and some goldfish. They, too, softly succumbed. Emboldened by these successes, Morton inhaled the sweet-smelling vapor himself. He passed out, then recovered fully without any noticeable ill effects. Morton finally felt it was time to try it on an actual patient. Morton performed the world's first painless dental extraction in his Boston office, removing an ulcerous tooth from a grateful merchant who history records as Mr. Eben Frost:
Toward evening, a man . . . came in, suffering great pain and wishing to have a tooth extracted. He was afraid of the operation and asked if he could be mesmerized. I told him I had something better, and saturating my handkerchief, gave it to him to inhale. He became unconscious almost immediately. It was dark, and Dr. Hayden held the lamp, while I extracted a firmly rooted bicuspid tooth. There was not much alteration in the pulse, and no relaxation of the muscles. He recovered in a minute, and knew nothing of what had been done to him.
On October 1, 1846, the Boston Daily Journal published an account of Morton's curious experimental procedure. The story made its way to Henry Bigelow, a junior surgeon affiliated with Harvard Medical School. Intrigued, Bigelow convinced the eminent head surgeon of Massachusetts General Hospital to stage a public test of Morton's purported anesthetic procedure. This was the big time. It was the nineteenth-century medical equivalent to landing a spot on American Idol. Mass General was one of the most respected hospitals in the country, and its head surgeon, sixty-eight-year-old John Collins Warren, had a national reputation. Warren had previously served as the dean of the Harvard Medical School, an institution his father helped found, and helped establish the New England Journal of Medicine.
With the stakes suddenly so high, Morton knew he would be taking a huge risk. It was one thing to fool around with ether in the relative obscurity of a dental office. After all, nobody expected very much from the uncouth and unruly pseudo-profession of dentistry. It was quite another thing to test the drug's performance during life-risking surgery in front of the Brahmin cream of the medical establishment. More than fifty skeptical spectators, including many of America's top surgeons, gathered in the Mass General operating theater on October 16, 1846. Some were genuinely curious about ether's effects. Most, though, expected to watch the public exposure of a charlatan.
The patient, one Edward Gilbert Abbott, suffered from a large tumor bulging out of his neck. Its removal would be a harrowing and excruciating experience - - - at least, that was how it usually went. Two strong orderlies stood nearby, ready to assume their usual role of holding down a flailing, shrieking patient. But would this time be different?
As the audience watched from the high tiers of seats, the patient was rolled into the operating theater. Warren stood by, waiting. The clock ticked past the appointed time for the commencement of the surgery, but Morton did not appear. Warren turned to the gallery. "As Dr. Morton has not arrived, I presume that he is otherwise engaged." The patient gritted his teeth. The surgeon lifted his scalpel.
Suddenly, Morton strode into the theater. There was good reason for his delay. Since nobody had ever before administered ether during surgery, there was no mechanism for delivering ether vapor in a controlled fashion. Morton had been busy constructing an ingenious apparatus: a round-bottomed chemistry flask that contained sponges soaked in ether. Two ports were attached to the flask with brass fittings, and, via a clever system of leather flaps, air was drawn from one aperture over the ether-soaked sponges and inhaled through the other.
Warren stepped back and said, "Well, sir, your patient is ready." Surrounded by a silent and largely unsympathetic gallery, Morton went to work administering the ether from his newly contrived glasswork. The patient breathed a few slow breaths of the vapor and his eyes gently shut. Morton turned to the surgeon. "Dr. Warren, your patient is ready."
The operation began. As the scalpel sliced deep into his neck, the patient showed no reaction. Even so, the slow heaving of his chest demonstrated he was clearly alive and breathing. The audience gaped in awe. Today, we take the existence of anesthesia for granted, but imagine just how wizardly this must have seemed to a physician at the time - - - there was some magical substance that somehow completely shut the mind off from all awareness, yet left the body's physiological operations unaffected. It was a moment as revolutionary to medicine as the discovery of gunpowder was to warfare or the invention of powered flight was to transportation. When the operation was completed, Dr. Warren turned to the audience and announced, "Gentlemen, this is no humbug."