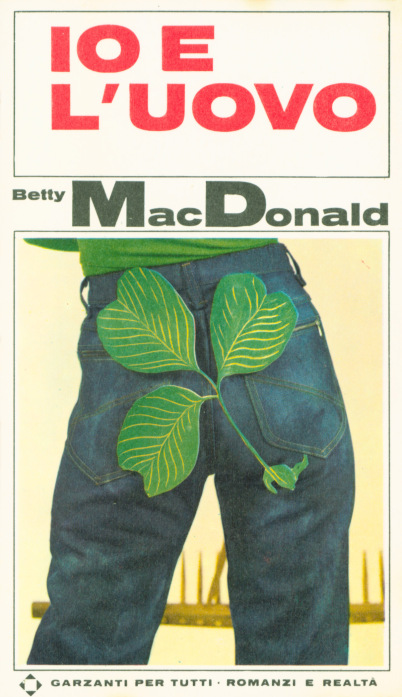 There was little mention of Bob Heskett in
The Egg and I,
and Becker tells us that Betty quietly elides the truth, merging the original bilious Bob with the affectionate, considerate, and loving second husband, Donald MacDonald. Yet we get to see a tiny touch of whimsey in this, her first book, which, despite the ruinous time with Heckett, she throws in, scarcely noted, at the end of one of the chapters. She tells of the time that she had forgotten to order kerosene:
Bob was never one to scold (sic!) but he showed his disappointment in me by leaving the table still chewing his last bite and thrusting himself into bed, to dream, no doubt, of the good old days of wife beating.
§ § §
Paula Becker is a fairly good writer, though bogged down by detail, even a bit humdrum. Unfortunately, she shows little if any humor . . . as if she had never ever run across any of Betty's writings. Our theory is that if you are going to tell readers that the author is a laff-riot, you should offer up enough quotes so we can make up our own minds.
Even more distressing, for us old Egg and I fans, Becker had access to a hugely rich resource - - - practically all of Betty's correspondence, boxes of it (she was a writer, of books, and of letters) - - - all packed neatly in folders located, by some effort, by Ms. Becker, at the homes of Heidi Anne Keil and Timothy Girard Keil, children of Joan MacDonald (Betty's daughter).
Heidi lived out on Vashon Island, a ferry ride from Seattle, and Becker - - - how we envy her - - - spent months going through these treasures: letters, memos, notes to herself, calendars, family documents.
Becker reminds us that in her pre-Egg life, Betty had been a secretary, and tells us that many of the letters (she seems to have kept copies of many of not all of her letters, and her responses) have wonderful, often sarcastic, sometimes hilarious, at times exquisite literary portraits of friends, family, and strangers.
But Becker, alas, only gives us a few brief quotes. We, the readers of this book, are the losers, and I'm beginning to think that in publishing this book, the University of Washington Press might fear the Kettle curse: that if too many of these letters were published, there might be a doppelgänger, the University itself being sued by millions for millions.
§ § §
Finally, we are forced, in Looking for Betty MacDonald, to bear witness to Betty's agonizing death, at the age of fifty. This must be why I try to avoid biographies of my favorite writers. Betty MacDonald, née Bard, dying from cancer, a two-year, process . . . despairing for her and her family, depressing for fans like me.
For we would have wanted her to live to ninety, writing all the while, slowly gaining back her delicious irony, her sharp words, her wicked skewering of characters . . . and, above all, as she was wont to do, giving in to her own gentle way of self-mockery.
Alas, we know that even her skill could not make her find wit, such gentle irony at her own untimely demise. I suspect that few of us could master that outside of pure cynics like Christopher Hitchens.
Still, Betty being Betty never completely gives up trying to divert us (and herself) from the hard truth. Near the end, probably late 1957, she wrote to a friend,
I'll let you know that the cancer specialist says . . . I think they are all a little irked with me for not dying - - - so upsetting their prognosis.
And another,
I discovered yesterday that by taking two codeine, waiting 20 minutes for it to take effect and then hurrying like mad I can write 1½ letters before beginning to gag - - - this of course without any pause for thought, wit, or clever phrasing.
In general, we must give Becker points, that she has, literally, brought back from the dead one of the best post-WWII writers: a comprehensive volume, a 175 page book with 33 pages of notes, including a terrific index (a reviewer's dream).
But the next time I'm offered the chance to consider a biography of one of my favorites (H. L. Mencken, Paul Krassner, Joyce Cary, Warren Hinckle, Jerome K. Jerome, or S. J. Perelman) I think I'll beg off, claiming that I've suddenly been called to an important appointment.
In Samara.