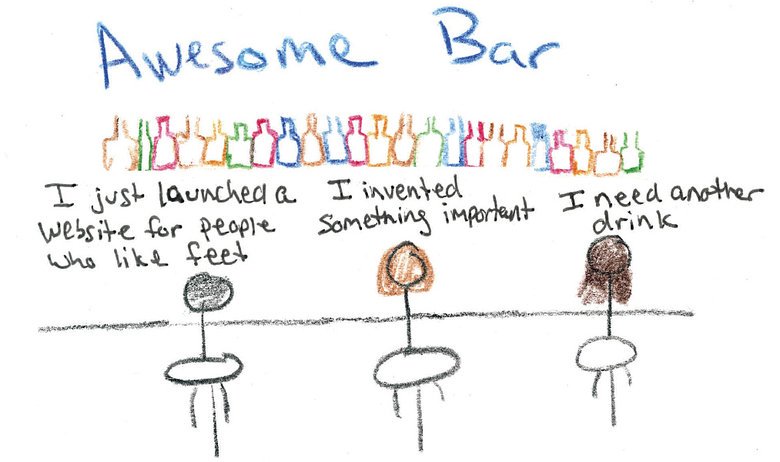 As we are reading this collection of boozery, we might well be thinking about what it would be like to hang out with someone like Amber when she was on the usual bender, especially, as we learn on pages 1 - 200, she is
always
on a bender . . . yet continuing to function as a human being? In rather conflicted language, she tries to tell us how it feels, for instance, to have one of her male buddies trying to come on to her.
It was only a day after 9/11 there in New York City. She recalls that hours later, after the first strikes, people were still not sure that these were the only ones coming.
It'd be sort of beautiful to have sex knowing you were gonna die in a few hours. But as much as I drank, I didn't sleep with guys who I didn't love. Sure, I'd make out with them (I'd make out with anyone). I'd blue-ball them, and let them touch my tiny boobs, but sex was too intense for me. Most guys disgusted me, even if they were cute. The only men that I was attracted to were the types that could ruin my life, the unavailable fucked-up guys. I liked having sex with guys who had a lot of problems because it was exciting. It was a challenge to try to change them, and I liked focusing on other people's problems rather than my own.
Besides being a little uneasy with this "I'd make out with anyone" business (and wondering what the hell is this thing so casually tossed off as "blue-balling") - - - her ambivalence is mixed with an I-would-never-say-no stance, along with convincing stories, further on in the book, of wanting to be a lesbian . . . but not being able to pull it off (so to speak).
All this makes Amber Tozer as mysterious and puzzling as any character, fiction or non-fiction, that we've run into in our many reads. For instance, after one of her many wine and coke nights, the next day,
When I woke up, I didn't know if it was God or the cocaine, but I had an out-of-body experience that was so intense I became fully aware that I had to stop drinking. It was a moment in time where the only thing that existed was the clearest thought that I had ever had in my life, which was, "You have to stop drinking. If you don't, your life is going to to be awful."
Under this, we find a drawing of her on an air mattress (with the words "Holy Shit" on the bed board and the words "air leaking out psssss" at the bottom) plus words in script, "I understood with all my heart that I could not control my drinking and I needed to ask for help."
This is a sudden end to all the drama that's taken place before, followed on the next page by the sudden declaration: "It's been over seven years since that moment on the air mattress, and I haven't had a drink since."
That's it for the follow-up to this almost non-stop tale of self-destruct. Amber didn't self-destruct, and we are left puzzling over the how and why and how come . . . and why not?
She may be on to the big secret of the big changes that sometimes come into our lives. They come WHAM! and blow us up, and out, and away . . . and then, if someone asks, "Wow! No stuff! How'd it happen?"
And we find that there are only two possible responses:
[1] I can't really figure it out myself; and
[2] I really don't want to talk about it.
This last is because we find, most of us, that when something so mind-blowing comes about happens, there's a certain air of mystery, along with a heavy dose of magic that turns up too.
And we just don't want to tamper with it.
At all.