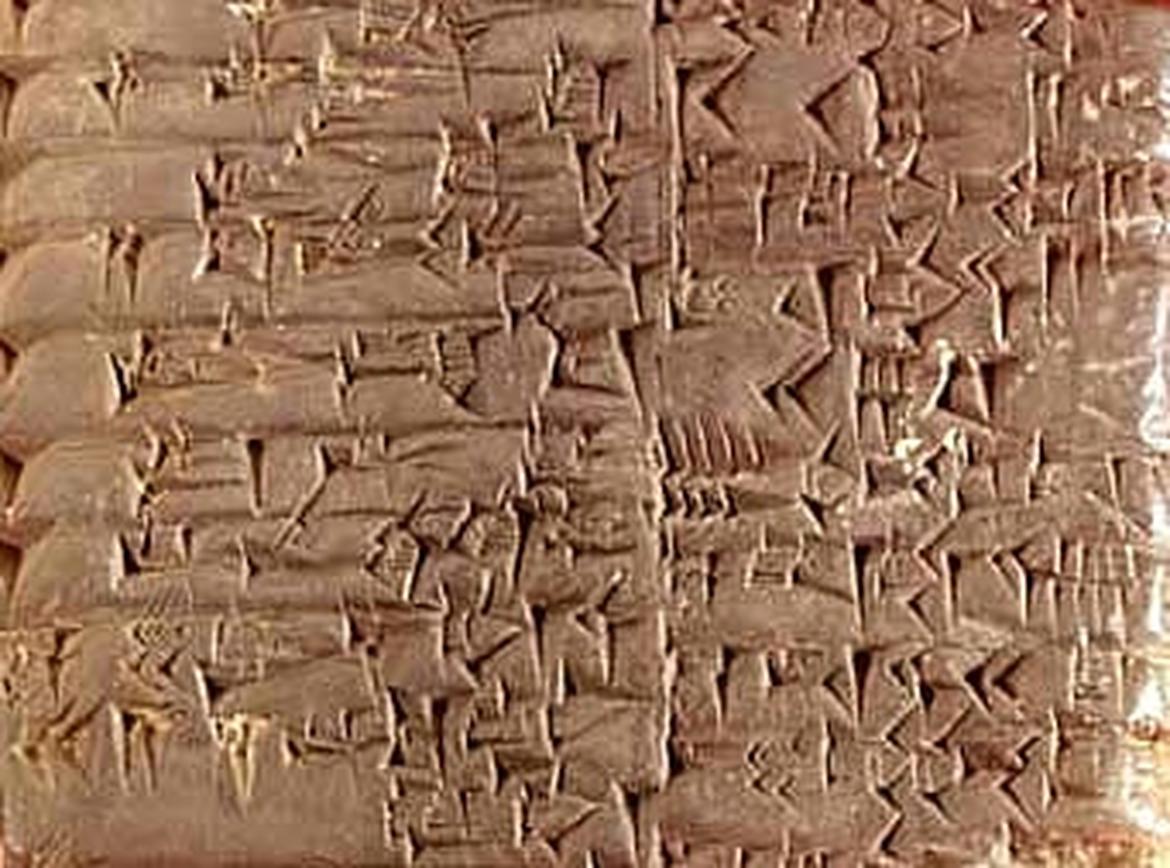 Because it is hard clay, we have so many more of these documents, more than any of vellum or parchment. The problem is that there are so few people who can read cuneiform, and most of the documents are all accounting: "the majority of these that have been excavated and translated contain administrative information." You and I would hope that some document from 1500 BC would be a poem, praise for a god, musings on the ages - - - but no. "Received of Abul dum B'jai, twelve ewes, three goats, five shoats."
Although it is about writing, History has interesting chapters on the invention of printing, and the coming of the typewriter. Gutenberg's press was not all that welcome when it arrived; Martin Luther complained about the surfeit of printed materials 150 years after its invention: "the multitude of books is a great evil. There is no measure or limit to this form of writing." Trubek reminds us that Gutenberg's bible was not all that different from those of the scribes. The beginning of each section of the book started with a red letter, which meant the paper had to be run through the press twice, complete with "rubications," margins and guidelines.
Typewriters? The first of these - - - from around 1860 - - - were not user-friendly. What you had just typed was hidden from view, and it was "a heavy, loud metal machine mounted on a table with a treadle at the bottom." It cost $125 in nineteenth-century dollars.
Finally, Remington (the gun manufacturer) produced one that had a carriage return, and "Underwood rolled out a new model whose keys struck the top of the page so the letters could be seen as they were made." Mark Twain plugged the machine, and Henry James bought one so he could dictate his novels, complaining all the while that his "young typists are mainly barbarians." By 1910, two million typewriters had been sold.
History

is a merry if brief volume, and the author has fun with some of the prejudices associated with writing. She points out that reading and writing were not necessarily conjoined: "Reading came first, and writing was not included in all lessons. Many women were taught to read but then not taught to write."

Those lucky women who were taught to write used their own separate-but-not-equal script. In England they did not use the complicated English secretary hands or the various legal hands. Instead they wrote in what was called Italian hand, a simpler script for the simpler sex.

Martin Billingsley, in a seventeenth-century writing manual, explained women should only be taught Italian hand because "it is conceived to the be the easiest hand that is written with Pen, and to be taught in the shortest time; Therefore it is usually taught to women, for as much as they (having not the patience to take any great paines, besides phantasticall and humorsome) must be taught that which they may instantly learn."

Mark Twain, with his fascination with the typing machine, as always, ends up with the last word. A young man wrote asking for a specimen of his handwriting, and Twain told of his response: "I furnished it - - - in type-machine capitals, signature and all."

It was long; it was a sermon; it contained advice; also reproaches. I said writing was my trade, my bread and butter; I said it was not fair to ask a man to give away samples of his trade; would he ask the blacksmith for a horseshoe? Would he ask the doctor for a corpse?

--- C. A. Amantea