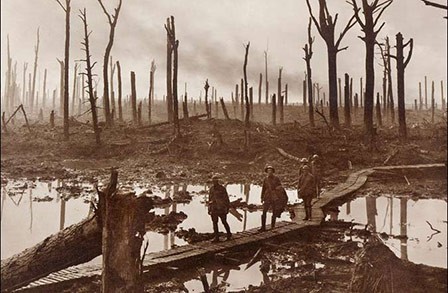 I guess one could call this a
Bildungsroman
but if so, it is one of learning for both boy and reader, as we are pulled from the beautiful countryside, into a foundry (or a rendering plant) and then, in the second part of the book, to countries immersed in a war which as a beast will eat up villages, the lives of families, the lives of too many young men, all forced to live (and die) with war's grotesqueries for more than four years, a horrific period in European history where all are involved in a war that was supposed to last for mere months (all thought the war would "be over by Christmas"), but becomes one that goes on and on while delivering brutish lessons on how to destroy both soul and youth, the horror-show Wilfred Owen titled "Dulce et Decorum Est"
He plunges at me, guttering, choking, drowning.
If in some smothering dreams you too could pace
Behind the wagon that we flung him in,
And watch the white eyes writhing in his face,
His hanging face, like a devil's sick of sin;
If you could hear, at every jolt, the blood
Come gargling from the froth-corrupted lungs,
Obscene as cancer, bitter as the cud
Of vile, incurable sores on innocent tongues . . .
§ § §
Hertmans forces reader and hero alike into a new form of war. For never had war been fought in the trenches, moiled with a brand new gestält of machine guns, grenades, artillery, gas, machines, wreck the land . . . along with a new morality, one that led national governments to force war not only on each other, but on entire peoples. A new kind of war where peaceful men could be rounded up from the field and home and shot; a new morality that had never been seen in previous conflicts.
In Urbain's early campaigns in Flanders, the soldiers trudged through the "stunning" countryside, where "summer clouds drifted over the waving grain in the distance, the stands of trees in pastures shaded the grazing cattle, swallows and larks darted through the air, sticklebacks glinted in the clear brooks, lines of willows swayed their branches in the warm breeze."
It reminded me of the seventeenth-century Dutch landscape painters, of their peaceful pictures, of treetops painted by the English artist Constable, dappled with patches of light and shadow, of the tranquil existence he had captured on canvas.
And this bucolic otherworldly existence comes quickly to be pitted against a war story.
We could go on to describe Hertman's haunting pictures of trench warfare - - - but I think it is safer to let his words speak for themselves. In two readings [see below] you'll find a special mastery of words that puts us directly in the trenches.
I can tell you as a long-time WWI addict, I have read too many writers who try to capture that particular vision, but Hertman has them all beat. How? By an exquisite blending of art and specificity, in this case blessed with an excellent translation by David McKay.
The writer manages to capture a relentless picture of the contradiction of people raised in civility being quickly transformed as they live among the rats and mangled bodies and soul-wrecking weeks months years of fire-power, chaos - - - ones that left those who went through it mentally and socially crippled for the rest of their days (as was Urbain).
§ § §
War and Turpentine was something special for me. It's my job to read and review several books a month. I've been doing this for many years. With this deluge of reading matter, it is all too rare that I have willingly taken up a book, read it through, waited a few days and, at the end of that period, picked up the same book, gone through it, slowly, again - - - enchanted (again!), all the while, trying to figure out how the writer did it.
And I should say, at the end of this, I damn near found myself wanting to pick it up yet again . . . to give it a go just one more time.
Hertman's writing isn't just mastery; it's divine. And it deserves everything we can give it.