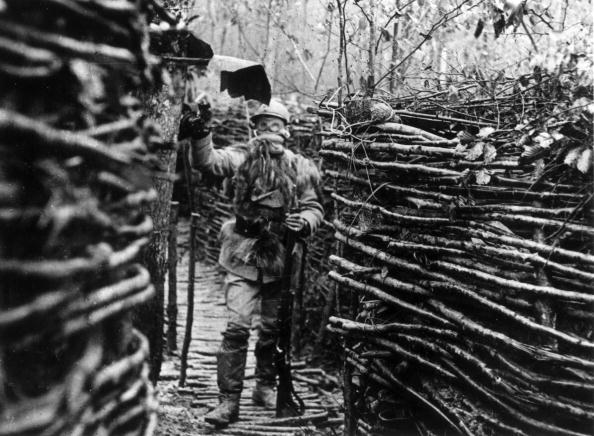 I head off with five of my men to keep watch at the most forward post; twenty-four hours of vigilant observation, noting any changes in the German positions. We are lying so close together that we can hit each other with pebbles. Even when we see a spiked helmet surface above the wall, we don't shoot. There's no point in provoking serious combat here; it would only cost us all our heads. But toward nightfall, when a German unexpectedly throws a grenade that goes off close to our dugout, I lose my temper. I grab one of our grenades, pull out the pin, and throw it furiously in their direction. We stop up our ears and wait for the explosion. Nothing. And then - - - nothing. We wait in disbelief; the grenade must have landed right next to their forward post without going off. Once darkness falls, I send one of the lads out to have a look. A moment later, we hear a boom, followed by a furious blast of rifle fire, screams and cries from the other side and our own, shells flying back and forth. We run for our lives, away from the German trenches. After ten minutes, everything is quiet again. An owl cries in the tilting trunk of a willow beside a drainage ditch that gleams in the vague moonlight. The boy I sent ahead did not return; his death is on my conscience. I order my men to reoccupy the forward post as quietly as they can, while I crawl over to the dead soldier's body. I am so close I can hear the Germans talking. My heart pounds in my throat. I try to drag the boy back through the mud, but it proves impossible. His whole chest has been shot open; he is lying on his back. I cautiously take his rifle and ammunition and make the sign of the cross on his forehead.
Gobbleskipya, I hear in my head. Gobbleskipya, pal, God damn it.
I return to my place among the men in the dugout. Their disapproval takes the form of a crushing silence. Stiff with cold and damp, we are relieved ten hours later.
Back in the trench, I see Hicketick gain. He asks me where the partridges are. I open th mess kit and out comes a sharp stench. Twenty-four bloody hours and they're already rotten, he says. Maggots writhe in their sunken eyes.
"I'll stew them up for the officers, with a whole bottle of red wine," he says with a wink, and then he's gone.
It is May 1915, Le vintième siècle writes. Still quiet on the Belgian front.