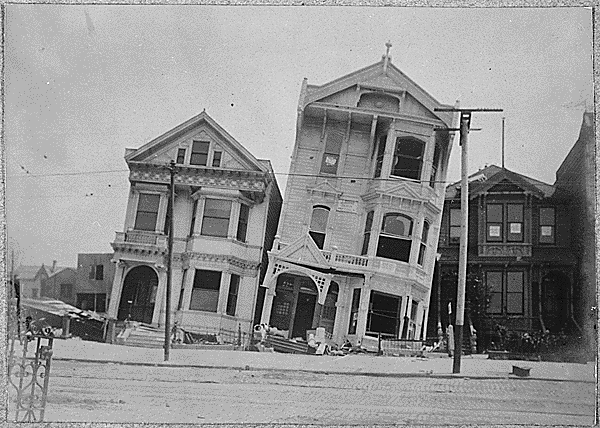 Well! dear Lizaveta, San Francisco! Oh my! There are streets here, all uphill, and with gold prospectors and their donkeys on them. There are saloons with swinging doors, and Flora Dora girls dancing inside. Everybody plays
Oh Suzanna!
on their banjos (everybody has one) and everywhere you see Choctaws in blankets and cowboys with six-shooters and Chinese and Mexicans and Esquimaux and Mormons. All the houses are of wood, with fancy carved trimmings, and the gentry sit on their front porches and read political newspapers. Anybody in America can run for any public office whatever so that the mayor of San Francisco is a Jewish tailor and his councilmen are a Red Indian, a Japanese gardener, a British earl, a Samoan cook, and a woman Presbyterian preacher. We have met a Scotsman name of Robert Louis Stevenson, who took us to see an Italian opera. Yours ever, Belinda.
§ § §
Dear Lizaveta: I'm writing this in a stagecoach crossing the Wild West. We have seen many Indian villages of teepees, and thousands of buffalo. It took hours to get down one side of the Grand Canyon, across its floor (the river is shallow and we rolled right across, splashing) and up the other side. The Indians wear colorful blankets and have a feather stuck in their hair. Earlier today we saw the United States Cavalry riding along with the American flag. They were singing "Yankee Doodle Dandy" and were all very handsome. It will make me seasick to write more, as we're going as fast as a train. Dizzily, Belinda.
§ § §
Dear Lizaveta: We have been to Chicago, which is on one of the Great Lakes, and crossed the Mississippi, which is so wide you can't see across it, only paddle-steamers in the middle, loaded with bales of cotton. We have seen utopias of Quakers and Shakers and Mennonites, who live just as they want to in this free country. There is no king, only a Congress which sits in Washington and couldn't care less what the people do. I have seen one of these Congressmen. He was fat (three chins, I assure you) and offered Rudolf and me a dollar each if we would vote for him. When we said we were from Prague, he said he hoped we'd start a war, as war is good for business. On to New York! In haste, your loving Belinda.
§ § §
Dear Lizaveta: How things turn out! Rudolf and I are married! Oh yes, at Niagara Falls, where you stand in line, couple after couple, and get married by a Protestant minister, a rabbi, or a priest, take your choice. Then you get in a barrel (what fun!) and ride over the falls --- you bounce and bounce at the bottom --- and rent a honeymoon cabin, of which there are hundreds around the falls, each with a happy husband and wife billing and cooing. I know from your parents that my sister in the department store has come to live with you and be your doll. Rudolf and I are going to the Argentine. You must come visit our ranch. I will remember you forever. Mrs. Rudolph Hapsburg und Porzelan (your Belinda).