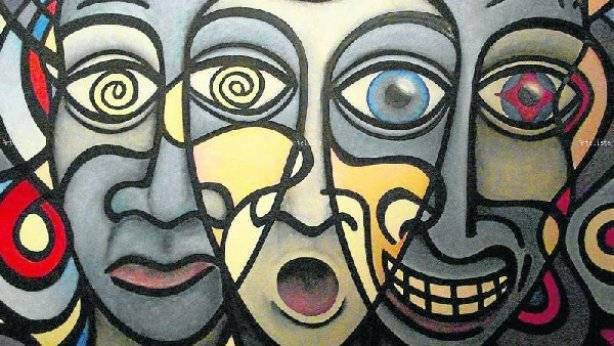 I am giving stars to much of this book for the sheer ability of the twenty authors to lead us in (and not necessarily out) of what are the scariest psychic catastrophes that humans can undergo
at their own hands
. . . psychosis, OCD, suicide, schizophrenia, autism, voices, bipolar, pills, "self-injury" (what they call "cutting"), and growing up with mad relatives (like a mother who refuses to emerge, ever, from bed).
And we should give honorable mention to those like Ryan Bloom who deliver it to us so straight - - - in the gut - - - that we are there [whether we want to be there or not!]
This would include Jessamine Price who spent a week "lying awake at night, tense and still, afraid to roll over in bed, afraid even to shift position slightly" because of the fear that her "loft bed, homemade from two-by-fours, would suddenly collapse and send me plummeting to the floor, causing me some horrifying injury. I would be paralyzed, I was sure."
Or, Beazie Griffin who says the pills that let her be free from OCD are not "happy pills" but "not-constantly-feeling-overwhelmed pills."
Or Peg Quinn's daughter who is hearing voices that "want me to do something, but I don't know what." Quinn learns soon enough that "most caretakers of the mentally ill end up on medication themselves. That helped explain all the silent parents who spent the evenings staring at the table." Her daughter's friends?
Mark knows her well but is depressing to be around. Ken, the platonic friend, is adorable but caught up in the drug culture. Then there's Clark, to whom she can't entirely open up. For example, she says, "I can't tell him about the night Ed and Ken and I stayed up all night cutting each other. It was so psychotic, and Clark couldn't handle it.
Joyce O'Connor, telling of her autistic son Henry, nine years old:
But just when I cannot take another moment of Henry's autistic tantrums, he says or does something ridiculous yet appropriate, and all the other stuff melts away. It is in these moments that I am absolutely smitten with whoever is inside this boy, an individual with no social filter who speaks only the truth.
Of his need, apparently to repeat, endlessly, a certain vulgar line from the Broadway megahit The Producers. She then says, "He is a little potty-mouthed Buddha."
And finally, Beth Wiles, who takes us in this book from several tortured individuals to the universal, discovering one carefully hidden truth of an American lie that still goes on. That the wives and children of combat veterans are those who suffer the most from their father's PTSD, which grows mostly from their combat experience.
She points to Fort Bragg, North Carolina which covers "more than 251 square miles in four counties and is home to almost 10 percent of active US Army forces." When word leaked out in 2002 of the high rate of familial violence at Fort Bragg, CNN reported 'army sources' stating that "there's no common thread among the cases and suggest it may simply be an 'anomaly' that so many incidents have occurred together." Including suicides.
"Dr. Ira Katz, head of mental health service for the US Department of Veterans Affairs, testifying before a congressional committee, denied a suicide epidemic. He told CBS News there had been 790 reported suicide attempts among veterans in the VA's care in all of 2007."
But then an email came to light. One that Dr. Katz has written to a colleague in February 2008. "Shh! Our suicide prevention coordinators are identifying about 1,000 suicide attempts a month among the veterans we see in our medical facilities. Is this something we should (carefully) address ourselves in some sort of release before someone stumbles on it?"