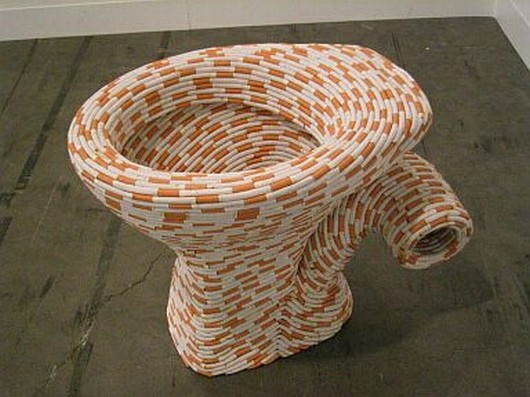 Ms. Emin sees "her art as inseparable from her life." She compares herself to Egon Schiele, Kaethe Kollwitz, Edvard Munch. "They all used themselves, that's what I liked about their work." Once, according to Fullerton, she and her ex-boyfriend appeared at the South London Gallery and "dissected their relationship in salacious detail before a transfixed audience," seeing her intense emotions and intimate experiences as source material for her art.
Artrage! apparently got its start in 1988 under the aegis of the Young British Artists' Damien Hirst, who put on Freeze in a run-down warehouse in London. It consisted of a core group of sixteen artists, including Emin. They knew they were outside the mainstream, and revelled in it. They didn't want to join the system because "it was too much fun outside of it." One thing they had in common was, said one of them: "we didn't sit around talking about El Greco." They were proud of starting without any history. They
plundered recent art, advertising and media ruthlessly but they transformed what they found to their own ends. Using sliced-up animals in formaldehyde, mutant child mannequins with penis-noses and anus-mouths, heads sculpted from human blood and casts of whole houses, the artists grabbed the British public, punched them in the face and shook them out of their torpor.
A random walk through Artrage! will get you
A snooker table with several headless cloth mannikins draped over office chairs;
a bloody, gaping, wild-eyed cowhead;
a can of "dulux trade high gloss" magenta acrylic paint being poured on the ground;
a statue of towel-wrapped boy standing, hands behind back, on a Trafalgar Square rooftop;
two shiny red shoes on ground, emitting smoke;
two pair of large double doors from Hohenschonhausen Prison in Stasi City;
a 65 inch tall statue of a scruffy man in ragged shirt and rumpled pants, titled Bum;
a thirty-two ton, thirteen square foot block of ice, melting on the floor of the Wapping Pumping Station;
in a large room, "Bloody Wallpaper with Concrete Dog and Ink Pad (red).
You can take all this as you want to. The writing here is astute and the artists I guess are earnest, but they act as if all this is new. However, four years ago, the Getty Museum brought out a book called
Pacific Standard Time
- - - Los Angeles Art: 1945 - 1980. In it, there are over 300 works. We suggest that the YBA school spend some time with this book, especially with the works of Edward Keinholz (we feature three of his works in our review).
We focussed in on some of his more famous and heartily denounced art pieces - - - wrote most lovingly of a car, welded, cut down to half its original length, foreshortened - - - and cluttered with mannikins lollygagging about on the seats.
We wrote,
Edward Keinholz's "Back Seat Dodge '38:" a mise-en-scène that shows a rather truncated coupe complete with rather truncated couple (open door, legs and torsos scattered hither and yon, conjoined in the dusky interior with beer bottles on the ground and undies on the hood). It was what one Los Angeles city council supervisor termed "pornographic" and "revolting."
What Damion Hirst and Tracey Emin and Sarah Lucas consider to be outré is but another burp on the highway to artistic freedom. Fifty years ago, I knew artists in the northwest who were stacking up doll heads in boxes to hang on galley walls and constructing elaborate (and gorgeous) delftware of AK-47s and hand grenades while these kids were still in diapers.
All praise to the ruckus that they've raised, but they are just another interesting and sometimes amusing junction in the road-rage that is and has been and always will be the artistic game, one of raising the roof and sticking ice-picks in the tires of the bourgeoise - - - and praying loudly that someone pays attention.