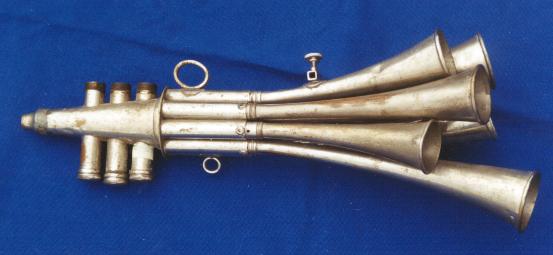 Another New Yorker who knew Safford Cape was a younger musician named Noah Greenberg. In 1952, Greenberg formed his own vocal/instrumental ensemble to perform early music, inspired by Cape's example. Greenberg called it the New York Pro Musica Antiqua, thus filching the name from the Brussels outfit which was its inspiration. The Brussels group limited its instruments to the softer lute, viols, and recorders. To these, the New York Pro Musica gradually added the biting sound of a few buzzies, replicas of which were beginning to be available. The New York group went on to popularize early music through innumerable recitals, notably their annual performance, starting in 1958, of a Medieval mystery play at the Cloisters in Manhattan, and through 28 recordings. It could be argued that Jack Skurnick's records of the Brussels Pro Musica Antiqua, together with the live performances and recordings by its New York counterpart, is what lit the fire of the Early Music Revival in the USA in the 1950s.
The Early Music Revival was a story of spectacular artistic successes, but there seemed to be a curse on these early pioneers that condemed them to short lives. Willy/Guillaume De Van died in 1949, at only 43, still under the cloud of his perhaps unwitting collaboration with the Nazis in occupied France. Jack Skurnick, an unsung hero of the dissemination of early music on record, suffered a fatal heart attack in 1952, at only 42 years of age. Most of the series of 41 LPs by the Brussels Pro Musica Antiqua that he had planned to issue on EMS went unreleased after his death. The genial Safford "Teddy" Cape had health problems which led him to retire in 1967 at the youngish age of 61, and he died before reaching his 67th birthday. Noah Greenberg, founder and leader of the New York Pro Musica, died in 1966 of a premature heart attack at age 46.
But Teddy's father-in-law, Professor Charles Van den Borren, who served quietly as advisor to the Brussels Pro Musica Antiqua, lived to the venerable age of 91. Perhaps the academic life is less stressful than conducting or recording a bunch of singers and HIPsters playing lutes, viols, recorders, zinks, and racketts.
As for Max and Anna Skurnick, who could perhaps qualify as grandparents of the Early Music Revival in the USA, I have been unable to find out anything more about them. The last time I visited mid-town Manhattan, which was years ago, the Elaine Music Shop wasn't there anymore, its fate lost in the mists of history. Could it be mere coincidence that EMS also stands for European Macroseismic Scale, used to measure the intensity of earthquakes?