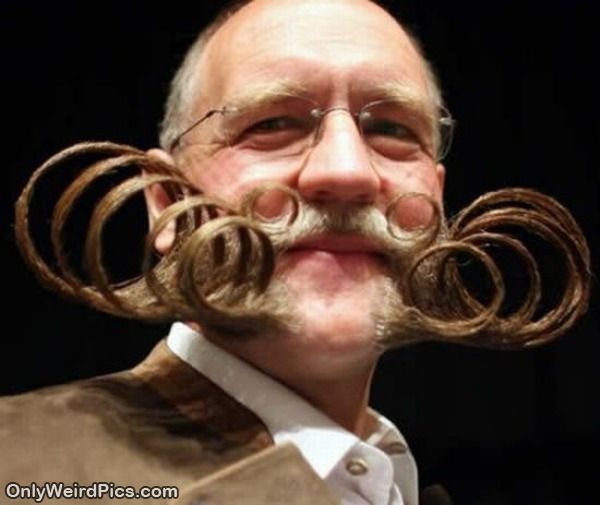 These are just the beginnings of the facts about hair that appear in
Hair.
We discover why professional "hatters" often went mad: it was the mercury used to make beaver hats. We learn how to shear a sheep: stand it on its hind legs, facing away from you; work from the top of the head down. We find out about hair shirts --- those coarse hairs from sheep that can be very itchy and prickly. They were worn by priests under their clothing, were "a constant reminder of their sins and worldly temptations." We learn that the best violin bows are made from the hair of Mongolian stallions, and that wool brought so much prosperity to Renaissance England that --- still --- there is a sack of wool in chair in a place of honor in the House of Lords.
In my dotage, I find that my eyebrows grow a constant 8 inches a week, and recall a tired joke from my youth was how we could just let our eyebrow hairs go wild then brush them back over our bald pates.
Hair transplants work because our hair grows at different speeds at different parts of our bodies, and the follicles can be moved from one area --- the side of the head, for instance --- to the top.
Speaking of such, the mechanics of your common follicle is so complicated that even, though, Stenn's writing is crystal clear, he lost me amongst all the epithelial cells, root sheaths, exogen cycles, and Mesenchymal cells --- which make "proteinaceous matrix materials such as collagen, cartilage, and bone."
Not to worry. It's a fun book, the author seems to know every thing you could ever want to know about your queue (if you choose to sprout one) and why barber poles are red and white. There were only three questions I had after (reluctantly) arriving at the end of this fascinating volume.
Why do our normally sane, civilized and liberated women friends still shave their legs?
Why is one of the most commonly used insult words in Latino countries "pubic hair?" (Sitting in the great Chapultepec Park in Mexico City, I eavesdropped on two rather regal ladies, talking about one of their friends, calling her "una pendeja." Have they no couth?)
What are these otherwise well-mannered kids nowadays talking about when they refer, constantly, to the "hair pie."