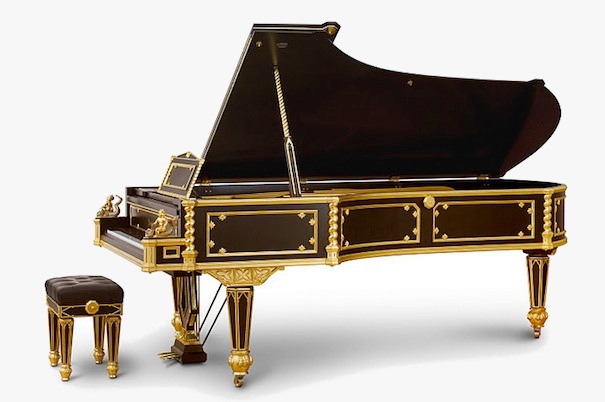 It is the subtle and the art that talks to us in short stories, and Samson is up to it, sucking us in in a few pages. There is an interweaving, those who appear in one story pop up in a later one, in another rôle, a different twist on their lives or their fantasies or their loves.
We start with the tale of a piano-tuner named Richard, who tunes pianos in Brighton, his mind today on the Barcarolle, "Chopin's ornamental genius in full bloom." Richard has been called to Anna's house to tune her piano, and "He liked her fleeting smile, the uncertainty of it, the way that it still managed to light her whole face." She's an artist, dyes cloths that she then winds together to make colourful hangings. Anna tells him, "'I do textiles' . . . and sweeping her arm to introduce the swathes and bolts of bright fabrics . . . " Then in a line that Joyce would have a field day with: "I'm constantly dying." Tell us about it.
Problem is, well, Anna does have something that he cannot countenance. He loves the gestures, the eyes, the swathes and the spots. "The purple freckles were delicate; they looked like beauty spots." Everything perfect, we can feel the love beginning to bubble in his heart, but then . . . ach! the piano.
A dark mahogany beast with plenty of brass fittings, looked like it might once have graced the saloon of the Old Bull and Bush . . . Dear God, he thought as he looked with dismay first at the piano and then a much scribbled-on piece of sheet music for Scott Joplin's The Entertainer, in an arrangement that any simpleton should be able to play.

He flipped open the top and forced himself to look into the miserable guts of her piano. He stared at the bar that showed it was over-damped, at the great lump of iron, at the rust and the cobwebs that shouldn't have been there, and then through the broken back panel he saw a dirty great crack in the soundboard.
§ § §
So the stories run and interweave and at times take a wonderful lurch, a twist that can only delight. Like in "A Regular Cherub" --- we find Tilda, who has just given birth to Danny. Who is a scream. Or rather, "a bawling child."
Tilda's first thought when she set eyes on Danny was of a Christmas gammon, boiled and ready for studding with cloves. His eyes were rimmed and sore-looking, almost myxomatosis rabbit. She stared with a rather queasy and complicated fascination at the livid creature, with its flailing arms and umbilical cord, like a great purple worm still attached to its tummy, and know that these were not the thoughts she was supposed to be having.
Don't be put off by the words . . . a gammon is the back leg of a pig, a Christmas special, like ham, with the additional flavoring of, according to the urban dictionary, of something fake. And a "myxomatosis rabbit" is one with tumors, infected by mosquitos, sure to die.
Perfect Lives is perfectly worthwhile, with its loving grandmother and her moonstone, a babe that might well be "a slimy sea-creature," a husband who always watches television, a father who leaves his daughter behind, and, god forbid, in our last chapter . . . a cat with a spiel, one who wants to tell us about "cultural imperialism and the western TV conglomerates."