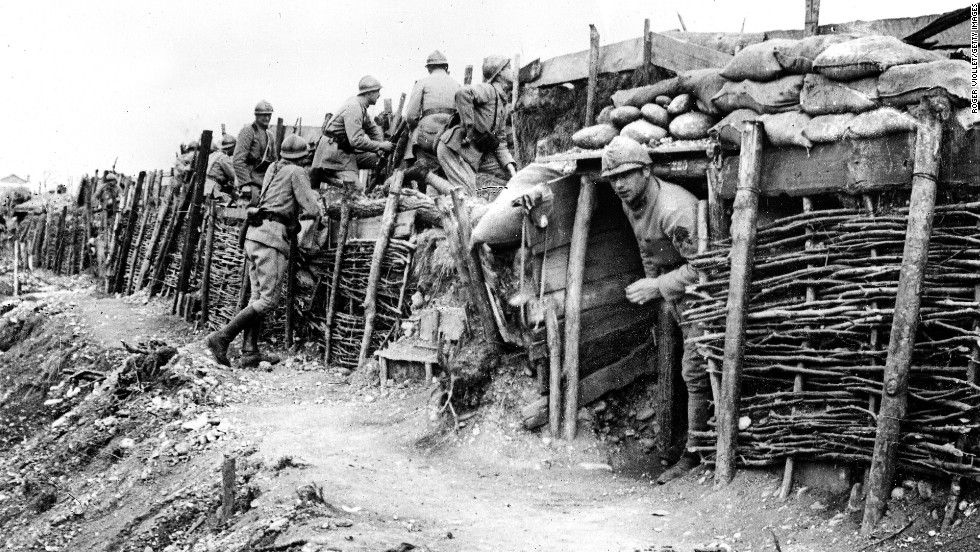 Buelen's thesis is that there were poets involved in the war in all its aspects, not only in shooting and mauling each other from the trenches, but involved in the revolutions, in the streets, in the vanguard. They provided commentary on the 1914 peace --- let's be done with it --- and, subsequently, on the war, 1914 - 1918. And they were involved in the profound changes that came about during the conflagration, even those of fashion, the change of costumes of the trenches:
In 1914 the British soldier went to war dressed like a gamekeeper in a soft cap, armed only with rifle and bayonet. In 1918 he went into battle dressed like an industrial worker in a steel helmet, protected by a respirator against poison gas, armed with automatic weapons and mortars, supported by tanks and ground-attack aircraft, and preceded by a creeping artillery barrage of crushing intensity. Firepower replaced manpower as the instrument of victory. This represented a revolution in the conduct of war.
The poets were to write horror, but they also composed satire right out of Jarry, a premonition of the Dadaists from 1916 who --- even as the soldiers were collecting bullets, trenchfoot, and despair --- were hamming it up in the rathskellers of Geneva, giving inspiration to writers of the new century, and even after. Like Jarod Kintz, who could, in 2012, write a believable letter from the front lines, as "A Story That Talks about Talking Is Like Chatter to Chattering Teeth, and Every Set of Dentures Can Attest to the Fact That No..."
Dear Mary Duende,

It's freezing here in the trenches, but loneliness is colder than any hyperthermia. Gunshots and shrapnel have become my companions. But life is better now than it was when I was at the law firm. How are our children? Does Pierre still spend his days roaming the countryside collecting cattle skulls? Maybe one day people will see the value of making soup bowls out of skulls. Pay no attention to the blood smears on this letter, for it is neither mine, nor any other human. We had to sacrifice our sheep to gain some ground. The blood kind of looks like spaghetti sauce in the light of the setting sun, but I wish it tasted as good as your spaghetti sauce. I'm sorry I slept with your sister. I didn't realize she was an invalid. Even though her hair smelled like horse entrails, I still should have refrained myself. I have no hobbies now, so I've taken up biting my fingernails as I ponder life's many psychological constructs. I have enclosed some of yesterday's fingernails, so you could put them in your brassiere and think of me as they scratch your bosom the way I used to do in jealousy when you were nursing Pierre. The Germans are shooting at us again, so I'd better close here. I send my love in the form of a bloody sock off my left foot. Think of me as you huff it. I miss the way your hair smelled as it would fall across my face. When are you going to send me some more clippings and glue, so I might attach it to my forehead? It brings me great luck in combat.
Too, in the distant future, there would be critics even of the war poets, those that many of us once saw as near-perfect adepts:
Yet in fact the writers of the trench memoirs and novels collectively gave a highly subjective, unbalanced and misleading version both of the experience of the Western Front, and of the British army's reaction to it. For the war writers were not in the least representative of the men of the British army as a whole; they were writers and poets, and with few exceptions they came from sheltered, well-off, upper- or upper-middle-class backgrounds, the products of an upbringing at home and at their public schools which had given them little knowledge or understanding of the real world of their time, but rather a set of unpractical idealistic attitudes. They were indeed flowers of English liberalism and romanticism, all living spiritually at Forster's Howard's End, and having delicate emotional responses to the aesthetic stimulus of landscape. It would be hard to guess, for example, from the writings or verse of Sassoon, Blunden or Graves that the English landscape they loved in fact represented British agriculture in distress and decay; or that Britain in 1914 was an overwhelmingly urban and industrial country with profound social problems, where one-third of the population lived in poverty. The social, aesthetic, intellectual and moral world in which the war writers had lived before the war was wholly unreal --- as artificial as the pastoral idylls of the French court before 1789. Hence army and trench life...was often their first real introduction to the world of struggle and hardship, as most of mankind knew it...the war writers were not representative of the army as a whole in their reaction to the experience of the Western Front; that their books gave a distorted impression of the soldier's experiences and state of mind.