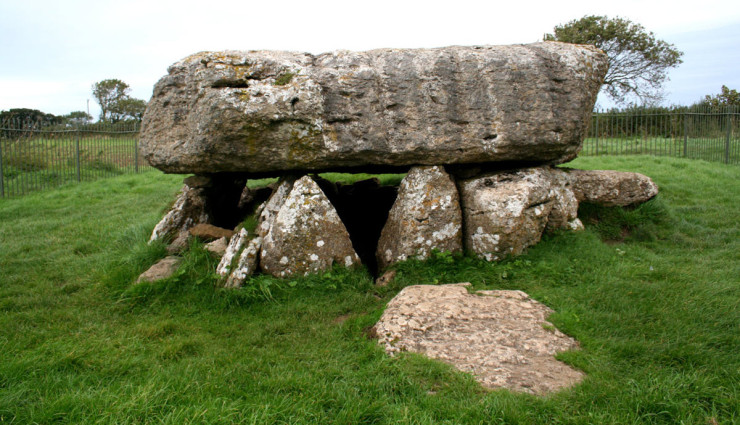 Using this figure as our starting point, the Population Reference Bureau estimates that 107,602,707,791 people have been born (at least, since the very act of being born was discovered). The population of the world is now around 7,000,000,000. That means that we have had, over the eons, to find burial space for more than a hundred billion people. That's 100,000,000,000. This death business does occupy a fair amount of real estate.
We suspect that people are not going to stop having babies. Nor are the rest of us going to go away (unless we manage to choke, freeze, bake, boil, broil, or fry ourselves en mass over the next few decades).
All this means that changing this die-and-dump-in-the-ground (or turn to smoke) business might be worth altering.
Other customs in other lands might be a help for us to ameliorate our own current practices. In South Korea, for example, a law passed in 2000 requires anyone burying a loved one to remove the remains after 60 years.
Or, perhaps more practical, there is exposure to the elements. According to Wonderslist, "many Vajrayana Buddhists in Mongolia and Tibet believe in the transmigration of spirits after death,"
that the soul moves on, while the body becomes an empty vessel. To return it to the earth, the body is placed on a mountaintop, which exposes it to the elements --- including vultures. It's a practice that's been done for thousands of years and, according to a recent report, about 80% of Tibetans still choose it."
§ § §
Greening Death is a noble book, reminding us of the simple, often heartfelt rites of centuries past. The author repeats the fact of the mask of funerals as a form of "sanitization." There are alternative fluids, we are told, for enbalming "made of essential oils that pose no risk to worker health --- in one case, called 'Enigma.'" She also reminds us that, as a barrier to new green funerals, some states require at least $250,000 to bond initial funeral companies (although there may be special rates for small organisations). She observes that areas dedicated to green funerals may be perfect for rehabilitating "lands harmed through the likes of industrial farming, mining, sprawl, oil spills, mountain top removal [and] clearcutting."
The text does tend at times to wander about in circles, reviewing, several times, for instance, the focus of "green" funeral organizations around America, pointing out differences in their orientation, reminding us that --- for instance --- we may find more user-friendly death celebrations in other parts of the world.
Those of us who have been to India have sometimes chanced yikes upon pyres along the Ganges where bodies, covered in a simple white cloth, are soaked in ghee, set ablaze, and allowed to simmer over easy a couple of hours; the ashes are then sprinkled in the river. (There are videos of this on YouTube. If you are feeling brave, and have a little time to kill, you might participate. With an appropriate drink in hand. À votre santé!) This act of immolating the dead may well be the solution, a necessary space-saving device, especially in a country as bunched up, with the quick and with the mortified, as India.
Or, at worst, we can always avail ourselves of the elegant technique that appeared in Gulliver's Travels, where the Lilliputians were said to have buried their dead upside down:
They bury their dead with their heads directly downward, because they hold an opinion, that in eleven thousand moons they are all to rise again; in which period the earth (which they conceive to be flat) will turn upside down, and by this means they shall, at their resurrection, be found ready standing on their feet. The learned among them confess the absurdity of this doctrine; but the practice still continues, in compliance to the vulgar.