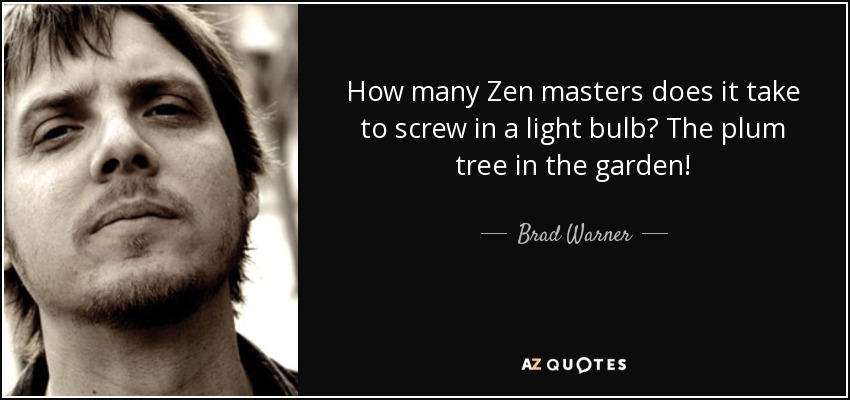 Okay, I'm exaggerating a little --- but not much.
Anyhow, I arrived at this particular retreat with a chip on my shoulder. I'd been doing zazen for over a decade by then and I was pretty miffed that I had yet to reach enlightenment. I'd read all the major Buddhist sutras and had made a thorough study of most of the major Indian holy books. I had shelves full of dog-eared books by big-wig spiritual teachers like Krishnamurti, Ramana Maharshi, Shunryu Suzuki, and anybody else who'd written on the subject of being enlightened. I'd even been to Christian churches to check out their ideas about "born-again experiences," which I figured might have been a kind of Christian version of enlightenment. (They weren't. FYI.) Buddy, if anyone shoulda been enlightened it was me!
One evening, I was upstairs with Nishijima, Jeremy, and Farting Man, and I steeled up my nerves enough to ask Nishijima about enlightenment.
Let me give you a bit of background. In a nutshell there are two major schools of Zen in Japan: Soto, to which Nishijima belonged and in which my teacher Tim McCarthy had studied and taught, and the Rinzai school, Soto's main competitor, as it were. The difference between them is this: the Rinzai school believes in enlightenment and the Soto school doesn't.
All right, admittedly it's a good bit more complex and interesting than that. But for now, that's all you need to know to follow the story.
Knowing that Nishijima was a Soto guy, I was trying to be cool about the whole enlightenment thing. I didn't actually use the e-word, I just kinda hinted around, saying stuff like "I've been studying for ten years and I still haven't got it, you know? I mean I don't, like, y'know, understand anything...." --- everything short of nudging and winking to show him I was in on the big secret.
So at this point Farting Man piped in, in a fatherly tone, like a learned Oxford don: "Don't worry, it will come," he said, smiling broadly, " . . . with enlightenment!" I'm sure he would have patted me on the knee if I hadn't sat myself a safe distance away to avoid being gassed.
"Don't say that!" Jeremy snapped. "That's not it at all!"
This reprimand made absolutely no impression on Farting Man, who continued to smile beatifically. I'm not sure he even heard it. Judging by the smug, satisfied smile on his face, what he'd heard must have been something like, "Yea brother, verily you speak the truth which this young one has yet to meet."
Nishijima himself ignored all this and tried his best to explain the problem to me. I don't recall what he said but it didn't clear anything up for me. I listened respectfully and asked a few questions but he seemed to be talking in circles.