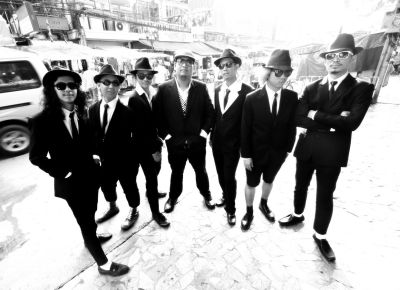 It was a complicated transitional time for me --- I was morphing from Mod devotee, albeit from afar, (Carnaby Street!) to California psychedelic teeny bopper. Fifty years on, it's still debatable as to whether I emerged unscathed or not (chromosome damage? --- who knows, never been tested). Let's put it this way: I've seen some stuff that may or may not have been there and a lot of it was purple, I've attended some long, heavily amplified concerts (saw Jimi twice; Janis and Big Brother uncountable times; Altamont? Check.), and my fashion sense, to the degree I have one, has become decidedly less theatrical and less interesting over the decades.
In fact, though I try to be presentable, clothes and fashion never captured my heart and soul in the way they did for Robert Elms. This book is his story of that obsession, with few details left out; no one has ever written so lovingly, sensuously about the proper cut of a lapel or the indisputable goodness of cloth. The Way We Wore is also a singular history of British teen sartorial evolution from the '60s to the '80s (which, especially in the early '60s, heavily influenced American teen fashions).
1965 was the same year Elms, age 5 at the time, witnessed his older brother, Barry, model his new suit and shoes. While a 45 of Otis Redding's "'Too Hard to Handle' - punched out his deep Memphis rhythms..." in their living-room, his brother, Elms writes, "...did a slow-motion council-estate shuffle across the floral fitted carpet we'd recently bought..." Elms goes into a near-trance as he recollects those moments:
Closing my eyes I see it now: petrol blue, wool and mohair, Italian cut, flat-fronted. Side-adjusters, zip fly, sixteen-inch bottoms, central vent on the jacket, flap pockets, ticket pocket, three button (only one done up of course), high-breaking, narrow lapels, buttonhole on the left, four buttons on the cuff --- claret silk lining.... The shoes that shone out from beneath this paragon of a two-piece were Royals.... This, as my lovably idiolectic mum said, was 'all the go.' This was what you grew up for.
In the U.S., the concept of the teenager and a distinct teenage subculture, which soon comprised a panoply of subcultures, coalesced post World War II --- perhaps as early as the 1940s if you include the Bobby Soxers and the Cult of Sinatra. Elms book, on the other hand, covers the fashion/music-defined subcultures (and sub-subcultures) that emerged in the 1960s and later on in Britain --- Rude Boys and Teddy Boys, Mods, Rockers, Skinheads, Soul Boys, Glam, Punk and so on. Music and fashion were inextricably linked, and at the end of the book Elm provides an annotated list of 18 songs, cultural markers, of the decades he writes about --- from Lord Kitchener's "London is The Place For Me" and Georgie Fame's "Yeh Yeh" to Toots and the Maytals' "54-46 That's My Number," Rod Stewart's "You Wear it Well," Bowie's "Young Americans," The Clash's "White Man in Hammersmith Palais," Spandau Ballet's "To Cut a Long Story Short," and 11 others.
In the US, music aimed at, and lustily embraced by, white teenagers took over the country in the early to mid-'50s and has dominated the music business ever since. It's not called rock 'n' roll for nothing; the moniker is literal. Sex needed it's own music that didn't pussy-foot around its subject. And that's what the world got when, as the eternal, iconic Muddy Waters sang,

...you know the blues got pregnant
And they named the baby Rock & Roll.

For the most part street style and street fashion have evolved in parallel, and usually in sync, with music. The rapidity of the mid-20th century youth takeover of pop culture can arguably be summed up in three songs and the three years in which they became massive hits:

1955 - (the year in which Sinatra turned 40) --- "Tutti Frutti" by Little Richard goes to No. 2 and is also a monster hit in the UK --- ("A-wop-bom-a-loo-mop-a-lomp-bom-bom!");
1956 - "Heartbreak Hotel" makes Elvis Presley a nationwide sensation (he'd been recording since 1953) --- "...they been so long on lonely street/ They ain't ever gonna look back.");
1957 - "Whole Lotta Shakin' Goin' On" is Jerry Lee Lewis's first national hit --- ("All you gotta do, honey, is kinda stand in one spot/ Wiggle around just a little bit, that's when you got it, yeah/ Come on baby, whole lotta shakin' goin' on").

The June-moon crooning recording biz didn't entirely drop dead. But it never fully recovered either. And lest their be any doubt, one month and four days after JFK was assassinated, The Beatles released "I Want to Hold your Hand" in the USA. When the band appeared on American TV the following February, 70 million people watched them (more than 1/3 of the country's population tuned in; about 36 percent). And that was that. The dividing line between adult and teenage culture became indelible. And how better to announce which side you're on than to wear the same uniform as those with whom you share your vision, beliefs, loyalties and aspirations --- the uniform(s) of what Elms calls "Teenlandia."

There was an energy and a passion among our young cohorts, a unique drive to excel at something, much of which manifested itself in an audacious creativity with hosiery and trousering and pins in pockets. We were talking fashion, but not fashion designers ... our story was of great, unsung clothes wearers. The restless elegance, the tribalism and dandyism of so many otherwise ordinary British kids in the second half of the twentieth century.

Or:

White shirts with cut-away collars clean and pressed, narrow ties held in place with clips, hair pompadoured, oiled and quiffed, jackets draping down past their knuckles and held apart to display their many-buttoned waistcoats, trousers tapering to a layered break. And the shoes. The shoes positively shining from those grimy gutters like some evangelical song of cobbled-together salvation....

"Those English Teddy boys and those Jamaican rude boys promenading and colliding in those streets where my family lived were between them the basis for all that was to come." And Elms meticulously documents the dramatic, vigorous, ever-changing-ness of adolescent plumage over the book's nearly 300 pages. It really is a treat to read, especially for those of a certain age who recall the ebb and flow of the fashion trends, which were also were well-publicized across the Atlantic.

Elms' book almost reads like an epic, very nicely turned out, prose poem, something Evan S. Connell might have jotted down if he'd been a teen bloke in Notting Dale ("rapscallion neighbor of Notting Hill,") London in the '60s instead of a Beatnik kicking about Notes from a Bottle Found on the Beach in Carmel.

Open your ears to a chat between Elms' and a former doorman at a Soho Club whose theory was that "you could judge a wrong 'un by their choice of shoe, better than any other criterion. We also agreed that more than any other type of clothing, footwear was what marked out a stylistic approach. And seeing as we weren't going anywhere fast, we began to construct a timeline...." Sing it if you like, goes like so:

Brothel creepers, winkle-pickers, Chelsea boots,
desert boots, penny loafers, brogues, Royals, Cherry Reds,
Gola trainers, monkey boots, buckle loafers, Salatio box-top loafers, stack heels, platforms,
wedges, Dunlop green flash, tassel loafers,
Adidas samba, plastic sandals, bondage boots, bowling shoes,
Dr Marten's, beef roll loafers, co-respondent shoes, biker boots, espadrilles, Diadora elite, Kickers

But the music, a virtual album, a master class really, a celebration of Elms' great ear for the lyrical drape and flow of clothing and how it influenced, indeed, integrated itself with, several generations of the sensibilities of British youth is found at its most concise and passionate as he runs down that end-of-book song list, rap-a-liciously rattling off the clothing the songs evoked for him.

Lord Kitchener: London is the Place for Me --- "This is where it really kicks off. Rude boys and teddy boys, parading past each other in late-fifties Notting Hill, admiring, despising, fighting it out on the battered monochrome streets...Teddy Boys in white shirts with cutaway collars, skinny ties with clips, many buttoned waistcoats...Hair, quiffed and pompadoured. Rude boys in ...snap brim trilbys with natty bands, worn at impossibly jaunty angles."
Georgie Fame and the Blue Flames : Yeh Yeh --- "Mod is the moment when working class kids broke out. It's also the melding of the rudies and the teds with a dash of elan and black GI cool. Mod is modern jazz. Italian cut suits ... side-laced cordovan shoes. Hair on a college boy. Shades."
The Upsetter: The Return of Django --- "Skinheads were proletarian, no-surrender mods, with a large dash of skanking West Indian elan...red socks, ox-blood Royals. Number one crop with razor parting, pork pie hat."
Toots and the Maytals: 54-46 That's My Number --- "As skinhead flowed into suedehead, so the look got a little less regimented, a little more colorful...stripy tank top, checked Rupert trousers, Salatio box top loafers. Number two crop."
David Bowie: Young Americans --- "By the time Bowie stepped into the soul-boy fray, the King's Road was the center of the soon to be cultural revolution...Skin-tight black satin T-Shirt, red bandana, studded biker's belt ... pointy winkle pickers. Wedge dyed pillar-box red. Studs in both ears."
The Clash: White Man in Hammersmith Palais --- "Now it was all ours. Dr. Marten boots, Sex bondage trousers with grey nappy, self made T-shirt with the legend 'We Are All Prostitutes,' Lewis Leather motorcycle jacket, sprayed with Two Sevens Clash logo. Rockabilly quiff. "Rock Against Racism badge"

And that's just a third of Elms' spot-on pairings of the music and clothing that he and various generations lived in, loved in and wrapped themselves in for several influential decades.

I suppose my favorite passage comes nearly at the end of the book. In an afterword, written after the The Way We Wore made a splash in hardback then came out in paper, Elms tells of being questioned by "One nice, earnest, undoubtedly well-brought-up boy reporter from my local paper, the Camden Gazette, who had been sent to interview me." The lad asked, Elms recalls, "with an almost saddened air, 'Why is there so much about clothes in it?'"

--- Douglas Cruickshank