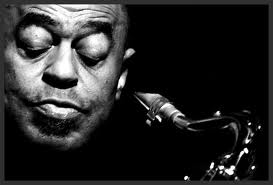 Ragtime ("white music played black") appears as the earliest component, and with it jazz would always be lacking respectability because of its origins in the gin-mills and whorehouses of New Orleans. Louis Armstrong, Fats Waller and their peers come to us from Storyville. Duke Ellington tried to introduce propriety (he always wore a tux, finely coiffed) but he never helped it to succeed in shedding its links with "sex and low living."
For most of us, Ellington's music, like his tux, seems a little distant, and A Chronicle of Jazz also seems to be at a loss with what to do with him. On "It Don't Mean a Thing (If It Ain't Got That Swing)," Cooke writes, "his interest in pre-composed structures produced highly original and coherent musical forms that were felt by many to warrant direct comparison with the output of classical composers." George Gershwin, Igor Stravinsky and Aaron Copeland attempted to bring jazz into the concert hall, but they were mostly unsuccessful.
Stravinsky wrote a piece for Woody Herman, Ebony Concerto which is coma-inducing, but our writer suggests that L'Histoire du Soldat also was directly influenced by jazz. If so, has to be off-the-cuff, and --- for many of us --- turns out to be an astounding success, ignored by those proper people who merely want to go to Symphony Hall to doze a bit.
The writer says that improvisation differentiates jazz from classical music, but he ignores the fact that Purcell, Handel, Telemann and their contemporaries expected those performing their sonatas and organ pieces to doodle with the notes written on the page, to interpolate and add their own riffs, to play around. Cooke also suggests that the very rhythm of jazz is distinctive, but he obviously hasn't sat through a concert of Bach's English and French suites that were drawn directly from dances of the country folk, and --- in some parts --- can be foot-tapping.
When most of us think of jazz, we recall whatever it was we were doing whenever we appeared on the scene. I recall listening to Charlie Parker on West 52nd Street in Manhattan in 1949 or thereabouts, but I was less interested in his music --- which I found to be quite messy --- than I was in the fact that I could get served shots of whiskey out there in public, despite my being only sixteen at the time. The music was incidental, and the glass in the shot glasses was so thick that I had to work through quite a few of them to begin to get dizzy, as in Gillespie.
The smoke and the noise were overwhelming, but so was our joy at being liberated from whatever it was we thought that was running our lives. Some of our early favorites of jazz from those years have to include Fats Waller's very funny songs, like "Your Feet's Too Big," which starts out in pure narrative,
Who's that walkin' round here?
Mercy!!
Sounds like baby patter ...
Baby elephant patter; thats what I calls it.

Then: Up in Harlem at a table for two.
There were four of us,
Me, your big feet ... and you.

From your ankles up, I'd say you sure are sweet...
From there down; there's just too much feet! Yes, your feets too big
Don't want ya, 'cause ya feets too big
Can't use ya, 'cause ya feets too big
I really hate ya, 'cause ya feets too big...

It ends up, his voice fading, again in narrative: "Your pedal extremities really are obnoxious ... one never knows, do one?"

In those days, those of us outsiders wanted into the world of jazz and blues and what was then called "race music." Jazz was the most accessible, with musicians both black and white. In Carnegie Hall we went for classical music, but it was open, on occasion, for the likes of Benny Goodman, in 1938.

I just called up his "Sing Sing Sing" on YouTube, with Gene Krupa, Teddy Wilson, and Harry James. The whole concert was recorded almost by accident by Goodman himself, using a wire recorder: this was ten years before tape recorders came into general use. The number ran over fifteen minutes, quite unheard of in the time of 78 rpm records with their absolute limit of three minutes. Teddy Wilson and Goodman play off against each other in an unforgettable style, and in later films of the same piece, only not as good, nor as spontaneous, we get to watch Gene Krupa bouncing about, showing off, a whirl of energy. It's unforgettable. (We also remember Krupa several years later pictured in Life Magazine, being hoisted in a black maria, because the police had busted him for smoking dope. If I were as jumpy as he was, I would have used it too.

The Chronicle of Jazz

has got to be one of the best books on jazz I've ever come across. It goes everywhere, the author knows his stuff cold, and the layout is tremendous. There are over 500 photographs, drawings, and illustrations. The spacing is leisurely, the device of yearly chronology works. For each year, we get one musician featured, or an instrument, or a new historical element. There is a brief chronology of world events so we can arrange ourselves in time, not get lost in

all that jazz.

1946 - 1947 shows Bunk Johnson and Leadbelly recording together, mounted above an article about "Reviving Ragtime." There's an appraisal of Thelonious Monk's "Round Midnight," although like all attempts to reduce music to words, the prose does get a little wriggly: "Monk's typically spiky and angular piano technique here contrasts effectively witih the sustained backing supplied by the horns, while complex added-note harmonies and sharp offbeat dissonances alternate with filigree cascades up and down the keyboard."

Billie Holiday and Louis Armstrong appear in a still from the film, New Orleans, she looking awfully unharried as opposed to real life --- rumor is that she would have one of her live-in boyfriends rough her up just before she went on stage to make here singing more ... real. Woody Herman is shown complete in tie and clarinet. Just so we don't forget the there out there, we learn that India and Pakistan gain independence from Britain on 15 August, and there is --- unlike today, of course --- a "Crises in Palestine." And, o no, "Communists assume power in Hungary."

There are a few things missing, but it might just be me. Harry James came to play for my high school graduation party, and we thought we were going big-time, but the band turned drunker and drunker as the evening wore on. Since we juveniles were in on the same binge, perhaps it made no difference. One of the other musicians (not, I think, drunk), livened up the intermission by performing, solo, one of the hoariest pieces in the trumpet-and-voice repertoire,

I've flown around the world in a plane I've settled revolutions in Spain
And the North Pole I have charted
Still I can't get started with you

On the golf course, I'm under par
Metro Goldwyn have asked me to star
I've got a house, a showplace
Still I can't get no place with you

'Cause you're so supreme
Lyrics I write of you, I dream
Dream day and night of you
And I scheme just for the sight of you
Baby, what good does it do?

I've been consulted by Franklin D
Greta Garbo has had me to tea
Still I'm broken-hearted
'Cause I can't get started with you ...

The lyrics were written by Ira Gershwin (and changed around a bit to fit the times) ... but the guy who made it famous is nowhere to be found in Chronicle. Between Bob Berg (saxophonist, died in East Hampton, 2002) and Berlin (city of), there's no Bunny Berigan at all.

And one of my favorite jazz singers, Helen Humes, doesn't appear, nor does Willis Conover, who was the voice of jazz for so many people all over the world in the 50s and 60s, courtesy of the Voice of America (he was scarcely known in America at the time; VOA was only heard overseas and by those on this shore who knew exactly where to look.)

The harpsichord appears but once here, in 1965, in "a rare jazz use" with Albert and Donald Ayler. Completely forgotten are the recordings of Artie Shaw with his Gramercy Five, which featured a harpsichord sounding a bit heavy on the tum but still jazzy enough. Slam Stewart turns up here in 1943, with Art Tatum and Tiny Grimes, but no mention of his delightful habit of humming, loudly, along with the bass as he played, which had the effect of turning the trio into a sub-rosa quartet. The same page notes that Django Reinhardt tried to escape from France that same year. He was born gypsy; the Nazis were not fond of gypsies; he was stopped at the Swiss border "by a German officer who [was] an admirer of jazz." Obviously not enough of an admirer to let him cross over; God knows how he survived.

One of the surprise visits here is the poet Philip Larkin, appearing as jazz critic for the London's Daily Telegraph. His thoughts about John Coltrane are a bit less intelligible than his poetry:

If Coltrane 'progressed from' (i.e., was more horrible than) Parker, who but Ornette Coleman has progressed from Coltrane? Where Coltrane has two chords, Coleman has none at all, no pitch, no rhythm, no nothing ... This is free form. It's drawback is that it all sounds alike ... in the main the effect is like watching twenty monkeys trying to type the plays of Shakespeare.

Well, OK. Cooke has done a commendable job at trying to wrap up a very messy business into a coherent fugue-like parcel. It works most of the time. He sure does light up dozens of old memories for me, and my sole (and soul) regret is that he couldn't come visit me here with full-range speaker to bring back some more of my favorites.. Which would have to include one of the few anti-war jazz pieces, performed so wryly by my beloved Charlie Mingus. I can print the words for you, but you have to listen to the song yourself at full volume to get the flavor of that elegant blend of back-handed terror and sly wickedness that pops right out of the record at you,

Oh Lord,
Don't let them drop that bomb on me
Oh no
Don't let them drop that bomb on me
Don't let them drop it, don't let them drop it
Stop it
... on me ...

Ooh yeah
Oh Lord, on me
Oh yeah

--- Lorenzo W. Milam