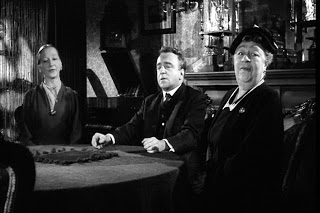 Agatha shrugged. "Drifting. Pleasant. Warm, comfortable. Until I heard them calling me. Now I'm tired all the time, and they won't let me rest."
"And you can't see my partner standin here?" Trace gestured with his thumb toward Boz, standing wide-eyed and nervous behind him.
Agatha looked, but shook her head. "I see you. You're very clear. I see the room through there, but it shifts, grows lighter or darker depending upon Herr Kieler. He's bright and dim by turns, like a candle in a draft. But you're like a chimney lamp. You don't flicker. Since you've been standing here I can see the entire room." She looked him over, carefully. "You're not dead, are you?"
"No," Trace said. "You don't see other dead people, then?"
Agatha shook her head. "Do you?"
"Not here."
"Can you see my mother and aunt?"
Trace nodded, once.
"Would you speak to them for me?"
She made it sound so simple and sensible --- the only polite thing to do, really. Trace felt within himself, cautiously --- there was no fear, just a nervous sense of being in unfamiliar territory. "I reckon I could."
"Reckon you could what?" Boz interrupted.
"She wants me to talk to her mother," Trace said, and grimaced at his own stupidity when Boz looked alarmed. "She's just a girl, Boz. Just a poor dead girl, got a message to deliver."
"That's what you said about the last one." Boz's nostrils flared as he drew a short breath. "Well. That's what you came here for, ain't it?"
Trace wasn't so sure of that, but it was a sure-fire way of getting Kieler's attention. "Wait here a minute," he said, and glanced at Agatha. "What's your mother's name?"
"Ruth. Mrs. Ruth Walden."
He ventured into the room, measuring his pace like a pallbearer. Kieler was saying something about a place of rest and music in the clouds, but his voice trailed off as he and the two women became aware of a new presence in their midst.
Trace felt like a fool. "Pardon me, Mrs. Walden?" The elder of the ladies opened her mouth, glanced sideways at her sister, but did not answer. "Ma'am, you don't know me, but I, uh, I have a message from your daughter Agatha. She wanted me to tell you somethin."
Mrs. Walden's mouth was still open. Agatha's aunt looked confused and wary --- this wasn't part of the show she had come to see.
"My son." Kieler's voice was tender, but it had been so long since Trace had been called that, he didn't realize he was being spoken to. Kieler stood up, all five feet of him, and gestured to his own chair. "Dear boy. The first visit from one of the departed can be strange and frightening."
Trace cocked an eyebrow at him.
"Providence has led you to us," Kieler said, signaling with his eyes. "Please, sit. Tell us how you were contacted by Agatha. Was it a dream?"
Trace blinked. "Yes, sir, a dream I had last night."
"And Agatha appeared to you in it?"
"She did." Trace took the seat that was offered to him, glancing at the women, the sudden hunger in their eyes. "She was . . . wearin a white dress . . . with a" --- his mind raced futilely over all the things women wore --- "um, cape . . . and she had flowers in her hair. She was sort of glowin, you know."
"The Celestial Aura," Kieler murmured, "that the residents of Heaven bring with them."
"The very same." Trace glanced toward the doorway. Agatha and Boz stood side by side, both with hands on hips. Neither of them was glowing.
"And how did Agatha appear to you?" Kieler asked.
Trace looked at him. "I just told you that part."
"But can you describe her?" Kieler suggested, inclining his eyes and head ever so slightly toward the women.
"Oh, right. Um . . . she was young and --- not pretty, exactly." Had a face like a horse, now that he thought about it. And the mother looked just like her, but stouter and more horselike.
"Handsome?"
"Yeah --- that's as good a word as any. Had a healthy look about her. Long and lean. Dark hair. Curly, I think." The two women frowned at him, not hearing what they wanted to hear. Trace drew a deep breath and dredged up phrases from the mollycoddling Spiritualist newspapers. "I remember the hair because it floated around her, like there was a spring breeze surroundin her. There was the smell of flowers in the air, and when I looked around I saw we were in a green field, standin in the sun, with bees and birds singin all around."
The mother was interested --- more than that: hopeful. Her handkerchief was wrapped around white knuckles and she leaned forward slightly, eyes soaking him up like cornbread in bean soup. The aunt was more reserved; her gaze kept darting back and forth between Trace and Kieler.
"And when you awoke, you felt compelled to seek me out," Kieler said, his voice dreamy and soothing. "Forces you cannot explain led you to my door, though we have never before met."
"Somethin very like that," Trace said, lowering his own tone to a rumble. That was one thing common to preachers and confidence men --- you had to know how to use your voice. "I walked around all day feelin like there was somethin I was supposed to do. I walked the streets like Saint Peter, wrestlin with my own unworthiness, and Agatha herself must've been leadin me, because next thing I knew, I was standin in front of Mr. Kieler's shop. And the moment I set eyes on you, ma'am," he let his eyes rest on Mrs. Walden's, "I recognized your daughter's features. And I knew I was sent here by a power greater than this poor soul."
"The Lord works in mysterious ways," Kieler said.
"Amen," Trace said, thinking he was surely going to hell.
Mrs. Walden's hand reached swiftly across the table and closed over Trace's. "Bless you," she said tearfully. "Bless you, sir."
"Tell us," Agatha's aunt urged. "Tell us what she said. It was Walter Fitzsimmons, wasn't it?"
"Sarah, don't." Mrs. Walden patted her sister's arm. "lt's enough that she's safe and at peace."
"That man needs to be held accountable," Aunt Sarah protested. "Why else would she have appeared to this man?"
"She wanted me to tell you, she's happy where she is," Trace said. "And not to worry yourself about her. She said to remind you, the Lord takes care of his own, and judgment will come to us all, in good time."