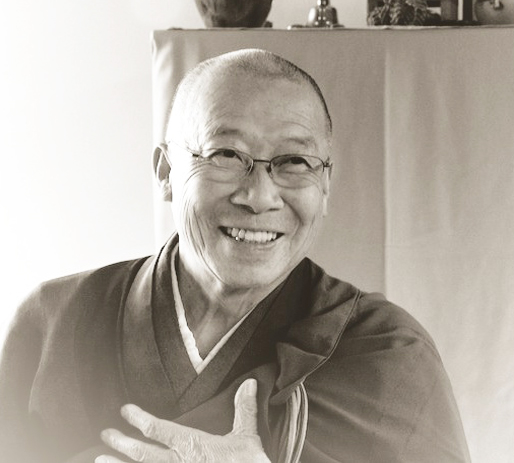 He tells stories, wonderful stories, about his
roshis.
One of them decided to do begging practice on the streets of San Francisco. He put on his robe and the straw hat that hid his eyes and picked up his begging bowl and told the
sangha
that he was going out to beg in the Fillmore, the black section of San Francisco.
The students were concerned, but he refused to take anyone else along with him. Kwong wondered how the people of the area would respond to this tiny man in his robe with his great straw hat and his begging bowl. When he returned several hours later, he had in his bowl "two silver quarters and a pomegranate."
There are times when Kwong has the ability to make us merry --- he comes across as a very merry person --- as well as touch the heart, touch it deeply. One night he was returning to San Francisco with his family and they arrived at a street corner where a car had just overturned, virtually split in two. One of the two passengers had been thrown out, and was lying in the street, on his back, lying in a pool of blood. Kwong ran to his side and knelt down. He tells us that the young man's eyes were open and bright and he was looking up at the skies. He looked at Kwong and said, "The stars are bright tonight." Kwong responded, "Yes --- they are very bright."
---
Holding the Lotus to the Rock
The Autobiography of Sokei-an,
America's First Zen Master
Michael Hotz, Editor
(Four Walls Eight Windows)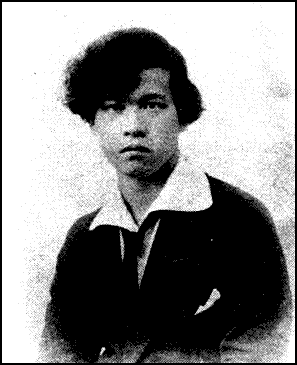 Sokei-an studied carving, Buddhism, and Western philosophy in early 20th Century Japan. Then he came to the United States, where he worked as a janitor in a roller-rink, at a tavern --- and as wood-cutter, sculptor, student, and farmer. He walked throughout the northwest, and, after returning briefly to Japan, came to live permanently in New York City.
In the early days, it was difficult getting students. The reason? Because a Zen master does not advertise. "Many Zen masters wait for a longer time. Usually they will not start any teaching until someone finds them out, so they hide themselves in obscurity."
The more he is hidden, the more effort people must make to discover him. Precious things are always hidden; they are never exposed on a street corner. If you have a diamond, you will not leave it on the corner of your desk. You will certainly keep it somewhere so that a stranger cannot find it. True things try to hide themselves. It is only natural.
Holding the Lotus to the Rock is Sokei-an's autobiography, but it also is a primer on his school of Zen --- Rinzai --- as opposed to the Soto school. As he says, "To use an analogy, the Soto school is something like a musical instrument, the strings of which are loose, so you cannot play a tune, though the sound is deep. The Rinzai school is like an instrument in which the strings are all tight. Just touch the strings, and they make a sound." In other words, "Reality is to be grasped in its most active moment."
---
The Zen Monks and the Governor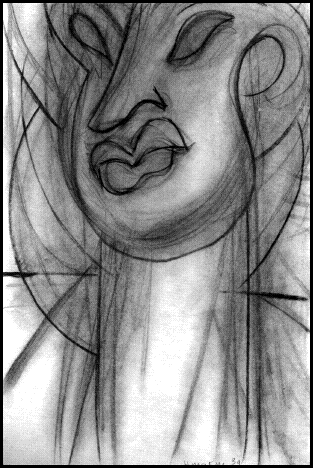 In South Korea there is a famous mountain called Ji Ri Sahn Mountain, and on this mountain there is an ancient Zen temple, called Chon Un Sah Temple. It has been there for many hundreds of years, and was built even before Zen was a great movement in Korea. For centuries, the temple was supported by the devoted lay Buddhist people in the area, and also by the region's governor, who was a devout Buddhist himself.
One year, a new governor was appointed to that region. He was a Confucian, so he didn't like Buddhism at all. Buddhism had been a national religion in Korea for many centuries when Confucians took power during the Chosun Dynasty (1492-1910), and Buddhism was often repressed by different kings and local officials. Buddhist monks in particular had a very difficult situation.
So in those times it was quite usual for the new governor to make trouble for the people who had anything to do with the temples in his district. One day. he summoned the temple's abbot. When the monk arrived at the regional office, the governor didn't say a word, and simply hit him on the top of his head very hard. "Why did you hit me?" the abbot asked.
"You're very bad," the governor replied. "Your students don't do any work. They only sit in that meditation room all day, doing nothing for hours on end. I see all these hardworking people give them food, and the monks only eat, lie down, and sleep. I don't like that! They're all a bunch of rice thieves! Everyone in this world has to work, but not these monks of yours. So now you must pay higher taxes to the government." Then he hit the abbot a few more times.
---
Buddha Da
Anne Donovaan
(Carroll & Graf)
If this were just a piece of fiction in funny language, there wouldn't be anything to write home about, would there? But by my troth, Donovan knows how to construct a story, get us in to it so we love (and sometimes hate) these Glaswegians, get it so that their problems become our problems. I am reading this and thinking what it must have been like reading Dickens when he was coming out in the weeklies so that you had to wait seven days before you could see how he was going to resolve Pip's dilemma, or get another funny story out of the Pickwickians.
It isn't easy. While reading Buddha Da, I did, after all, have to do other things with my life, like breathe, eat, and sleep. Donovan knows how to construct a world filled with people from our neighborhood, funny new people we come to know ... and it almost takes away the desire to do anything else rather than go along with them. This is Anne Marie as she is listening to the lamas:
Ah love singing and maist of the time ah just dae it, never really think aboot it, but sometimes ah feel as if ma voice is comin fae somewhere else, that it's no me singing. Ah mind wan time when ah was rehearsin for the concert and it wis just me and the music teacher in the room. Ah shut ma eyes and it was like ma whole body was vibratin, like ah was a musical instrument and somebody was playin me. As could hear ma voice fae a great distance. When ah finished there was silence in the room. Ma teacher never made any comment, just sat. And listenin tae the lamas ah felt the same way. As thought they were musical instruments and the music was comin through them. And the sounds they made, that at first seemed harsh and discordant tae me, had become the maist beautiful sounds ah'd ever heard. Ah sat there and closed ma eyes.
The author not only knows her language, not only knows love, not only loves her characters --- but, as all good authors writing about Eastern religion must --- she knows her Buddhism, knows how to place it in the context of a normal family, one that is practically destroyed by the supposedly benign world of Tibetan masters.
Thus, Buddhism becomes a counterpoint to the story of Liz and Anna Marie and Jimmy, as fine as counterpoint in a Bach cantata --- the bass line going one way, the tenor another, the alto a third: all put together in a musical whole that can make one shiver with the glory of it.
A couple of times in the past we've bemoaned the fact that we don't have stars hanging around RALPH so we can pin them on a worthy writer (except for the single stars that appear on our General Index page). Buddha Da would probably garner the full monty. Big ones. Of gold. Shimmering there, right at the top, right where they belong.
---
Living Everyday Zen
Charlotte Joko Beck
(Sounds True)
Zen is elegant, "elegance is refusal." "Use concentration in the service of awareness," she says. "Listen to the traffic," The traffic, the wind in the trees, the sounds from outside.
She cites the priest Anthony Demillo, who said that we should view all people as mean, vicious, untrustworthy and manipulative. "And innocent. And blameless."
Zen is a "returning to silence." It is the practice of dying to the self. When you seek something, seek it over years, and finally get it (a new car, a house, a million dollars) the question should be, "And then what?"
§ § §
This is powerful stuff. I have been here for an hour trying to boil her words down, but her words are already concise and to the point. So I give up.
If you have an interest in Zen Buddhism, or in merely shutting up the mind-babble, it is worth your while to listen to Joko Beck. She is elegant, avoids stuff and nonsense. "True nature is no nature," she says. "Our core beliefs make us slaves," she says. "Practice is austere," she says. If we are living "caught up in our fears," we are not living.
It is the pretend excitement of our thoughts that catches us every time. But thoughts and passions and prejudices and hates and angers just aren't worth it.
They will pass.
Listen to the traffic, not the sirens.
---
Out of Your Mind
Essential Listening from the
Alan Watts Audio Workshop
(Sounds True)
Alan Watt's program was called "Way Beyond the West," and it was aired every Sunday night --- the closest thing to Pacifica's religious program. Most often it was on tape, a half-hour of musing, very amusing musing, on Zen, Buddhism, psychology, etymology, eastern culture, Christianity, Hinduism, morals, Japanese thought, Indian history, American vagaries, Tibetan lamas, the role of the roshi, the stages of world culture, the meaning (and joining) of divine opposites, the
Baghavad-Gita,
the
Kama Sutra,
the
Book of the T'ao.
Watts spoke with an elegant accent, seemed to know everything there was to know about Eastern religion and thought. And he loved paradox. "There is a famous koan about a young Buddhist student sitting at Zazen," he would tell his rapt audience (me!): "The roshi comes along and asks the young monk what he is doing.
"'I am meditating so I can become the Buddha."
"The roshi picked up a brick that was lying nearby. 'Can you make a mirror out of this brick?' he asked the student.
"'No.'
"'In the same way, you will never become enlightened by meditating,' said the master.
"This koan is not very popular in present-day Japan," said Watts, smiling, at the microphone (and me, me pretending not to be charmed out of my wits, listening to my new, perfectly spoken master guru).
Go to the complete
review
---
Ambivalent Zen
Lawrence Shainberg
(Pantheon Books)
One of the constraints of Zen and other spiritual practices is that few people can take seven days off from work without at least giving up vacation time, and fewer still would choose to spend their vacations staring at a wall. Since family life is another constraint, the preponderance of students are single, widowed or divorced, and most of the couples are childless or old enough that their children have left home. Given the fact that loneliness and psychological desperation are two of the best catalysts for practice, one of the largest contingents around Zen or other spiritual centers will often be drawn from the recently divorced.
"We've got this idea of something trapped that we've got to set free. Like there's a bird in your hand, and what Zen is about is spreading your fingers and letting it fly away. Whoosh! I'm enlightened! But you and the bird are the same! You and your hand are the same! Nothing needs to be opened! Nothing needs to fly away! Realize this and you've automatically let go! "
These words are delivered in the course of a teisho on my old favorite, the koan about the flag and the wind from The Mumonkan. Glassman offers us a perfect example of letting go by taking it forward in time and turning it on its head. "Two hundred years after this event occurred, seventeen monks, taking refuge at an inn while on a pilgrimage, were caught in an earnest discussion of it. 'Which is moving-the flag or the wind? It is not the wind that moves; it is not the flag that moves. It is the mind that moves!' As it happened, the old lady serving them dinner was an enlightened being. After eavesdropping on their debate for some time, she could not contain her impatience with them. 'You fools!' she shouted. 'Don't you understand? It is not the wind that moves; it is not the flag that moves; and it is not the mind that moves!' At this point --- a world record, for sure --- all seventeen monks were enlightened."
---