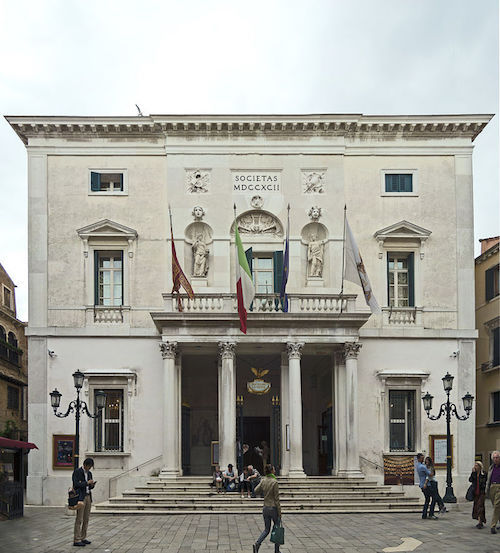 But such amusing fireworks are mere spice sprinkled around the book's central story: The January 1996 conflagration that destroyed the glorious Gran Teatro La Fenice --- the Fenice Opera House -- and the resulting complications, interpersonal warfare, accusations, prosecutions and other socio-political hi-jinx and high drama involved in getting it rebuilt. It's Italy, so the Mafia enters and exits the stage with regularity, but it's Venice, so in between everything else there's Carnevale, parties, elaborate dinners, drinking, film festivals, famous people, their paramours and spawn --- living and dead --- running hither and thither, expats and their abundant, expensive affectations, fast boats and generous globs of history.
The fire happened on a Monday, the 29th, a little before 9 p.m. It was spotted out the window of her nearby home by Signora Seguso, wife to one of the city's oldest, most famous glass blowers, Archimede Seguso. At 86 he still regularly went to the studio and worked with the molten glass, seated before the furnace, turning and blowing, shaping poly-chrome vases and other beautiful objects. Berendt writes: "Men in the Seguso family had been glassmakers since the fourteenth century. Archimede was the twenty-first generation and one of the greatest of them all... After all those years of turning the steel pipe hour after hour, Signor Seguso's left hand had molded itself around the pipe until it became permanently cupped, as if the pipe were always in it. His cupped hand was the proud mark of his craft, and this is why the artist who painted his portrait some years ago had taken particular care to show the curve in his left hand."
Signora Seguso called the fire brigade, didn't get an answer, then called the police. The firefighters soon showed up with the police. The police couldn't get the theater's front door open, so one pulled out a pistol and, in a laudable instance of brutality, shot the lock off. "Two firemen rushed in and disappeared into a dense white wall of smoke. Moments later they came running out. 'It's too late,' said one. 'It's burning like straw.'"
The Fenice possessed extraordinary acoustics and had been the site of numerous commissioned opera premiers, including Verdi's La Traviata and Rigoletto, Benjamin Britten's The Turn of the Screw, Stravinsky's The Rakes Progress, and dozens of others. The theater's exquisite sound quality was due to its design, naturally, but also to the building material. The interior was entirely wood, very old, very dry --- excellent kindling. And because the Fenice was undergoing a renovation at the time of the fire, the sprinkler system and smoke alarms were not functioning. By morning, despite a massive battle pitched by the firefighters and water-dumping helicopters, the stone shell of the theater looked like a box full of charcoal.
Then the real fire started: Who's to blame? Was it negligence or arson? If the latter, what's the motive? Motive is easy: It's always money. And who in Italy likes money more than Pooh likes honey? The Mafia! What's more, it was discovered in 1991 that the mob was responsible for the burning of the Petruzelli Opera House. The Mafia was also suspected, Berendt writes, of "car-bomb attacks that destroyed parts of the Church of San Giovanni in Laterno in Rome, the Uffizi Gallery in Florence, and the Gallery of Modern Art in Milan." In the bombing cases the motive, supposedly was not money, not directly anyway --- La Cosa Nostra was trying to tell Pope John Paul II enough already with the anti-Mafia statements. There were various other good reasons for blaming the Fenice fire on The Mob, but the best reason for not blaming them was that they didn't do it. Probably. That was the outcome of later exhaustive investigations, anyhow. So who done it?

Well, the culprit was definitely not longtime Venice resident Ezra Pound because he died 24 years before the Fenice ignited, and besides he loved Venice. Rose Lauritzen, an Englishwoman, who lives with her American husband Peter, in one the city's splendid palaces, started visiting Venice when she was 16. She and her mother stayed in a cottage during the summers. "Ezra Pound lived next door in an identical cottage," Berendt writes, "which he had shared with his mistress, Olga Rudge, since the 1920s."

'Pound had just been released from St. Elizabeth's Hospital for the Criminally Insane,' Rose recalled, 'and by the time I saw him in the early 1960s, he was old and hermit-like. He had taken his famous vow of silence.'

'We'd see the two of them, Olga and Ezra, quietly strolling in the area and having coffee at one of the cafes along the Zattere... His face was craggy and his eyes were immensely sad. When people stopped to greet them, he would stand patiently, in silence, while Olga made pleasantries. We never saw him speak in public, but at home we could hear him reading poetry aloud in a strong, rhythmic voice. My mother was a fan of Pound's, so she rang the doorbell and asked if she might have an audience with him. Olga very politely told her to go away: it was no use, he wouldn't talk to anyone. We finally realized we'd been hearing recordings of Pound reading his poems. He'd been sitting on the other side of our common wall, listening quietly, just as we had...'

§ § §

The City of Falling Angels is full of such vignettes --- digressions, mini-narratives, demi-portraits of the place's wealth of characters, head cases, and extremists wound around the story of the Fenice fire and its elaborate aftermath. The rat tycoon, Signor Donadson, has lots to say, much to the distress of a lady seated nearby trying to enjoy her dinner. He's proud that he and his friend Luciano Benetton (speaking of name dropping) use the same photographer for their ads, "'Oliviero Toscani, the guy who created the United Colors of Benetton ad campaign and Colors magazine. I got Toscani to shoot an ad for my rat poison. It was based on The Last Supper. All the men had rat heads, even Christ. But I got talked out of using it.'" Hmmm, who could that have possibly offended?

Then there's a short tale about the renovation of another theater, the Malibran, and the extraordinary complications contractors run into working in Venice. An architect on that project tells of digging below the theater and bumping into Marco Polo's house:

'It was built in the thirteenth century. We knew it was there before we started, of course, and when we dug down, we found it exactly where the documents said it would be. We came to the ground floor of the house two meters below the level of the ground today... Soon we came to an eleventh-century floor, and below that an eighth century floor, and farther down, finally, a sixth-century floor! ...It was dramatic evidence that the water level has been rising, and Venice sinking, for fifteen hundred years, and that the Venetians have been dealing with this problem the same way for all that time, by raising the level of the city. We're still doing it today. You can see workmen all over the city tearing up paving stones along the canals and relaying them seven centimeters higher. This will reduce the number of floods for thirty years or so [make that 20 years; the book was published in 2005], but we can't keep doing that for ever.'

Why not? Later in the book, Berendt is talking to a Count Marcello. The writer says, "'You once told me that Venetians always mean the opposite of what they say,'

"Count Marcello smiled. 'True, and when I told you that, I meant the opposite of what I said.'"

No wonder the place is complicated.

As for the Fenice fire, they got the guilty ones, at least the ones the extremely tenacious prosecutor believed were guilty. Motive? Take a guess.

--- Douglas Cruickshank