The composer himself was to say later,
Even before the war in Leningrad there probably wasn't a single family who hadn't lost someone, a father, a brother, or if not a relative, then a close friend. Everyone had someone to cry over, but you had to cry silently, under your blanket, so that no one would see. Everyone feared everyone else, and the sorrow oppressed and suffocated us.
As Anderson writes, "This requiem allowed them to mourn together in public. In this threnody, there are fragile solos, weak shoots or tendrils of a theme that might easily get crushed underfoot. The full string orchestra takes up those thin melodies and tries them, too, as if, after a great shock, they all are teaching themselves to feel again. They are learning to sing of their own sorrow."
The symphony was wildly applauded that night, and wherever after it was performed. To quiet possible critics within the regime, Shostakovich published several articles to explain the piece. Anderson writes that the article implied "that the symphony was perhaps about his own turmoil after being criticized by Pravda.
It was about the spiritual victory when government criticism led him to repent of his doubts, his formalism, and his neurosis in favor of a new faith, a new hope. He wrote that of all the reviews, one that particularly gratified him said that "the Fifth Symphony is a Soviet artist's practical creative answer to just criticism."
In other words, the composer successfully dodged the bullet. "The phrase 'a Soviet artist's practical creative answer to just criticism' was repeated again and again when the symphony made its way across the oceans to America." Was he, as some thought, "putting on a smiling mask to avoid government censorship?"
Certainly, some of his friends believed this. "He described his music to the Party as joyous and optimistic, and the entire pack dashed off, satisfied," said soprano Galina Vishnevskaya. "Yes, he had found a way to live and create in that country . . . But he learned to put on a mask he would wear for the rest of his life."
And as we listen to it now you may agree with some who found that the "finale was optimistic . . . " Yet one writer in Moscow reported that "the ending does not sound like a resolution (still less like a triumph or victory), but rather like a punishment or vengeance on someone. A terrible emotional force, but a tragic force."
And one of the members of the official Moscow Composer's Union --- in February of the next year --- found himself to be "confused." He didn't find the ending celebratory. "The general impression of this symphony's finale is not so much bright and optimistic as it is severe and threatening."
It was a writer friend who quickly figured out how Shostakovich was playing it.
The poet Pasternak, who had cautioned his friend Mandelstam for speaking too openly, even in a whisper on the middle of a bridge, clearly felt that the Fifth Symphony was about Stalin's purges and the Great Terror. "Just think," he groused jealously, Shostakovich "went and said everything, and no one did anything to him for it.
The artist gamed it perfectly: compose one thing, say another. Who's to know? Shostakovich writes that he has changed, that he now understands his artistic duty is to compose only music which, as in all the arts, should be for the good of all the people. In other words, compose whatever he thinks he can get away with, then immediately write articles to say that the music is a testament to his willingness to purge his earlier mistakes; that he has learned from these mistakes, and the newer works will simply prove his desire to work for the betterment of society. Who is to say otherwise? The composer has spoken; who can doubt him?
No matter how he did it, some believe that Shostakovich was ultimately a hero. In all these years, he slept with a suitcase at the ready filled with essentials he felt he would need on a trip to the gulag. At times, he even slept just outside the apartment door, on the landing, so that his arrest would not disturb his wife and his child. He had, perhaps, the power granted to one who knew himself to be doomed . . . and so he continued to do what he did best: confuse those who held the whip, so that when they finally came to murder him, he would not give them the comfort of taking him by surprise.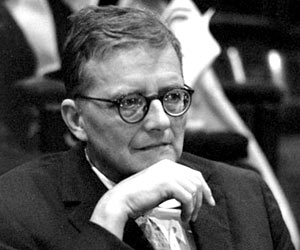 There is something in the Fifth Symphony that spoke to many of us afterwards. Even now, when I find a good version of it on the internet, I can be captured by it as I was in 1948. Although I lived in a family that took classical music seriously, I can't remember my being interested in any of the records we owned --- the usual Brahms, Beethoven, Tchaikovsky, Schubert symphonies. But when I came across Shostakovich's Fifth in its album of 78's (I think it was the version conducted by Evgeny Mravinsky and the Leningrad Philharmonic), I put it on to play and play and play again over a period of a year as I read.

I was at the time entranced by H. G. Wells' Seven Famous Novels, and I often read the tales as I listened to the Fifth. They seemed to belong together: Shostakovich in the background during my travels in the time machine, hiding in the ditches with me during the invasion from Mars, living through the plight of the invisible man (who wanted to be invisible no longer). My sister later told me she thought --- no, she knew --- that I had gone bananas.

Mind you, my favorite music at the time was Nat King Cole, Tommy Dorsey, Doris Day and the blues --- Lightnin' Hopkins, Li'l Son Jackson, Leadbelly. If I could go back and ask myself why I, at age 15, was so entranced by these works from outer space . . . if I only had that power. But, can only look back and guess at the shadow of passion that we carried about with us then. The me that thought it was me back then suspects that it is no longer around so I won't be able to question the me who I thought I was back then in 1948 when I thought I understood it all.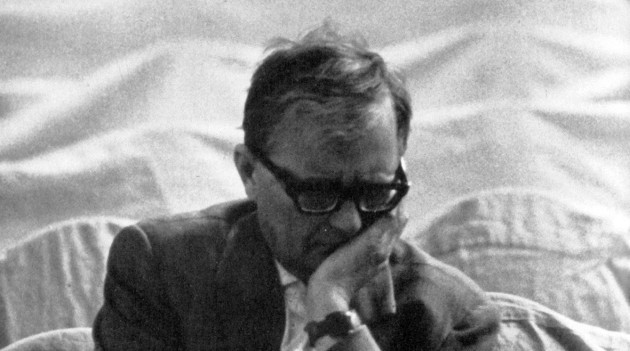 --- L. W. Milam

---

***Stalin's Epigram

We live, not sensing our own country beneath us,
Ten steps away they dissolve, our speeches,
But where enough meet for half-conversation,
The Kremlin hillbilly is our preoccupation.
They're like slimy worms, his fat fingers,
His words, as solid as weights of measure.
In his cockroach moustaches there's a hint
Of laughter, while below his top boots gleam.
Round him a mob of thin-necked henchmen,
He pursues the enslavement of the half-men.
One whimpers, another warbles,
A third miaows, but he alone prods and probes.
He forges decree after decree, like horseshoes ---
In groins, foreheads, in eyes, and eyebrows.
Wherever an execution's happening though ---
there's raspberry, and the Ossetian's giant torso.

--- Translation by Scott Horton