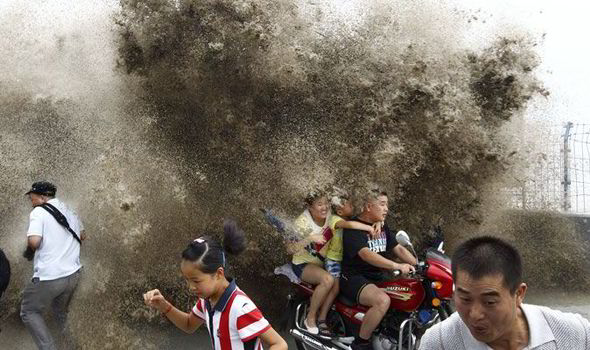 The infancy of the enormous disaster gave notice first. In the ocean that ceased to be Pacific (its name was not enough to keep the waters calm), and which drew near to the coast of its own volition, cars, trucks, motorcycles, tractors, and bicycles burned. Houses tried to swim in an attempt to avoid becoming islands flooded by the sea, which impetuously rushed in from behind with a desire to spare no one. I remember having heard that if something needs to be said, it can only be said by inventing it. Such a thing was unnecessary on this occasion. The world on that day, and the following ones, was born invented. In seeking out their content, these images of necrological futurology, victims of inhospitable furies, took control of the humans' disadvantage in order to favor a favorite situation, one which aesthetic eagerness --- considering said situation to be non-repeatable --- could have repeated over and over to the point of weariness.
Prompting the notion of soul in nature, there were heard in the subsequent images prophecies, noises emerging from the overdose of water and wind, arousing in the mind a dowry of resources that diminish empiric reality as we know it, confirming the modus vivendi of the operation of sight. Because, in such a time in history, with nature immodestly exhibiting its cannibalistic condition, its collapsed closeness, the following remains to be asked: how to establish speech and have it tell riddles of understanding? The world was exclusively that which could be seen.
It was a disaster with an oceanfront view. The post- and posthumous-specter imposed a persistence dedicated to satisfying itself. And it fulfilled its plans in this regard. We saw and even heard the breathing of a secretive and catastrophic gesture that imposed the absolute lack of rational explanations, because there were none. In this overbearing way water showed its face. It abbreviated life as if it were a well-finished haiku. Composed of water jumbled together, ruining all in its path, the tide opened cracks and even ravines. With all that it undid in that tragic area of Asia, it made everything look new. It was a strange turning of the screw: the waves firmly swept along with them an erratic, longitudinal, and neo-expressionist collection free of cosmetic touch-ups.