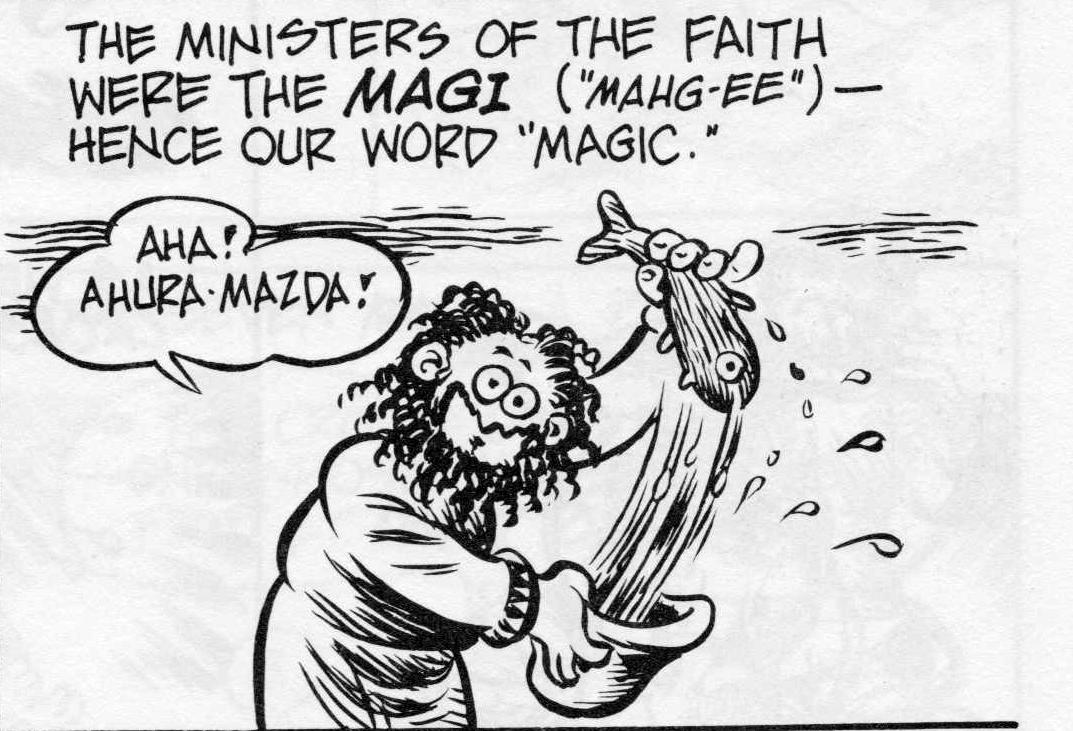 It is unfortunate that Tariq Ali did not find a cartoonist as imaginative as Larry Gonick to illustrate "Trotsky For Beginners." On the other hand, it is not exactly news that humour is not the most outstanding quality among Trotskyists. Here is a typical example. The text recounting Trotsky's first arrest in tsarist Russia tells us: "Trotsky is sentenced to four years deportation in Siberia. In prison, he marries his old sparring partner, Alexandra Sokolovskaya, who will accompany him to Siberia." The cartoon shows Trotsky and Alexandra, bundled up to the ears in customary Russian fashion, trudging along a snowy road past a sign that reads "To Siberia." Ha ha!
The rise of Stalin in the new USSR, prefaced by Lenin's phrase "This cook will only cook peppery dishes!" shows Stalin dressed as a cook, with a chef's hat on his head, a pepper-pot in one hand and a long knife in the other. Ha ha! A few pages later, the text explains: "Trotsky, like other clear-headed Bolsheviks, understood that a real decline in class-consciousness had taken place. Revolution was defeated in Europe. In Russia, it degenerated. A new social layer arose and strengthened its grip on society as a whole. Who are they?" The rest of the page shows pictures of this new social layer: party-state bureaucrats, technicians, factory managers, party functionaries, military officials --- each of whom looks exactly like Stalin, with his droopy mustache and cook's hat. Not bad, but this is about as far as pictorial wit goes in "Trotsky For Beginners." It is a pity that Larry Gonick never got around to Trotskyism.
In fact, Larry got around to cartoon guides on practically everything else, including not only Genetics and Statistics, but also Physics, Chemistry, Computer Science, the Environment, Sex, and Tax Reform. His magnum opus is undoubtedly "The Cartoon History of the Universe," brought out in multiple comic book volumes, and later published in book form by Doubleday. The illustrations are a hoot. For example, one panel on the development of Greek civilization notes: "The combination of getting drunk and letting it all hang out proved irresistible, and the cult of Dionyssos --- minus the old bloodiness --- soon had offical support." The cartoon shows a pile of drunks with goofy grins lying on the floor, next to which a dignified individual in a toga is saying: "Yes, I think we can provide city funds for this!" Illustrating the Old Testament, Larry shows the prophet Samuel as a little, unkempt hairball of a guy, rather like the comic book Mr. Natural. When Samuel reproves King Saul, the cartoon shows hairball Samuel jumping up and down in front of Saul and shouting: "OO, did I ever make a mistake when I picked you!"
But my favorite part is the Jurassic Epoch in comic book Volume 1, with its many kinds of cartoon dinosaurs. A migrating herd of brontosaurs is shown stepping on each other's tails, amid shouts of "Ouch, my tail!" Another panel shows two brontosaurs with their long necks entwined, under the caption: "And afterwards, the brontosaurs invented necking." A few pages later, in the Cretaceous Epoch, a caption reads: "After 130 million years of dominance, the dinosaurs had finally left the world to their old competitors, the tiny mammals." A lavishly detailed cartoon shows a fallen Triceratops lying on the ground, next to a small triceratops which is looking doubtfully at a small, rodent-like mammal.
With this, my mind is thrown back to a movie theater in New York City about seven decades ago. Troops of animated cartoon dinosaurs, rendered in lavish detail, lumber across the movie screen into the middle distance, and disappear into an indistinct mist. It is a rather haunting image of extinction. The music is the "Evocation of the Ancestors" section of Stravinsky's "Rite of Spring," played by the Philadelphia Orchestra under Stokowski. Ever since then, I have had Stokowski, Stravinsky, and dinosaurs on the brain.

--- Dr. Phage