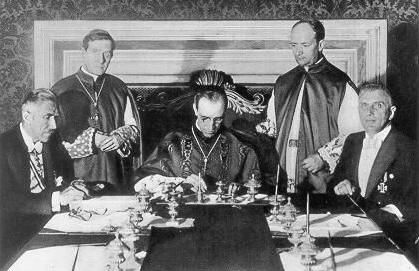 This is a fat book, running well over 700 pages, with fairly small type --- at least too small for some of us
anciens
to read comfortably. The bibliography runs ten pages, the index more than 30 pages, and the notes --- in what looks to be four-point type to my old eyes --- a staggering 170 pages.
Almost all you could want to find about the financial ins and outs of the Vatican are here, but it makes for dismal reading: we find ourselves hoping that those running the show might show some compassion, but they seem always to be run by passion merely to say nothing, avoid any controversy.
600,000,000 people in the world pay homage to the Mother Church, but we learn here that compassion is rather rare, for in truth, the church is a billion dollar industry feeding off peoples' hopes and their fears. Their sacred institution is one where the divine includes off-shore banking, stock speculation, and, apparently, no accountability anywhere.
A run through Google offers the surprising fact that there have been not all that many newspaper or magazine reviews of this astonishing book, and few telling of the stoic silence of Pope Pius during the twelve years of Nazi rule. And certainly no mention that the Vatican was the first state to give official recognition to Nazi Germany in 1933. In July of that year, the church signed a Reichskonkordat with Germany recognising Hitler's brand new government. The agreement included a clause that "required German bishops and cardinals to swear an oath of loyalty to the Third Reich."
In a recent review of Posner's book, the Catholic Insight hurries over the facts about the Church's early support of Hitler's regime, and its consequent silence during the mass killings in Europe and in Eastern Europe, ones that began long before the onset of WWII. The Insight's analysis of the book also comes up with a slight misreading of the central message of God's Bankers. Paula Adamick's on-the-one-hand-this on-the-other-hand-that review ends,
A careful reading should also prompt Catholic readers to notice how, despite everything, the spiritual role of Holy Mother Church in the history of mankind has always remained above the fray. All due to the salvific grace of its founder, Jesus Christ, and to the graces He bestows on mankind to fulfill His sacred mandate, despite the schemes and machinations of its errant members.
In a follow-up article in the

Los Angeles Times to the publication of this book,

Posner wrote,

When Francis was the cardinal of Buenos Aires, an author asked him about those sealed documents [about the Church silence during the Holocaust]. "What you said about opening the archives relating to the Shoah seems perfect to me," said the future pontiff. "They should open them and clarify everything. The objective has to be the truth."

Since Francis was so unequivocal before he became pope, there was high hope that he would quickly release the documents to independent historians for review. Despite pleas from Jewish groups and leaders during his visit to Jerusalem in May, he did nothing.

It is time for Francis to free the files. It would burnish his reformer pedigree. And it is an act that could not be reversed. In so doing, Francis would send the unequivocal message that his insistence on transparency is not simply a buzzword but a theme he insists on applying to the finances of the church, both in its past and going forward. He would cement his reputation as the tough new sheriff in town.

The effect of Posner's detective work ultimately brings the reader to despair. We are surprised that he --- a practicing Catholic --- was able to follow through. Me? I had to leave off reading God's Bankers around page 250. Not for lack of interest, but because I was unwilling to take any more. All this was going on for the last eighty years, and no one was willing to drag the Vatican to its own confessional. The Mea Culpa of averting the holy eyes when there is bad stuff going on right next door.

Maybe those of us who grew up in the arms of the Mother Church are better off going to Mass and saying our Hail Marys and pretending that one diligent reporter did not spend years of research proving that our favorite golden palace there on the hill could be an institution whose main business is something we are all familiar with --- in this instance, a very ironical "making a killing." And all the while covering itself by pretending that it is but a poor bystander, innocent of the sin of ignoring the deaths of 6,000,000 innocents, the great church, poor as a church-mouse.

Mice and rats, we have to point out, do figure large in God's Bankers. The exit for Nazis running from their WWII crimes through the Vatican and direct to the Middle East or South America was nicknamed . . . are you ready? . . . The Ratline.

--- Terrence O'Halihan