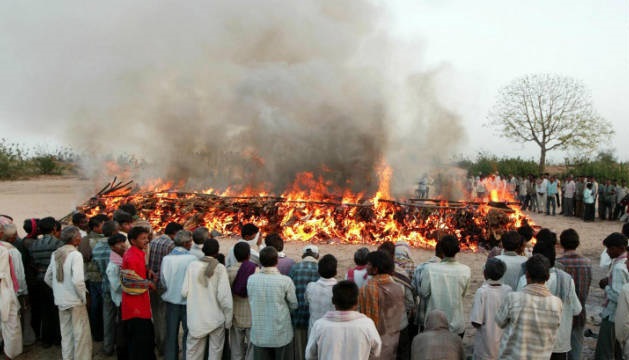 In the hours before dawn when the red fires, the black clouds of miasma, and the thin figures of the fakir-servants grow dim and slowly vanish after a last reflection in the dark mirror of the river; when the smell of burned flesh is blown away by the fresh wind which rises at the approach of dawn, and quiet settles over the ghâts until the next evening --- at that instant a procession of a different kind appears on the opposite bank. Sad, silent trains of Hindu men and women move in file, sometimes long, sometimes short, according to the mortality in town. They approach the river in separate groups, without weeping, and with no ritual of any kind. Swinging their burden by both head and feet, the carriers cold-bloodedly throw it into the yellowish-dirty water of the river. As it falls, the red rag is blown aside, and the dark green face of a young woman can be seen for an instant before vanishing in the muddy waves.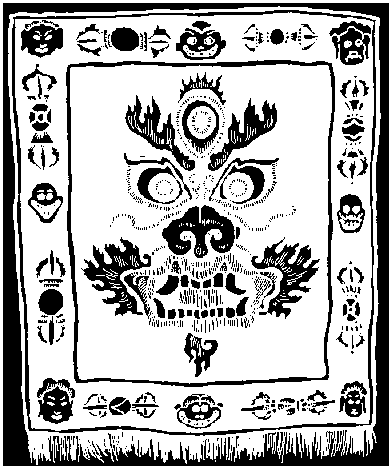 Beyond is another group: an old man and two young women. One of them, a little girl of ten, small, thin, far from being fully developed, sobs bitterly. She is the mother of the dead child, whose body she will soon throw into the cold waters of the dirty river. Her weak voice monotonously resounds along the shore, and her trembling hands are not strong enough to throw the poor little figure, more like a tiny brown kitten than a human child.
The old man tries to console her and, taking the dead body in his own hands, enters the water up to his waist, casting it into the middle of the river. After him both women get into the water just as they are, dressed or rather half-dressed, as usual, and after plunging seven times in succession to purify themselves from the touch of a dead body, return to the shore and start for home, their clothes dripping wet. In the meanwhile, vultures, crows and other birds of prey, which had been circling all day over the river waiting for their booty, gather in black clouds over the bodies and retard their progress down the river.
Occasionally some half-stripped skeleton is caught in the reeds along the shore or is wedged between two stones, sticking out from the shallow water, until finally one of the mângs --- a wretched out-caste creature, living near the river, whose fate it is all life-long, from the day of his birth to his last breath, to busy himself with this sort of unclean labor --- comes armed with his long stick and, catching the skeleton by its ribs, picks it from under the stones or reeds and pushes it down the current on its way to the blue ocean.