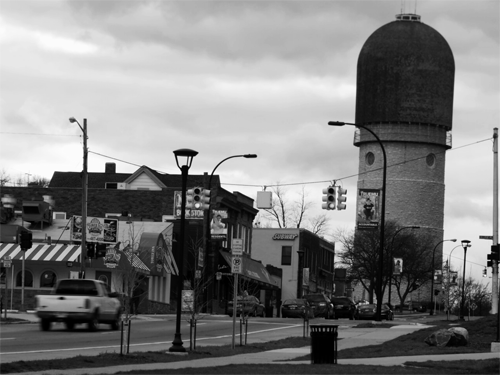 In a rather vigorous chapter on architecture, we are told of some buildings that bring to mind images of the shaft and the meatus. In Hindu, Khmer, and Malian cultures, there were "traditions of monumental phallic sculpture on public buildings."
Here, critic Richard Williams has managed to dig up over twenty-five examples from the 19th to 21st Century. Several are included here, but by my lights, the squat number up there above, a water tower in Ypsilanti, Michigan, should win hands down . It was built in 1890, and proves, I think, that our grandparents were of a more prurient frame of mind in their public works than you and I could ever think possible.
§ § §
There is a section marked "Jokes" but if you pick up this one for laughs, I suspect you'd be better off watching reruns of Debbie Does Dallas or digging up some of your own online dirty joke apps. Mike Lloyd, chairman of the "Joke" department in this volume gives us nary a rib-tickler. We get in its place a typical PhD thesis-style laugh-killer: "Jokes about the penis can span the full range from lighthearted to witty to ridiculous, but still have serious import." O stop it, Mike.
Under "Idioms and Nicknames," Mark Morton offers up thirty examples, of which I found a few moderately risible: "Elmer Pudd," "rumple foreskin," "crumpet trumpet" and one, that takes us all the way back to Shakespeare --- Mercutio's "poperin pear," a Renaissance wedding night bawdy line that just doesn't make it in translation.
I'd like to suggest that if they ever plan to do a second edition of Cultural Encyclopedia of the Penis, I'd like to offer the editors a couple of boffs to keep us poor reviewers from drifting off. I'd like, for instance, for him to include two of my lewd, coarse favorites from a half-a-century ago. They tickled me back then, they tickle me now.
Did you hear about the guy who worked in an elephant circumcision factory? He got $50 a week plus enormous tips.
Man and woman on their honeymoon. He disrobing, she watching.

She: "Oh look at that pee-pee."

He looking down at her, smiling: "Why, darling. That's not a pee-pee. That's a penis."

She: "Listen, buddy. I've seen a lot of penises in my life and that's a pee-pee."