That old cabinet sized Philco radio dropped the walls for me. From my rather desultory world, I was given access to another --- alive, and with no limits of space nor time. There were stations that now, even after fifty years, still have a magic for me, totems to the new world I discovered at night, back there in 1945 --- when I was supposed to be safely abed, in another world.
It was another world. I had my ear to the voices of humanity --- my head in the Cathedral of the universe --- voices muttering out of the æther, voices calling, calling to me. WCKY in Cincinnati. WKAT in Miami. WCFL in Chicago. WBT in Charlotte. WLAC in Nashville. WWL in New Orleans. The clear-channel stations, signals coming in from thousands of miles. Signals out of the night, calling me from so far away.
What was the fascination, that fascination with the sometimes tangled sounds leaking into my bedroom from across worlds? Was it that the lady who did the late night program on WKAT, the one who sounded as if she was trying, with her sensual voice, to seduce innocent me? Or the announcer at WBT, speaking softly of the sophisticated world at the University ("He's a Phi Omega, she's a Delta Tau. This song is for her.")? WLAC with its pure black music, Lightnin' Hopkins, Li'l Son Jackson, Blind Willie McTell, Eddie "Cleanhead" Vinson, Muddy Waters, Clarence Brown.
It was, most of all, the sound of New Orleans. "Poole's Paradise," it was called. Improbably, it came from a 50,000 watt station, WWL, owned by the Catholic Church --- Loyola University of the South. He was heard from midnight to one, night signals bouncing across the Sporadic E-layer, down the Okefenokee Swamp, piercing the loblolly pines, piercing the walls of my room.
Poole played the music of the day --- Artie Shaw, Harry James, Morton Gould. And between the songs, he told awful, terrible, horrible, nightmare jokes:
He said slip on anything
and come on down.
So she slipped on the top stair.
And then his engineer --- Maurice --- would inject the sound of a woman screaming, a dog howling, an audience booing, a stentorian man intoning,
"Hey wait a minute Bob. Have you got a match?"
Excellent puerile humor for me, teetering there on the brink of puerility:
She said she felt like a young colt, but she looked more like an old 45.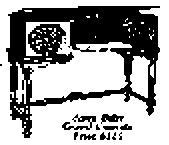 (And then Maurice gives us the sound of a woman screaming --- transcription speeded from 33 rpm, racheted up to 78 rpm, a voice frantically insanely crazily screeching, "Eeek, eeek, eeek!")
Man to waiter: "Give me some orange juice for a pickup."
"Yes sir. And what do you want for yourself?"(Sound of sirens and gunshots).

"She was only an optician's daughter. Two glasses, and she made a spectacle of herself." (Sound of machine guns and screams).
Then music: Doris Day, Frankie Laine, David LeWinter, Nat King Cole --- or, Ray McKinley, intoning
You came a long way from St. Louis
A feeling I ain't going to know,
You came a long way from St. Louis
And, baaaaaby,
You still got a long way to go.
Then a brief commercial (one!), then Poole:
They say that the average human has over 20,000,000 pores. (Pause). No wonder we're such poor people.
And then Maurice the engineer gives with a pistol shot, some more screams, and we go to Peggy Lee throating her way through "Why Don't You Do Right (Like Some Other Men Do?)"
It was all very frantic, perfect for keeping this boy awake so he could doze through his algebra and English classes the next day at John Gorrie Jr. High School.
Whatever happened to us, anyway? Well, Bob Poole got hired off by a clear-channel station in Albany, New York --- where he learned that union engineers weren't like Maurice, didn't know timing, didn't know repitition, and silliness, and didn't know what to do with his terrible jokes.
Me? I got shipped off to the north, too --- to one of those intense boarding schools that thought that radios were bad for students' minds, wouldn't let us study, would keep us awake all night.
The Philco? I would guess that, before too long, my mother got it into the hands of the Salvation Army, where she thought it belonged. She, like my school, thought radio bad for our minds, felt that getting rid of it was a dam site better than having me lolly-gagging about on my bed, long after midnight, listening to Poole:
You remember the fruit song, don't you? [Pause] "Orange you sad you left me."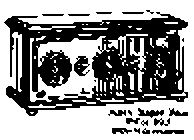 And Maurice sends out 50,000 watts of woman's laughter, speeded up, a shriek screaming out, screaming riotously out of the dark hot savannah, the great dark night of transmission, the dark god sounds of a long night.