Then the quick switchback. Old Ivan going into detail about a love affair from forty or fifty years ago, perhaps before Honzo was born, "a woman of Ljubljana, she was a real woman that one, thin, but what a figure, just a glance at her was enough to give me a belly-slapping erection."
Then another quick switch, and we are in Klánovice, in 1956, the Russian have just moved in, Ivan's father takes ten-year-old Honzo out to "the road that goes from Újezd by the viaduct, along which tanks had been rolling from morning till night for about four days."
Grandfather says, "See that? Remember it!" He throws a stone at one of the tanks. But for Honzo, it was the first time he'd seen real tanks. "What a rush! The motors roared, smoke hung above the woods, the tanks rumbled along one after another, and still there was no end to them!"
One threatening, the other waving, the two-in-one, the Janus-face, one mad, another happy, the two conjoined, grandfather-grandson, father-son...
...Father and son, different, perhaps, but revealed here to be cronies, old cronies, who get pissed at each other, open up, shut down, confound us (and each other) with their memories, their tall tales, who can believe Honza's whopper about Johan/Lazarus Batista Kollendero, "who were born in London and they were formed in such a way that Johan was growing out of the chest of his normally developed brother, so throughout their lives they were looking at each other's faces. Lazarus was the one with the legs so Johan had to go from one party to another against his will."
Résistance
is everything you and I could want in an autobiography. The author is a smart, funny, gentle, brave, insightful French woman who ends up in jail for four long years.
In 1941, she and some friends decide to put out a newspaper --- strictly illegal in Nazi-occupied Paris. For them it's a bit of a lark, but then they get caught in a German dragnet. They lock her up, first to Cherchi-Midi prison in Paris ... then ultimately in Germany.
§ § §
There's prison literature and prison literature. Most of it can be as boring as prison itself. But Résistance is different: Humbert is hardy, foolhardy, smart ... and such a sterling character you want to call her up on the telephone just to tell her to cool it.
She is breath-takingly brave. In her trial, when the prosecutor asks if she knows who wrote the anti-Nazi newspaper, "'Why yes, of course,' I reply, 'I know exactly who wrote it.'"
"So?" he asks, with an expression of triumph in his evil little eyes like lottery balls. "So...?"

"So, what would you do in my position?"
He wants her to rat on her soul-mates, that's what he wants, and as he waits for her to do so, he smiles.
"You're smiling, so I'll do the same. I'll smile too."
"You do not want to change your mind in any respect?"
"Absolutely not."
"Well, bringing you here was a complete waste of time, then!"
For almost a year, she's been in a dirty little cell with no vista of trees or streets or greenery of any kind, so she replies that it was not a waste of time at all: "By no means. I saw the place de la Concorde, and I am grateful to you for giving me this pleasure before I leave France." And so she gets shipped off to Germany.
§ § §
Not only is the writing in Résistance good, we grow quickly to care about Humbert. Fear and curiosity are her constant companions, and they become ours too. She's such a spark that we fear that she's going to get whacked just for being so defiant. We are curious to see just exactly how she survives.
Every book of survival comes with a Moment of Truth. It is the moment one learns what it will entail to survive. In this case, it's that moment when Humbert realizes that despite her good-humor and wit, she is faced with something truly grotesque: jailers that are capable of great and appalling cruelty. It's the moment when she realizes that she is without recourse, that she's in a place of no escape, and those running the show are dyed-in-the-wool, no-kidding, without-a-doubt beasts --- capable of any and all violence, to the body; to the soul.
---
Sometimes A Great Notion
Ken Kesey
Tom Stechschulte, Narrator
(Recorded Books)
Kesey is now best remembered for
One Flew over the Cuckoo's Nest,
a book that began to redefine "the mad" (and the caretakers of the mad). Kesey was also famous for crossing the United States in a mad, Day-Glo bus, zonked on acid, a play on wheels as scripted by Tom Wolfe.
But he was much more than that ... and the pity is that American literature lost him to acid and foolishness at such a tender age. He looked to be a tough logger but it is said that he was compellingly sweet and he wrote like a dream. His problem was not his life nor his LSD nor getting busted for pot (and spending time in jail) but his attempt to open the soul of America. He lost.
Sometimes a Great Notion was completed before he was thirty years old. It is so all-comprehending, all-embracing and at the same time all-bewitching that I found myself obsessed, in the way that books --- and their narrative --- can get inside you and obsess you. For a time there, I was a logger in the Pacific Northwest or an angry neo-suicidal college student or a suave union organizer or a drunken tough ... or even a wise barkeep. We have here all you could ever want to know about felling trees, bear hunting, the life and language of a small-town bar, juvenile delinquents in small-town America, music of the 50s and 60s, shamans, Indians, evangelists, Captain Marvel, small-town justice, union organizing, revenge, old age, dying, death.
What Kesey does is make you love all his characters, even the disgraceful ones, forever disgracing themselves (and us): lovely Vivian being seduced by Leland (while she is married to his half-brother Hank); old man Henry Stamper so rustic and profane and salty that his own son Leland wonders where he can have come from. And along the way, getting immersed in small town life; bears in the woods; hounds chasing bears in the woods; the tide coming in; the tide going out.
The only sour note in the book --- at least in my book --- comes when Kesey decides to kill off Hank's cousin, Joby. I scarcely thought I would end up loving a Bible-toting evangelist logger --- but he's the real thing. The worst of it all is the way that Kesey chooses to do him in. It's a scandal: slow death by drowning. A log has trapped his legs at the water's edge; the river is rising slowly; he cannot escape; Hank stays nearby, ducks under water to feed him air (by mouth!) as long as he can. There is no help this far outside of town, the river is not going down, the sun is, though, and we are dreading the inevitable. We want to ring up Kesey, tell him, "Don't let it happen!"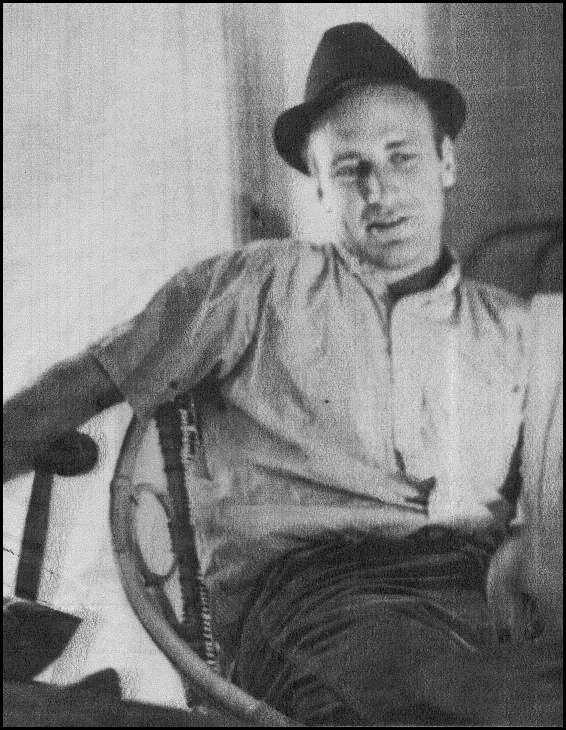 Hank and Joby laugh about things that happened to them so long ago, skating on the frozen pond (they call it being "pond-monkeys,") stories of girlfriends, wives, children, high school evenings out, Joby's pledge to never drink coffee ever again (his fundamentalist minister told him it was sinful). They joke and carry on until they can joke no longer: "Even after his little scarred face had been submerged Hank could still hear sputtering giggles, and when he ducked his face under still feel that goofy half-wit grin against Joe's lips. The situation seemed so bizarre to them both that for a time they felt silly and foolish and made the job of transferring the air more difficult and dangerous with their laughing, both realizing it, but unable to stop."
This funny thing swimming up out of the dark. Like something'd been there all along and just waiting for it to get dark enough. Now, in tight silence beneath the water, Joe feels it trying to fit into the skin of him, trying to take over the shell of him.
"He doesn't like it." And we don't either. We figure Kesey had no right to kill off the one character we had come to know and to love out of this whole bunch of hard-assed tough-talking Oregon loggers. Joey's demise comes at the end of disk 21. You may ... like me ... not want to go on to disk 22. Not for a few days, anyway. Just to try to let it pass.
---
The Patagonian Hare
A Memoir
Claude Lanzmann
Frank Wynne, Translator
(Farrar, Straus and Giroux)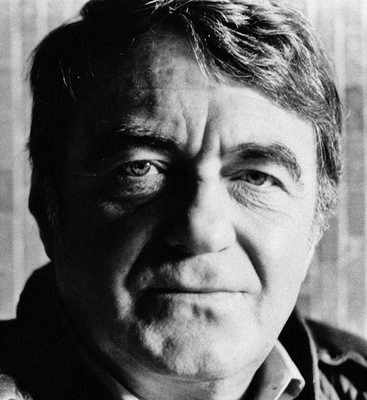 Lanzmann tells us "I have a naturally epic writing style." You can say that again. He started off as a philosopher and traded that in on journalism. Like most journalists (at least those whom are looking for readers), his writing is alert and punchy ... and everything is going somewhere. No noodling around here.
Whether he is writing about smuggling guns in 1940s Nazi-occupied France, almost drowning in the surf off Alexandria, making love to this or that princess, eating (and sleeping with) de Beauvoir while Sartre writes next door, getting lost in the massifs of Switzerland, having the Communists take out a contract on him ...
... in all of this there comes a breathtaking feeling of we-are-there and he-may-not-get-out-of-it alive. And the undercurrent, the Lanzmann-set: what I am doing right now is the most important thing in the world; if I don't do it now, and if I don't it right, all will be lost. No small potatoes here. Every one of Lanzmann's adventures has the feel of ultimate import.
There is a danger in this for all concerned. David Bromwich writing in a recent issue of the LRB speaks of Obama's similar sense of personal (and world) drama:
It is dangerous for a person ... to regard every action as significant. It means that you consider yourself an embodiment of a symbolic purpose which floats free of the content of actions; a purpose that requires any disturbing break to be viewed in the light of an as yet undisclosed terminus.
It is this kinetic force that makes a reader like me stay up until three in the morning with this book. I have to get up to go to work soon, I can't stay up any longer with this, just ten more pages before I shut it down, please ... until one gets quite sick of being seduced by such a bold, gracious, I've-done-it-all lug.
"I would like to spend an hour with this son-of-a-bitch," we think, and then: the switch, as Lanzmann tells us, so wrongheadedly, about the time he began to surmise that the only leg some of us have to stand on is status: To lose one's status could result in being abandoned by all one's friends, that there comes a moment when no one will help you, that it is possible to die of starvation, of cold, of loneliness, I was extraordinarily sensitive to anything that, to my eyes, concerned naked necessity, anything that exposed the violence underpinning all human relationships.
What nonsense!
Those of us who grew up feeding on the Existentialists will be in our glory here, for we get to spend quality time with Sartre and de Beauvoir. De Beauvoir! Sartre and Lanzmann call her Castor, and here she is in a snit, ones "that never were associated with some wrong done to her nor some misfortune."
It translated into an utterly unpredictable explosion. Sitting, standing, or lying down, in the car or on foot, in public or in private, she would burst into violent, convulsive sobs, her whole body wracked with gasps, with heartrending cries punctuated by long howls of incommunicable despair.
Lanzmann would "try to comfort her" but
nothing worked, the convulsive overpowering dread had to progress through every stage until, after a considerable time she would manage to calm herself, but always at the cost of an acute, excruciating awareness of the fragility of human happiness.
There is a wonderful moment in which he explains how it all started with her, and memory, and he then spins a tribute to memory that only a French intellectual could bring off: "Simone de Beauvoir has already described how our love affair began. She did it her way, I will do it in mine: we don't remember the same things, which is normal."
---
Miss Lonelyhearts
Nathanael West
(New Directions)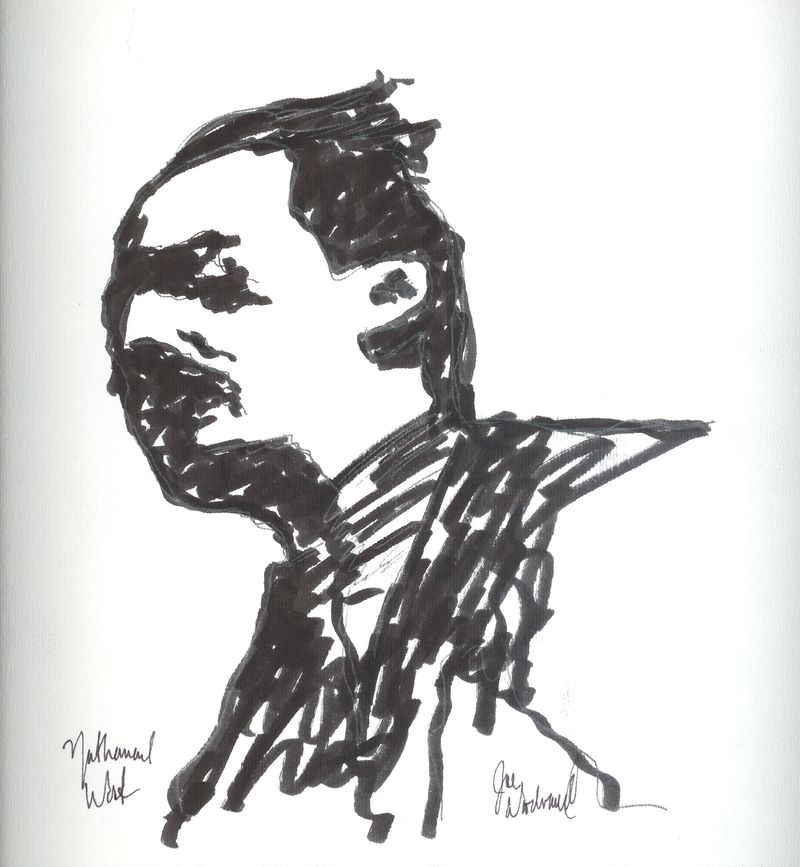 This new edition has been published with the book's original cover. It was first published by Horace Liveright ... which promptly went into bankruptcy.

We may never know how it got published at all, back there in the spring of 1933, in the very worst of the Depression. If you needed further depression in the early 1930s, West's novel was the ticket. I found it in my sister's bookshelf a few years later.

The print was large, the book short, and I --- beginning my new adult career as a reader --- thought it to be just right for me. A strange book on an even weirder subject: agony writer meets his destiny. I got to read and learn (really!) how to be depressed

It was 1946. We had just gone through an exhilarating war and I was edging into flowering, full of piss and vinegar ... and I remember wondering how a writer could give a novel the name of a woman who was in truth a man working at a job in a newspaper where every day he got inundated with letters like the one from a girl who "was born without a nose"

although I am a good dancer and have a nice shape and my father buys me pretty clothes. I sit and look at myself all day and cry. I have a big hole in the middle of my face that scares people even myself so I cant blame the boys for not wanting to take me out. My mother loves me, but she crys terrible when she looks at me.

She asks her father why she had "such a terrible bad fate" and he says he doesn't know but

maybe I did something in the other world before I as born or that maybe I was being punished for his sins. I dont believe that because he is a very nice man. Ought I commit suicide?

And it is signed "Sincerely yours, Desperate." And I remember being fascinated by the wonderful awful letters in Miss Lonelyhearts with the columnist reading them and trying at the same time to light a cigarette: "The cigarette was imperfect and refused to draw. Miss Lonelyhearts took it out of his mouth and stared at it furiously. He fought himself quiet, then lit another one."

§ § §

West created a perfect novel, as perfect as three of his peers: Sherwood Anderson in Winesburg, Ohio; Scott Fitzgerald and The Great Gatsby; William Faulkner's Sound and the Fury. Like these, West's book is perfect and perfectly sad and profoundly strange, peopled by the lonelyhearts, the thousands of suffering puzzled wondering wounded who find agony enough to seek him out, thinking somehow with his newspaper wisdom they can be cured, or at least become eased and tempered, made to understand how in the world a god (we suppose) or if not at least humanity (we hope) and maybe even with just words we can somehow find an answer. Miss Lonelyhearts even looked the part, for "even without a beard no one could fail to recognize the New England puritan."The letters are unremitting. Harold S. writes about his sister Gracie who is "deaf and dumb, not very smart"

and last week a man came on the roof and did something dirty to her. She told me about it and I don't know what to do as I am afraid to tell mother on account of her being lible to beat Gracie up. I am afraid that Gracie is going to have a baby and I listened to her stomack last night for a long time to see if I could hear the baby but I couldnt...

At first Miss Lonelyhearts thought his job was a joke but then he sees "that the majority of the letters are profoundly humble pleas for moral and spiritual advice, that they are inarticulate expressions of genuine suffering." In other words, he is in the paradoxical position of needing his own Miss Lonelyhearts to help him with the pain of being a helper in a world in which there is no help at all for Broken-hearted, Sick-of-it-all, Disillusioned-with-tubercular-husband.

The art here is in the letters --- each of them a small, perfect poem of pain. Juxtaposed is Miss Lonelyhearts and his jagged, poisoned, merciless days and nights of misery (both spiritual and secular. With his final cross to bear, Shrike.)

Shrike has the "Dead Pan," is the one who gave him his column and the wisdom that goes along with it ... and lives in perfect counterpoint to him (and his readers). Miss Lonelyhearts tries to hide ... but Shrike always finds him out, even gives a party where selected agony letters are handed out as favors and the guests challenged to write responses. "From your answers, Miss Lonelyhearts will diagnose your moral ills. Afterwards he will lead you in the way of attainment."

Miss Lonelyhearts disappears, hides in his room but Shrike --- as always --- visits to compose, on the spot, several poems of possible escape --- poems as fine as any in this book. For instance, he says that Miss L can dedicate his future life to "pleasure," "knowing that your body is a pleasure machine;" or he can take on the life of an artist ("When you are cold, warm yourself before the flaming tints of Titian"); or, lastly, he could consider going to the South Seas, where he "could live in a thatch hut with the daughter of the king, a slim young maiden in whose eyes is an ancient wisdom. Her breasts are golden speckled pears, her belly a melon, and her odor is like nothing so much as a jungle fern."

In the evening, on the blue lagoon, under the silvery moon, to your love you croon in the soft sylabelew and vocabelew of her langorour tongorour. Your body is golden brown like hers, and tourists have need of the indignant finger of the missionary to point you out. They envy you your breech clout and carefree laugh and little brown bride and fingers instead of forks.

"But you don't return their envy, and when a beautiful society girl comes to your hut in the night, seeking to learn the secret of your happiness, you send her back to her yacht that hangs on the horizon like a nervous racehorse. And so you dream away the days, fishing, hunting, dancing, swimming, kissing, and picking flowers to twine in your hair." What the author has done here is to create a Miss Lonelyhearts for the Miss Lonelyhearts, and we know that the editor, like the columnist (like the author) is a poet for at that time when the words turn impossible, as they always must (especially for those who are paid for their words), they devolve into doggerel: "blue lagoon ... moon ... your love you croon" ... and then further into the vocabulary of impossible nonsense nonwords: the soft sylabelew and vocabelew of her langorour tongorour.

In his thirty-seven years of life, Nathanael West wrote several plays and novels, but none of these even begins to match Miss Lonelyhearts. It is an Odyssean poem, an adventure taking us deep into the center of all our agony souls. The divine appears throughout, not only as Lonelyhearts' love "Betty the Buddha," but with Shrike's invocation on the wall, taped above his desk,

Help me, Miss L, help me, help me,
In sæcula sæculorum. Amen.

But the Christ is nailed (with real nails in hands and feet) on the wall of his bedroom; and appears only in the final passion in the dark stairwell where Miss Lonelyhearts falls, failing to succor disillusioned, hopeless, broken-hearted with his love, spinning downwards in the embrace of a man who must crucify him in despair and no-love.