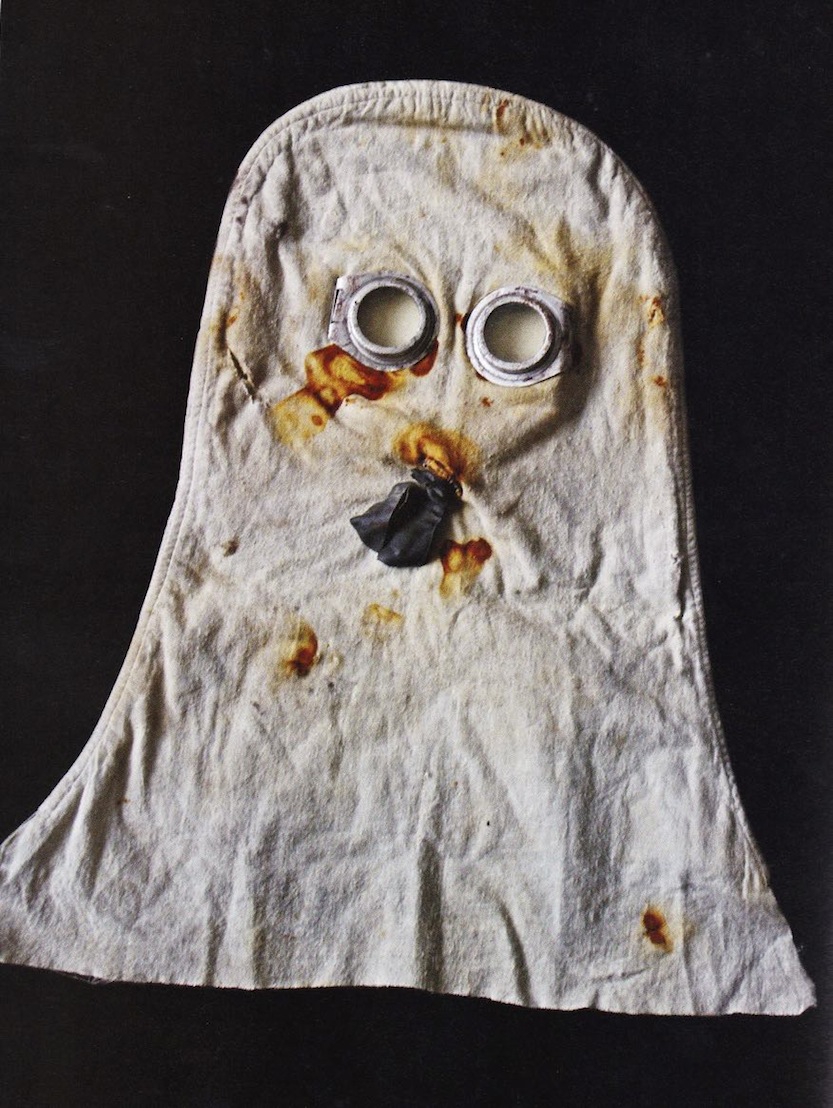 World War One brought in a bounty of inventions, and many are shown here, although some not as macabre as the those we have selected above. There are the funny looking airplanes like the French Spad XIII, not so different tfrom crop-dusters of today, with lots of wing-span so that it could move slowly over the front lines, or even penetrate into enemy territory. The early ones with elegant colors for the different parts look almost like butterflies. There are more mundane objects --- water bottles, medals, scrapbooks, soccer balls, funny old posters. All, glamorous or no, make their way into
World War I in 100 Objects
as do other oddities. Like holes. Big ones. In the ground. The Lochnagar Crater, created by a shaft bored in from English lines under the Germans lines at the Somme, ultimately stuffed with 60,000 tons of explosives and set off in 1916, creating mayhem above. (The crater still exists near La Boisselle, France, though with grass and trees, looking, we suspect, more benign than it did in late 1916.)
Paging through this fascinating and well-illustrated book, one is still left wondering about that one object that is not illustrated, which should have been the center-fold. It would be a photograph of the pernicious thought-bags, the little pea-brains resting in the noggins of the heads-of-state, the political leaders who were in charge of the thirty countries of the Entente and the eight countries of the Central powers, those that decided to embark on this disaster, proclaiming to all that it would "be over by Christmas." Which Christmas? They never said.
The skulls that would need to be examined exhaustively would include those of Nikolai Alexandrovich Romanov of Russia, Raymond Poincaré and Georges Clemenceau of France, H. H. Asquith and David Lloyd George of the United Kingdom, Victor Emmanuel III of Italy, Archduke Franz Ferdinand of Austria, Said Halim Pasha and Ahmed Izzet Pasha, Grand Viziers of Turkey and Kaiser Wilhelm II of Germany. The last who, we are told, after viewing the trenches in 1915, said Ich habe es nicht gewollt --- "This is not what I wanted."
We would suggest complete biological tests of the remains of these who pursued a violent, savage, vicious, insensate, mind-destroying, soul-warping, humanity-wrecking, heart-ripping series of military engagements beginning in the early fall of 1914 that went on day-after-day, month-after-month, year-after-year, summer and winter, for over four years, four months, and four days; a spirit-wrecking agon; a mortal and spiritual and humanitarian break-down astounding in its animal force, one that made it possible for people from civilized nations to murder and wound each other, some 16,000,000 dead, another 30,000,000 maimed for life --- a lingering trauma to the western world that also managed to destroy tens of thousands of artifacts of civilizations from centuries past, centuries of culture and wisdom --- and, in the process, permanently ruin the hopes of so many innocents, ruining the spirit of so many for so many decades to come.