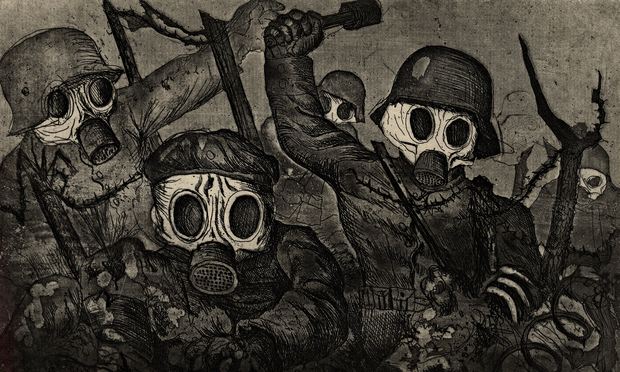 BZM only stays in the war zone for a few days. With his wound he is to be sent back to Budapest. His time at war was short; his time spent trying to get to the front --- and, quickly enough, trying to get away from it --- takes up most of
The Burning of the World.
It is, at most, ten days. BZM's dealings with his family and the rehashing of his brief experience and the startling truth that this experience of the glory is no glory at all, but --- and he see this soon enough --- will settle into a disenchanting, long-drawn-out saga of kill or be killed quickly gives him the experience that will change him for the rest of his life, because of "nerves," what we now call PTSD. In his short time at the front, his hours and hours (and hours) under fire, and his wound which --- since it is to his head --- is difficult to diagnose. Total time: about ten days. And the aftermath, when all realize that this is such a strange new game (this being Hungary's first war in seventy-five years):
Wounded men and amputees hung about everywhere in the streets; and those on leave, who also carried sticks. The wounded received the most attention, especially if they had a little blood on them showing some interest in what had happened to them could elicit much useful information. The amputees didn't count for much any more. Even speaking to them was risky: in their bitterness, they would blame and curse everyone and everything . . .
And then,
I was startled awake by unfamiliar sounds. I jumped up. My father was sitting, petrified, in front of me; beside him, two men in civilian clothes shrank back in fright, their eyes staring.

"What are you doing out here?" I shouted. "There's a battle going on! You'll get shot!"

"Calm yourself, son! You're at home. This gentleman is your friend Lajos Markó's brother. They're asking after you and their brother."

Gently, he sat me back down and stroked my head. Little by little, I came to my senses, and tried to smile in my embarrassment, but the visitors withdrew, apologizing and keen to get away. There was a brief quiet exchange in the hall, then I heard the door click shut.

Well done. Now they'll be telling tales of how crazy I am.
What we have here is a visit to a war of a hundred years ago and an elegantly clear picture of what war did and does to people: the permanent presence, and the permanent presents of that war. BZM lived until 1967; he even had a chance to see a rerun of it all over again (new toys to play with, but essentially the same old same old: death, destruction, of people, of people's homes . . . and their lives); and this message: Once you've done it, you never get away from it. It either kills your body, or it kills all or most of your soul. You, and your world, and The World, never recover.
And the most lovely irony of them all: BZM ends up as A Hero. All he needed was a case of the shakes, and a blood-drenched cape with two bullet holes, and a bandage around his head --- not changed for a week --- and the smell of the trenches firmly about him. In a very short time he has been transformed from a fairly dreamy painter into a genuine war-charged, war-changed hero.
§ § §
Sometimes we are mystified that men (and now women; o lucky women!) still, well into the 21st Century, continue to war on and murder each other. Is it only the artists, the "sensitive" ones that realize what a Hobson's choice it is. BZM is of the upper class. When in the first two days, they get to the town of Veszprém "where I had to report for duty," he recalls it because Szily Pongrácz's family used to talk about it because her uncle, Bishop Ranolder, who "used to have his palace there."
During his ten days at war, although BZM is of the upper class, he finds himself surrounded by the poor, and the country folk, and the gypsies. (War has the same virtue as fire-bombing or carpet shelling of cities: all are allowed to participate, get wounded, get the shakes, get dead.)
It is not his friends that help him to make it through the ten days. No, it is complete strangers, always the poor, the peasant, the bottom of the heap. These folk save BZM's life. It is Jóska and his fellows who find him wounded. It is Jóska and his buddies who drag BZM to safety, who angle to get him onto the sole cart for the wounded --- a dog-cart --- that pull him forcibly out of the war zone; that coerce others out of the way, cram him into a corner of the three trains that will bring him back to Budapest, back home to peace --- albeit a shaky peace --- once again.
Béla Zombory-Moldován, one time painter, now newly-minted hero back from the front, to inspire a whole new generation of eager kids into the great grinding war-machine once again.