March 4th, 1933, Inauguration Day dawned grey, cold, and overcast. Washington, D.C. looked like a ghost town. Before breakfast, Mrs. Roosevelt, wife of the President-Elect, emerged from the Mayflower Hotel where the family was staying, to walk her dogs. The streets were empty. She noticed a piece of newspaper, blowing down the street.
America had hit bottom. The economy was broken and no one knew how to fix it. Revolution was in the air. Whether revolution would come from the left of the right, no one knew. The nation was at the depth of the greatest depression it has ever experienced. The stock market had crashed, losing more than three-quarters of its value. One third of the nation was out of work. Factory production had dropped by more than half. Eighty eight percent of the nation's steel mills were idle. US Steel, one of the largest companies in the country simply shut its doors and fired its 225,000 workers. Small business was bankrupt.
Farmers were ruined. Crop prices, low throughout the decade, had now dropped to almost nothing. Harvest did not bring in enough to pay for seed corn, let alone mortgage payments. Crops rotted in the fields; they were not worth picking. Banks foreclosed on the farmers and sold their land and equipment at auction, for pennies on the dollar.
As if this were not enough, the Great Plains states were in drought, the worst drought in history. There was no rain, the wind blew and terrifying dust storms, dark as night, swept across the prairies.
In towns, home owners could not make payments on their mortgages. Banks across the country foreclosed on their loans, and then the banks themselves failed. Back then, savings accounts were not insured. If your bank failed, you lost your money. Millions of Americans stormed the banks trying to withdraw their savings. There was simply not enough currency in circulation to cover the demand. In a single day, every bank in Chicago went bust. In Michigan, the governor ordered all banks to shut their doors.
Millions lost their savings. People in some cities had no money at all. Cities paid their school teachers in script. People bartered for food and fuel; people paid for things with IOU's.
America, the hope of the world, was on its knees. The "great experiment" that is American democracy seemed done for. In 1933, there was no "safety net" to soften the blows of depression. There was no Social Security, no Unemployment Compensation, no Minimum Wage, no Medicare, no Medicaid, no housing subsidies, no Food Stamps. People were absolutely on their own. Former executives sold apples on street corners to feed their children. Whole families, out of work and homeless lived in shacks made of cardboard and tin cans --- Hoovervilles, they called them; after the president now leaving office. Hundreds of thousands of hoboes roamed the country, looking for work, begging for food, living under viaducts. Americans were starving.
Americans were desperate. The outgoing President, Herbert Hoover, watched helpless as the nation crumbled about him. Hoover was a good man but he lacked the spirit and confidence necessary for leadership. He did his best. He began public works projects which provided jobs for some but many, many more jobs were needed. He tried to save jobs by raising tariffs but other countries raised theirs, and US exports fell and even more jobs were lost.
When out of work veterans marched on Washington seeking help, the White House called upon the army to disperse them. Americans watched in horror as the US Cavalry with sabres drawn, tanks, and steel helmeted infantry with rifles and bayonets, marched on the veterans and their families. Using force and tear gas, the troops routed the vets and torched their camps. Millions were without food, yet President Hoover opposed using federal funds to feed the hungry.
On that gray morning of March 4 1933, Americans were desperate --- exhausted, bitter and desperate. Out-of-work miners in West Virginia smashed the windows of company stores to "steal" food to feed their children. Farmers in Iowa, on strike, refused to send their crops to market. Lynch mobs went after bankers. Food riots and bank stampedes were reported.

The Depression was not limited to the United States. In other countries it spawned violence and revolt. In Russia, there was famine and slaughter as dictator Stalin forced collectivization on Ukraine farmers. In Germany, Hitler and the Nazi party had seized control of government. Even in Britain, a General Strike had to be put down with force and bloodshed. People worried --- Would America be next?

Franklin Delano Roosevelt was elected president in November, 1932. As he went to bed the night of his victory, he murmured to his son, "I'm afraid I do not have the strength to do the job. Pray for me, Jimmy." Was he up to it? Political commentators had their doubts. During the campaign, columnist Walter Lippmann had said Roosevelt was, "a pleasant man who, without any important qualifications for the office, would very much like to be President." He was "the weakest candidate since Franklin Pierce" added Washington pundit Charles Willis Thompson. They misjudged their man.

§ § §

At the stroke of noon, the Marine Band, "the President's Own," struck up "Hail to the Chief." The American government huddled on the Inaugural platform in the cold March wind. President Hoover was there, along with his outgoing Cabinet, the new Cabinet, the Supreme Court, the Congress. More than 100,000 citizens looked on.

The President-elect, standing tall, on the arm of his eldest son James, appeared at the head of a ramp built for his use. Slowly he advanced to the lectern where the Chief Justice of the United States awaited. Franklin Delano Roosevelt, with his hand on the bible which had been in his family since the 1600s, was sworn in as the thirty-second President of the United States of America.

Grasping the lectern, FDR turned to the microphones and to the American people. With a firm, calm voice and an almost magic projection of absolute confidence in America and himself, he said, "This is a day of national consecration..."

His voice rang out across Capitol Plaza and across America, "So first of all, let me assert my firm belief that the only thing we have to fear is fear itself --- nameless, unreasoning, unjustified terror which paralyzes needed efforts to convert retreat into advance." Roosevelt promised to give "the great army of the people...a leadership of frankness and vigor." I am, he said with a strength and determination no one could doubt, "the present instrument of their wishes" and with the power they had conferred on him he would "would wage a war against the emergency as fiercely as against war itself."

FDR's Inaugural address electrified the nation. Frances Perkins said it was like a great revival meeting. People in the crowd wept. Raymond Moley said, "Well, he's taken the ship of state and turned it right around." "It changed everything," said another, and she spoke for millions.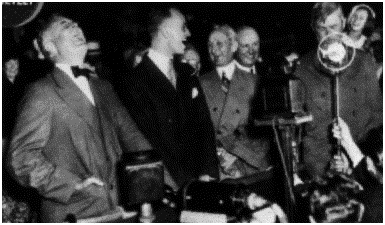 Roosevelt had spoken of conquering fear and the paralysis it brings. Few noted that these were things he knew a lot about. For in fact, FDR was paralyzed from the waist down and used a wheelchair. He could stand only with long leg braces, leaning on the strong arm of a strong man, steadying himself with a cane.

A crippled America had chosen a crippled President to lead it.