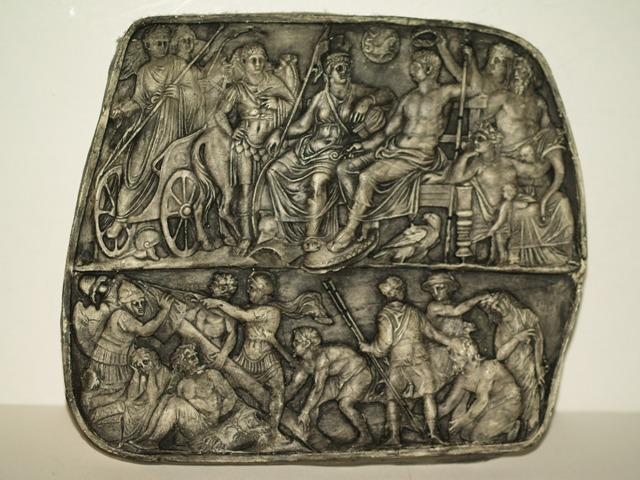 Following the victory over Antony --- and not, incidentally, over the formidable queen of Egypt, Cleopatra --- the Roman Senate bestowed the name Augustus (revered) on the victor. Thus began a 200 year period of unprecedented political stability and prosperity known as
Pax Romana
or Roman Peace. Augustus, who clearly felt more secure in his new role, put aside the murderous ways of his youth and concentrated instead on the tasks of expanding the Empire and implementing good governance for the benefit of his subjects.
There were many impressive achievements under his rule including a reformed system of taxation, development of a network of roads with an official courier system, the creation of a standing army as well as the establishment of official police and firefighting services for Rome. Mired as we are here in the United States in political gridlock, it makes one wonder if it isn't time for the return of another benign Augustus.
This revered leader, whose image is preserved on more coins and statues than any other person of the ancient world, lived until the ripe old age of 75. While no doubt he was loved by many, there is unconfirmed speculation that in the end he was poisoned by his devoted wife, Livia.
Upon reaching the end of this magisterial account, one might ask the question: If Augustus was such a formidable and important historical figure, why isn't he better known? After all, in addition to Julius Caesar, every school kid is familiar with the names of Nero, Alexander the Great, Hannibal, Brutus and Antony and Cleopatra. But Augustus? Hardly. It is true, however, that we do observe the eighth month of each year that is named in his honor.
One of the reasons is that Shakespeare never wrote a play about him, perhaps because there is little natural tragedy in a man who lives to a ripe old age and dies in his bed. He appears as Octavius in Julius Caesar and as Caesar in Antony and Cleopatra, but in neither play is his character particularly engaging .... No play, film or novel with Augustus at its heart has ever captured the popular imagination.
While this is a readable account of an underappreciated historical figure, at 500 pages it might be a little long for the novice reader accustomed to tweets and instant messaging. However, for those who want more than a Wikipedia digest of Augustus and his times, there is no better place to begin. In addition to the text, as befits a scholarly treatise, there are two appendices, a glossary of common and obscure terms, a brief summary of key personalities, several pages of family trees, a lengthy bibliography and fully 46 pages of notes. Altogether, quite as sumptuous as a Roman feast.