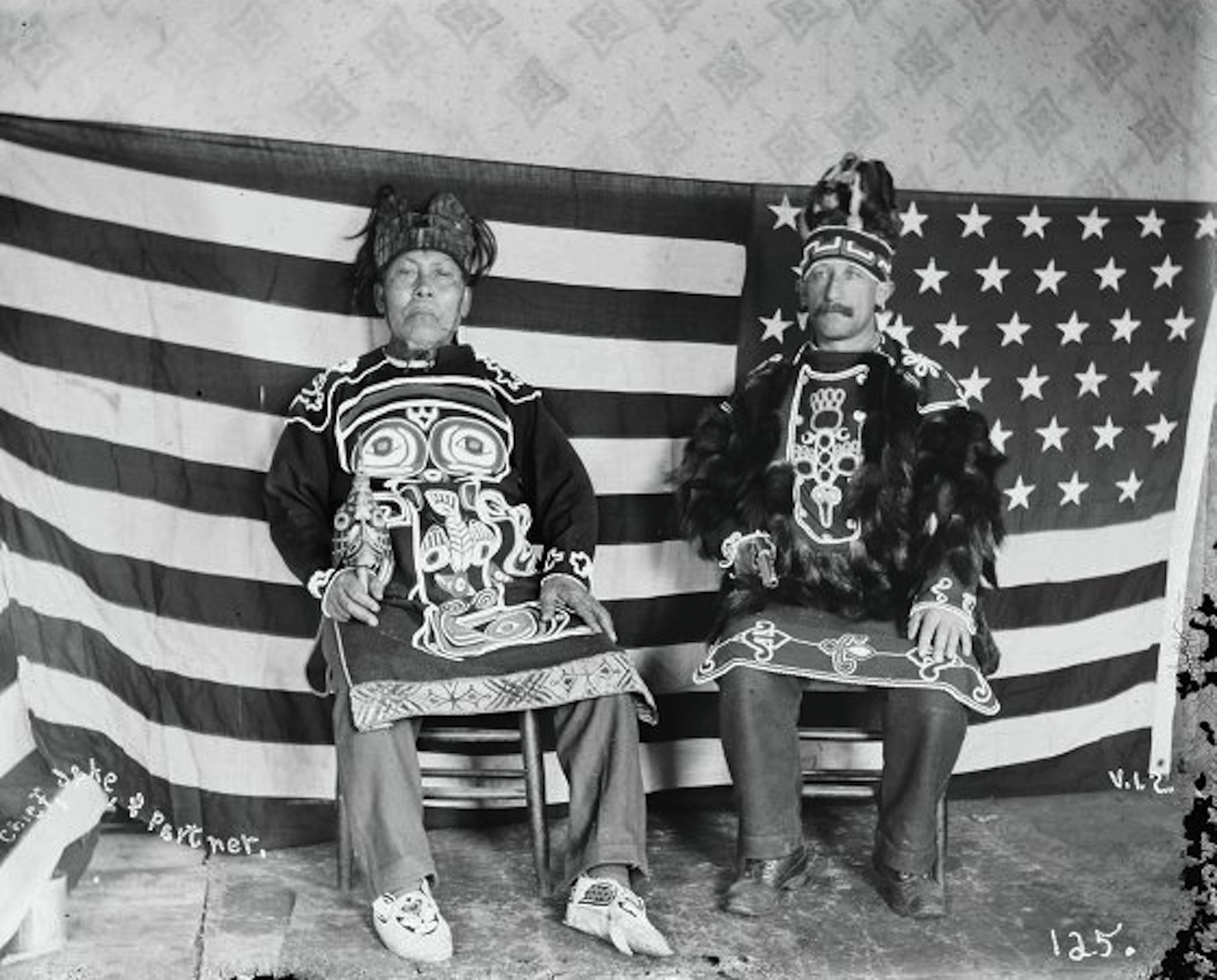 There was no medical care, no government infrastructure or schooling, and certainly little enough sunshine to brighten up the days. Makes you wonder how these people survived without iPhones, MTV, and bands like Motorhead, Limp Bizkit, and Cerebral Ballzy.
It's not that the land wasn't fertile and generous. The Kootznahoo Inlet rivers were chock full of fish, the land knee-deep in guano, black-tailed deer, and brown bear. In fact, it was estimated that there were more brown bears than people. Angoon, where the Soboleffs spent most of their lives, now has a population of 572 (people), while there are over 1600 (brown bears) there on Xootsnoowú Island.
The men were tough, and the culture was Tlingit with a heavy dose of Russian Orthodox. There was no end of ice and snow and hoarfrost. To this day, the climate is still considered to be "mild," which means you have to wait all night to freeze to death. You are more likely to drown, because Juneau to the north gets 50 inches of rain a year, Ketchikan to the south, 150 inches, so in Angoon, you can expect eight feet or so per year. If you follow Sunset's directive and honeymoon in December or January, expect meals of blubber, berries, seaweed, shellfish, herring and gull. The villages are a dream for Scrabble players, being called "aan," with their potlatches spelled koo.éex.
Potlatching, by the way, was made illegal by Canada in 1884 in an amendment to the Indian Act and in the United States in the late 19th Century, "largely at the urging of missionaries and government agents who considered it "a worse than useless custom" that was seen as "wasteful, unproductive, and contrary to civilized values." Great. Someone dies, so you have a huge festival, and on the third day, you begin to compete with others to give away the most food and property, roiling with your neighbors to see who can be the most generous. Then the feds move in and tell you that you are breaking the law. Screw your neighbors, sell them marshland ... and you're OK. Give it away, and the feds will send you to the Graybar Hotel for six months.
In 1888, fortunately, the anthropologist Franz Boas described the potlatch ban as a failure:
The second reason for the discontent among the Indians is a law that was passed, some time ago, forbidding the celebrations of festivals. The so-called potlatch of all these tribes hinders the single families from accumulating wealth. It is the great desire of every chief and even of every man to collect a large amount of property, and then to give a great potlatch, a feast in which all is distributed among his friends, and, if possible, among the neighboring tribes. These feasts are so closely connected with the religious ideas of the natives, and regulate their mode of life to such an extent, that the Christian tribes near Victoria have not given them up. Every present received at a potlatch has to be returned at another potlatch, and a man who would not give his feast in due time would be considered as not paying his debts. Therefore the law is not a good one, and can not be enforced without causing general discontent. Besides, the Government is unable to enforce it. The settlements are so numerous, and the Indian agencies so large, that there is nobody to prevent the Indians doing whatsoever they like.