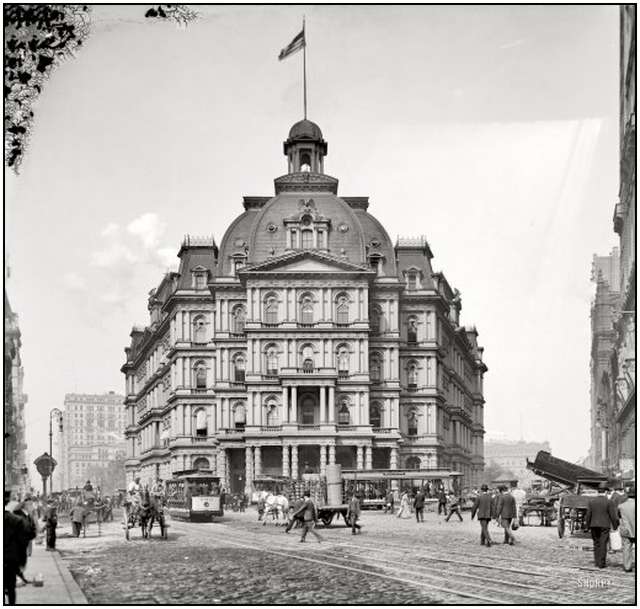 But it isn't all lovely 19th Century panorama and the moon hanging over the city and beautifully-dressed women. We get a full picture of the life (and the death) of the times. A woman on the bus turns, and "I saw her face clearly and glanced quickly away so that I wouldn't offend her, because her face was scarred with dozens of pitted cavities, and I remembered that smallpox was almost commonplace still."
When the bus gets to the corner of Forty-second Street, he looks for the New York Public Library and sees only "the base of an enormous pyramid, tall blank walls slanting inward, running clear down to Forty-first Street on Fifth." It's the old Croton Reservoir. And when he goes into the post office, there is a feeling of "astonishment and disgust:"
Just about every last man, without breaking stride, aimed a shot of thick brown tobacco juice as one of the several dozen cuspidors scattered around the big floor. Some were expert, hitting the mark squarely and audibly, then walking on toward or past us looking pleased and self-satisfied. Others missed by a foot or more, and now, our eyes used to the gloom of the feeble lighting, we saw that the floor was soiled everywhere you looked.
The plot of Time and Again is nicely wound. Morley is on a mission from the federal government --- ninety years hence --- to make sure that by moving a few people around, President Cleveland will agree to the U. S. taking over Cuba (thus Fidel Castro will never come to power).
But there is a paradox: Si is under exact orders to be a minimalist. He is to involve himself as little as possible in the lives of people around him. Because no one knows how one little touch of his can change events between then and now. By plucking a leaf here, brushing against a person there, dropping a match on the street --- and certainly by upending an American foreign policy --- he can ripple the river of time so that, by 1970, someone may go missing, a chain of events may alter our present world entirely.
There are signs early on that should Si continue his journeys to 1882, our present will be altered. The organizers of the project decide to jettison it. They inform him of that fact. But it's too late. He's already smitten.
Morley and the author (and the reader) are all hooked, and so we get to visit old New York again and again. We become time-travel addicts.
Which may explain why this novel, despite its (sometimes) wheezy machinery gettings us back and forth over such time-leaps develops quite a hold on us ... and why it had such a hold on people when it came out.
For people of Finney's era were beginning to understand the price of Modern America. Those of us who grew up out of the depression and WWII were just becoming aware of the destructive element called Progress. Our cities were being trashed by a bomb cobbled together by the banks, the real estate industry, and those who owned the government --- movers and shakers utilizing the rubric of eminent domain and "urban planning" and "redevelopment" to destroy our heritage, to make themselves unalterably rich.