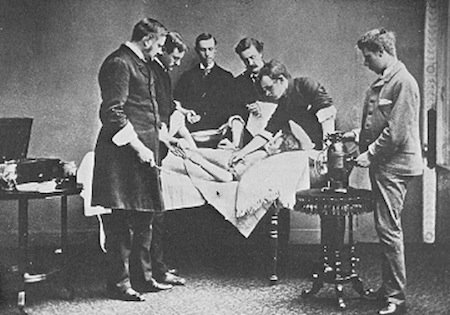 However, when it came to his "cure" or "The Remedy" of Goetz's title, Koch was simply overcome by hubris.
Koch, caught himself in his own trap --- because he himself had used the word Heilmittel (remedy). He had chosen that term, with all its associations, its mystique (it could also be translated as "health"), and its history of false promises. He offered the ultimate covenant of medicine: that it could undo what nature had done. He had played on his reputation, and the world had taken him at his word.
For a scientist who took pride in his meticulous methods, he did not follow the most basic tenants of clinical research and reported only uncontrolled anecdotes. But no matter, here he was, one of the most reputable names in medicine, announcing a cure for tuberculosis. Patients flocked to him from around the world begging to be treated. Then Goetz drives in the last nail:
Koch had violated the principles that he himself had laid down, his own postulates. Koch had gone ahead of his evidence. He had made a leap and been caught without a place to land.
Enter Arthur Conan Doyle. Doyle, as no one needs reminding, was a writer with extraordinary talent. Although he longed to be included in the pantheon of his contemporaries (Oscar Wilde, Bram Stoker, and James Barrie), he will forever be known for abandoning his fledgling career in medicine to give us the legendary Sherlock Holmes. Conan Doyle, as he liked to be known, never met Robert Koch. But they had a great deal in common and their lives traced very similar arcs.
Along with many other practicing physicians of the day, Conan Doyle was intrigued by Koch's "cure" for tuberculosis. In an effort to learn more and possibly meet Koch, Doyle went to Berlin in 1890 to attend one of the great man's demonstrations. However, rather than be inspired, Conan Doyle was grievously disillusioned. To his credit, he perceived "The Remedy" to be a hoax and on his return to England he wrote what is thought to be the first critical analysis of Koch's deception.
As it turns out, this kind of logical analysis was exactly what Conan Doyle was beginning to incorporate in his fictional stories. Although not trained as a researcher, Doyle had learned the importance of careful observation as a student of medicine in coming to diagnostic conclusions. It was this skill --- the ability to see things other people missed --- that became the essential element of Sherlock Holmes' success. It was also the same talent that allowed Koch to make his most important discoveries. Speaking of Sherlock, Goetz writes:
Holmes is precise, methodical, and keenly perceptive. He ably appropriates the techniques of the bacteriologist to discern what seems otherwise invisible.
Doyle's timing was perfect. By the late 19th Century, people were beginning to appreciate the potential of science in medicine and in their everyday lives. In the persona of Sherlock Holmes, Conan Doyle not only exploited this growing interest in science but also helped promote a fuller appreciation of how science could be beneficial to all.
Conan Doyle had learned ... how much people now expected of science, how much the public was open to its power to improve their lives. Conan Doyle's great insight was to see that openness as an opportunity to turn science into entertainment.
The public's appetite for this mix of science and intrigue was insatiable. The publisher of The Strand, a magazine that carried a new Sherlock tale each month, sometimes printed as many as 300,000 copies at a time. In their eagerness to get their hands on the next installment, people formed long queues before the magazine went on sale. It was an unprecedented success and made Conan Doyle rich.
And then he too fell victim to his own hubris. Homes was so popular that people started confusing the author with the fictional character. Even his own mother referred to him as Sherlock. Conan Doyle was furious; he wanted to be taken as a serious writer and not some hack who cranked out popular yarns. While traveling in Switzerland, Doyle thought he had found the perfect solution to his dilemma: kill this character who was ruining his life. In the next installment of The Strand, as every Sherlock Holmes fan will remember, Doyle had his hero and the evil Moriarity fall to their certain deaths at the Reichenbach Falls. His readers were dumbfounded at the gall and went into mourning, some even wearing black armbands. Because of the outcry, Conan Doyle eventually had to bring his hero back to life.
At the same time, Doyle's own life took an unexpected turn. His wife died of tuberculosis in 1906 after thirteen years of struggling in what had become an unremitting downward course. Goetz describes what happened next:
This man who had spent years championing medical science, in both practice and pen, instead became a devout believer in spiritualism and superstition ... After his wife's death he seemed drawn to séances and mysticism and all sorts of deeply unscientific hokum.
§ § §
The Remedy is an easy book to like and is as entertaining as a good mystery. The explanations of important scientific discoveries are accessible to the lay reader while being embedded in the larger historical and cultural context of the times. Linking Robert Koch with Arthur Conan Doyle is a clever idea, but in the end doesn't do justice to either man's life. Furthermore, one might quibble with the title. The Remedy is a little misleading as it implies that Koch might actually have been successful in his quest for a cure for tuberculosis. Of course, with hindsight we know that this didn't happen. As Goetz himself says, the term has a "history of false promises." Perhaps a more accurate title might have been The Hoax.
--- Larissa Belmondo