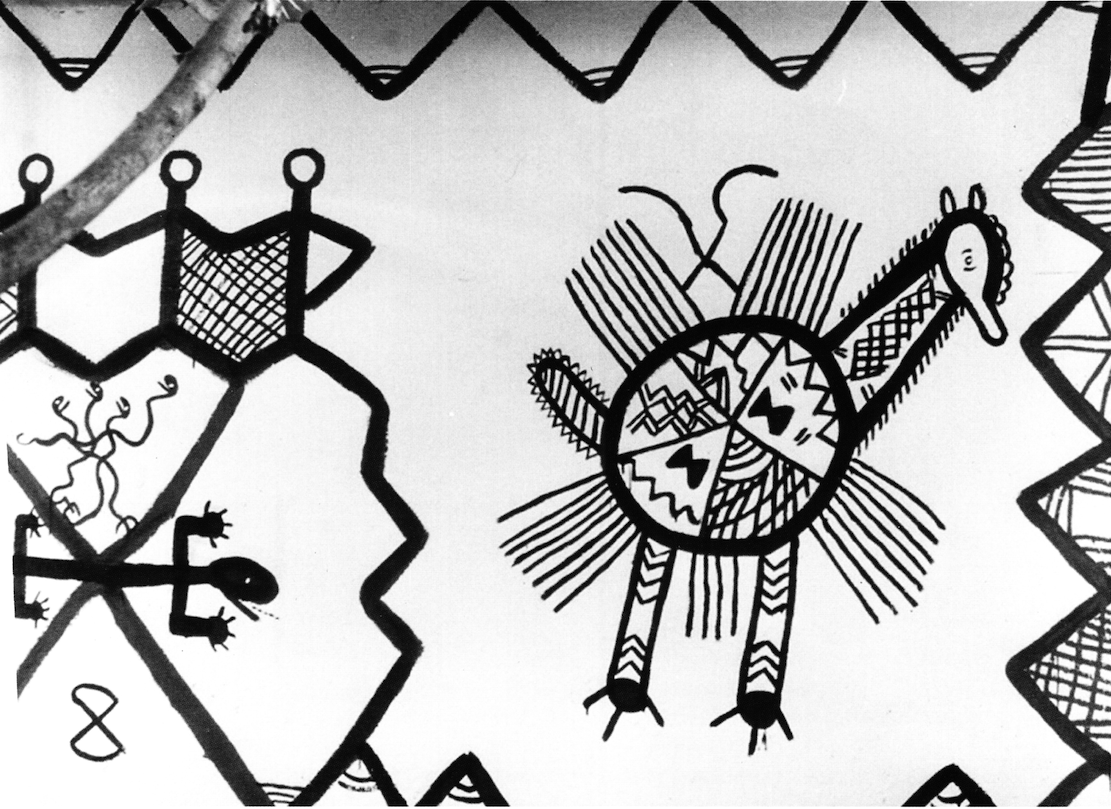 Picton tells us that Kwami was troubled by an exhibition that appeared at the Centre Georges Pompidou in Paris, 1989. It was titled
Magiciens de la terre
and he says it was one that "many of us loved to hate." The reason: it classified African art, "the extraordinary diversity of current and contemporary production in a context in which the old ethnic labels served no immediate purpose." The antidote to this old, wheezed-out view of the real world of the Asante nation was, in Picton and Kwami's eyes, the public art along the streets and highways of central Kumasi, "a public art celebrating mythic and social episodes in the life of the Asante nation; the painted walls and shop fronts --- trousers, electric fans, locks and keys." Picton refers to it as "aspects of contemporry Ghanaian visual culture." It is this vision of a live culture that made it possible for him to meet Elvis Presley, but with the caveat that "'Elvis Presley' in Kumasi had no significance for American popular music. Rather, the American music industry created a name to be conjured with."
That a Kumasi painter should call himself by that name is surely no more than a way of attracting attention, a sort of visual "shouting," in a very busy and noisy urban environment.
Again, the Picasso Bar in Kumasi "has no significance for European modernism. Rather, through the genius of a Spanish painter another name to be conjured with was created."
That a Kumasi bar should be given that name was, again, no more than a means of attracting attention.
§ § §
Kumasi Realism with its hundreds of reproductions is obviously a grand view of a grand culture of art. Kwami is an independent art historian and curator, was Visiting Fellow at the Cambridge/Africa Collaborative Research Programme, Art and Museums in Africa. His vision of the decorative and the representational are all-inclusive. Not only is it affecting, it is infective.
Those of us who have a chance to read through it --- and I was hard-pressed to leave it alone for a week or so --- will find our own favorites here. In the introduction you'll find striking canvas acrylics by Ekow Bentil from 1974, dancing figures, musicians in the most formidable linear patterns that strike one as Matisse with a vengeance. Then there's a compelling portion of a mural at the College of Art at Kwame Nkrumah University of Science & Technology by Leticia and Georgina Azuru Avoka that brings to mind Picasso. Some dancing figures by Ablade Golover --- named "Market Forces II" --- utilize the same force fields as Bentil's figures. Finally, Daniel Mensah's "Tronto Station" painted in 1998 [See Fig. 1], brings together a colorful street art: buses packed together in lovely ordered disorder and random joy.
It's easy for an outsider to pick and choose, but the key to Kumasi Realism is to accept it as it is: a labor of love, seeking to join the art of life and life of art ... the life of the street enriched by the colorful signs, figures, bodies, clothing and --- yes --- even royal palms cut and tinted to give the feeling of life, that which is the world of Ghana brought home to all of us in a fine presentation of reality of life and the life of reality.