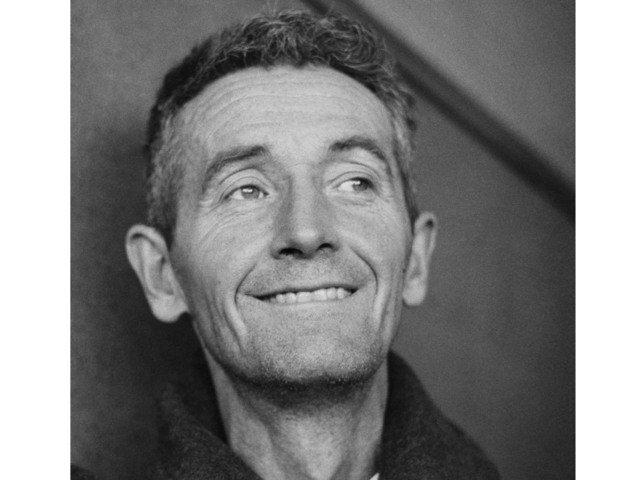 "Wardy Forty" was the name that Guthrie gave to his ward at Greystone. His wife Marjorie took care of him in his later years and visited him regularly with the children. She once wrote:
When we would go to a restaurant and Woody would drop and slip and slurp all the things because of the involuntary movement, people would stare at us, and I would say, out loud, so there's no question about it, "Oh, Woody's sick today. He sure is." And we'd just make a joke about it. And just laugh, and he would laugh, you know, "Yep."
His daughter Nora wrote, "My father lived in a ward with many other patients. I remember one time walking through the entire ward with beds lined on both sides to get to my father's bed at the very end."
The walk seemed to take forever. All around us were strange people yelling, talking to themselves, uninhibited or somber. I walked as close to my mother as possible, hiding behind her skirts as she greeted many patients with a cheery and energetic "hello." I couldn't understand why she wasn't terrified. I was.
Friends would come from all over to visit. A neighbor Sidsel Gleason wrote about music sessions that they would have on "Wardy Forty" up on the third floor. "Did you ever hear of washtub bass? Well, there was one of the guys that played washtub bass, and between that and the guitar, it was a pretty wild affair. The people down on the first floor were just about crazy, 'cause it made such a funny noise downstairs. People came from all over, honey, I'm not kidding. They'd come all the way from Oregon."
§ § §
The book is expansive, beautifully put together, and devastating. It shows us a vigorous, garrulous man who suddenly found that he could no longer be the "Dustbowl Troubador," could no longer play the guitar and sing, and, in the end, could no longer compose ... could no longer even speak.
Many of the photographs here --- in color, full page --- are of Greystone Hospital as it is exists now: windows blown in, rusting beds without mattresses, paint falling down snow over everything, abandoned chairs, ruined institutional equipment. There is an old upright piano keeling over, steam pipes fallen to the floor, hallways littered with detritus, the grounds outside gone to seed. All is decay, desolation, ruination. A once-handsome, well-maintained hospital for 8,500 patients, set on a luxurious 1,000 acres, has fallen completely apart.
It is now just like its most famous patient. "Untidy." "Unkempt." Reminding some of us of the words of Tithonus,
The woods decay, the woods decay and fall,
The vapours weep their burthen to the ground,
Man comes and tills the field and lies beneath,
And after many a summer dies the swan.